High-end Windows PCs have always been the best devices for the best graphics in the latest video games, but what if you want to play some of those PC games while you're bored sitting on a plane or train on your way to somewhere else? Well, there are plenty of gaming handhelds available in the market right now, but now (finally) there's an "ultra-mobile PC" with acceptable graphics capabilities for real gaming on the go.
Sure, we've got cloud gaming on things like smartphones and tablets which basically give you remote-access to more powerful gaming hardware, but that's a pain sometimes and greatly depends on a stable and high-bandwidth internet connection. The Lenovo Legion Go works totally offline, just like your high end gaming tower, yet is totally portable, and can handle pretty much anything that can run on Windows 11. It's potentially a dream come true for PC gamers out there who wish they could still play on the go.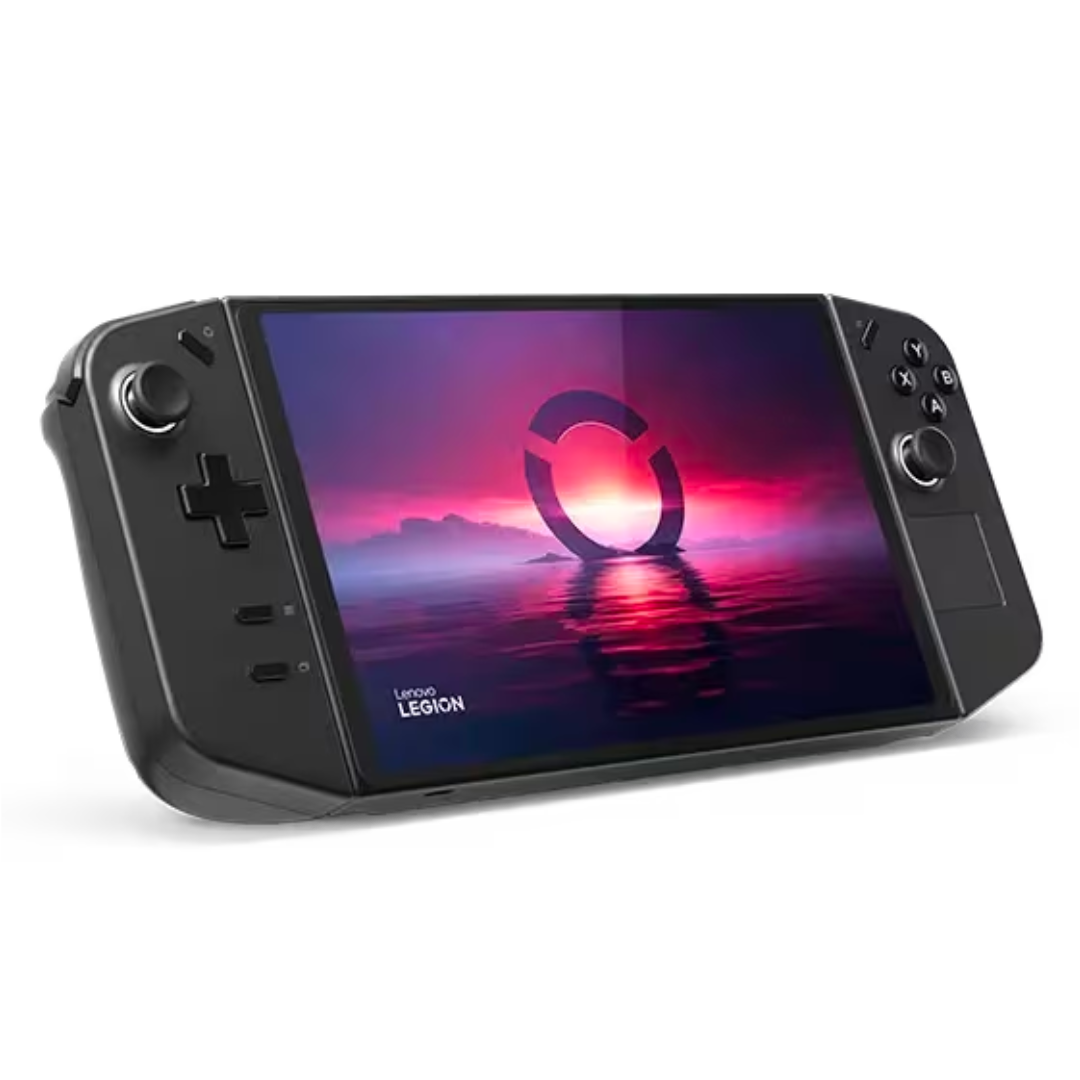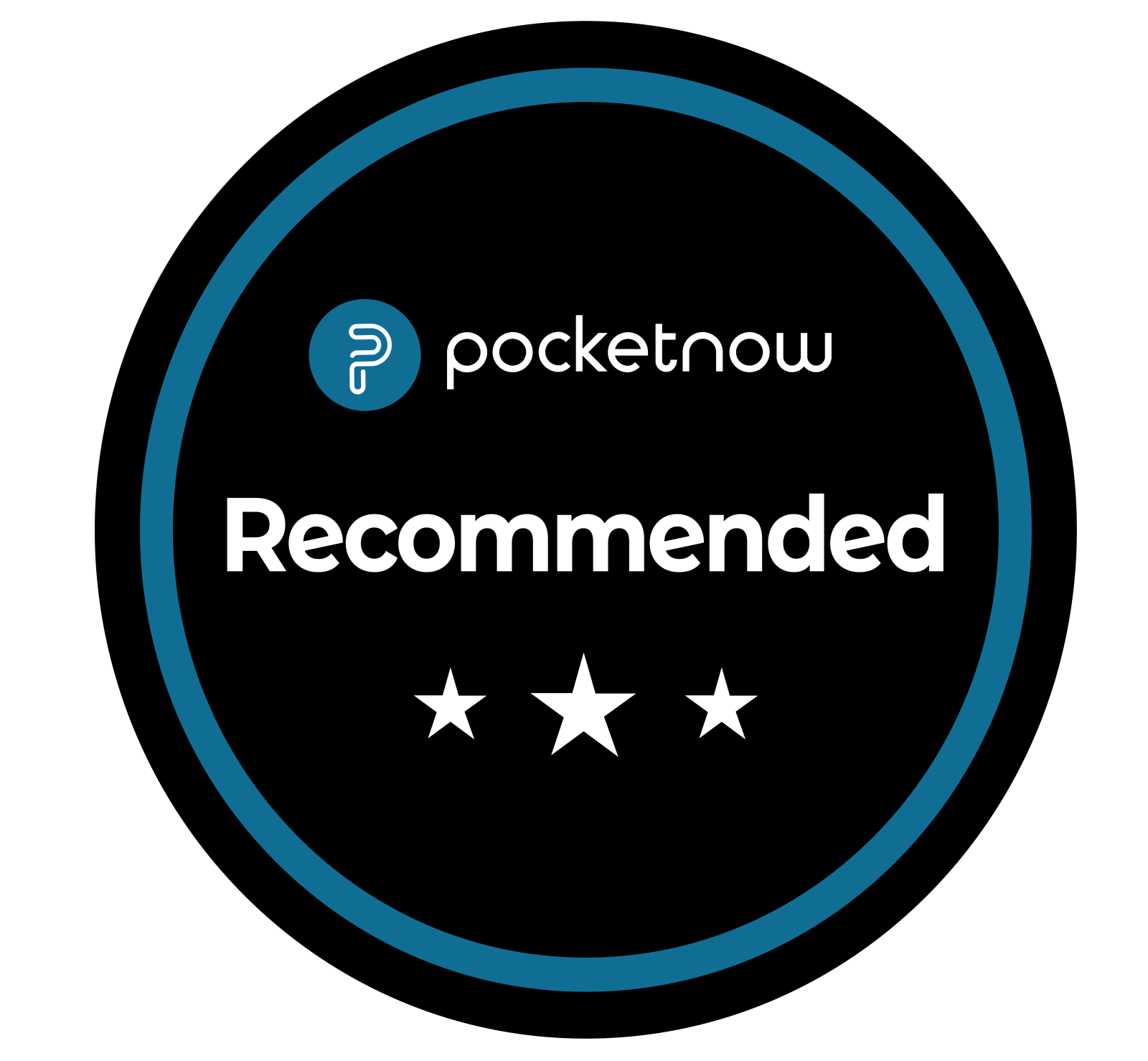 Lenovo Legion Go
Editor's Choice
The Lenovo Legion Go boasts a large 8.8-inch QHD+ display, an AMD Z1 Extreme chipset, excellent controls and full support for Windows 11. It has a touchpad, providing an incredible gaming experience with powerful graphics and detachable controllers.
Dimensions

298.83 x 131 x 40.7 mm (11.76 x 5.16 x 1.60 inches)

Weight

854 g (1.88 lbs)

Chipset

AMD Ryzen Z1 Extreme (8C, 16T, 3.3GHz)

RAM

16GB LPDDR5x-7500, soldered

Storage

1TB M.2 2242 SSD

Wireless Connectivity

802.11ax 2×2 Wi-Fi + Bluetooth® 5.1

Headset Compatibility

Headphone / microphone combo jack (3.5mm)

Display

8.8" WQXGA (2560×1600), Multi-touch, IPS, 500nits, 16:10, 144Hz, Corning Gorilla Glass 5

Output resolution

2560×1600 px

Graphics

AMD Radeon (RDNA™ 3 Architecture)

Ports

2x USB4 40Gbps (support data transfer, Power Delivery 3.0, and DisplayPort™ 1.4)

Battery

49.2 Wh, supports Super Rapid Charge (10min charge 0~30% capacity, 30min charge 0~70% capacity, 80min charge 0~100% capacity)

Storage Expansion

microSD card reader

OS

Windows 11 Home

Sensors

6-axis Gyroscope sensor Ambient light sensor (ALS) Mouse sensor

Audio

Stereo speakers, 2W x2, dual-array microphone
Pros
PC quality gaming in a handheld formfactor
Handles just about any game that can run on Windows 11
Handheld, Tabletop, Keyboard/Mouse, & Big screen operational modes supported
Excellent included protective case
Extensive accessory support
Reasonable price
Cons
Not as capable as a full tower/laptop gaming PCs
Windows 11 removed Windows 10's tablet interface that would have been perfect on this
You may need to tweak game settings for best performance
Price and Availability
The Lenovo Legion Go is available to order from a variety of retailers. At Lenovo, you can get the 512Gb version for $700 or the 1Tb version for $750. At Best Buy, you can get the 1Tb version for $750. B&H has the 512Gb version for $700. And get this — Microcenter has a 2Tb upgraded version for $800.
What's in the Box?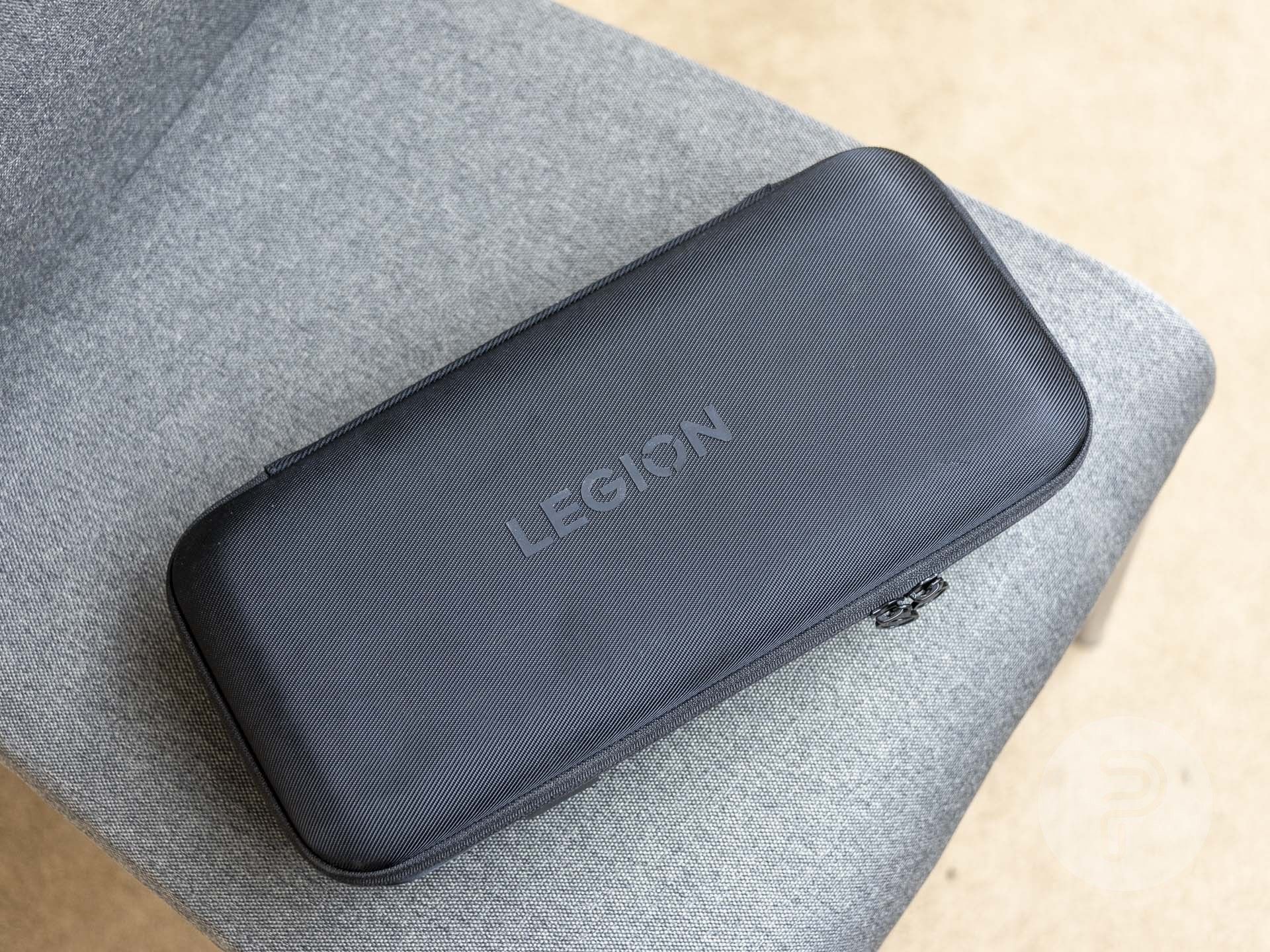 After opening the cardboard box, you'll find that the Legion Go is contained in this beautiful protective carrying case. It's got a handle and two zippers to open it.
There's even a little magnetic flap covering a hole that perfectly lines up with the USB-C charging port. That means you can charge it while it's in its carrying case. That is so awesome! I love this feature!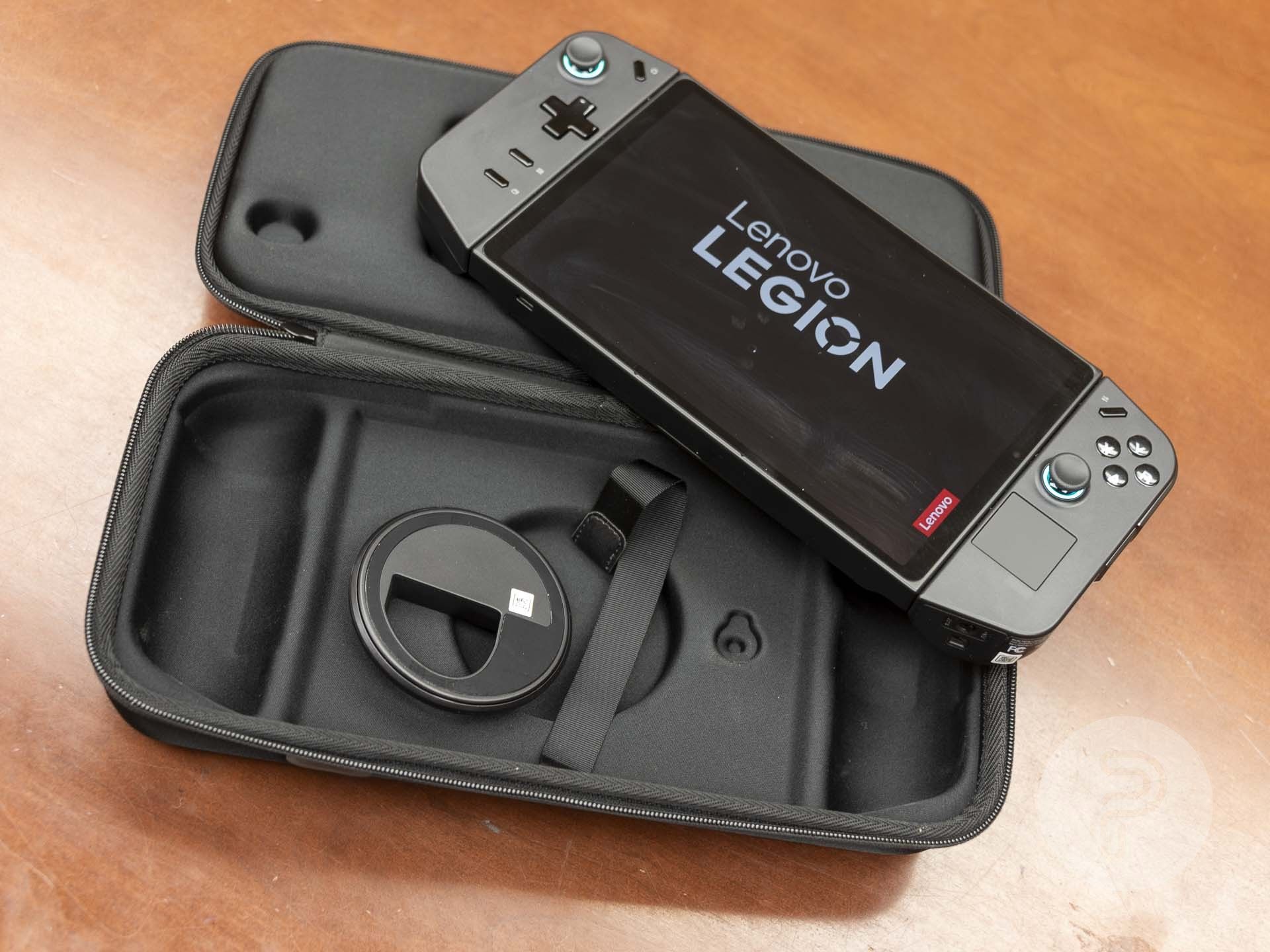 Of course, the Legion Go is inside the case and below it is the "First Person Shooter" mode circular puck that will turn the right side detachable controller into a mouse with with trigger buttons to use particularly in first person shooter style games, but really you can use it in whatever you want.
A 65 Watt USB-C charger is also included, but unfortunately there isn't room in the case for that part so you might need to carry that separately.
Hardware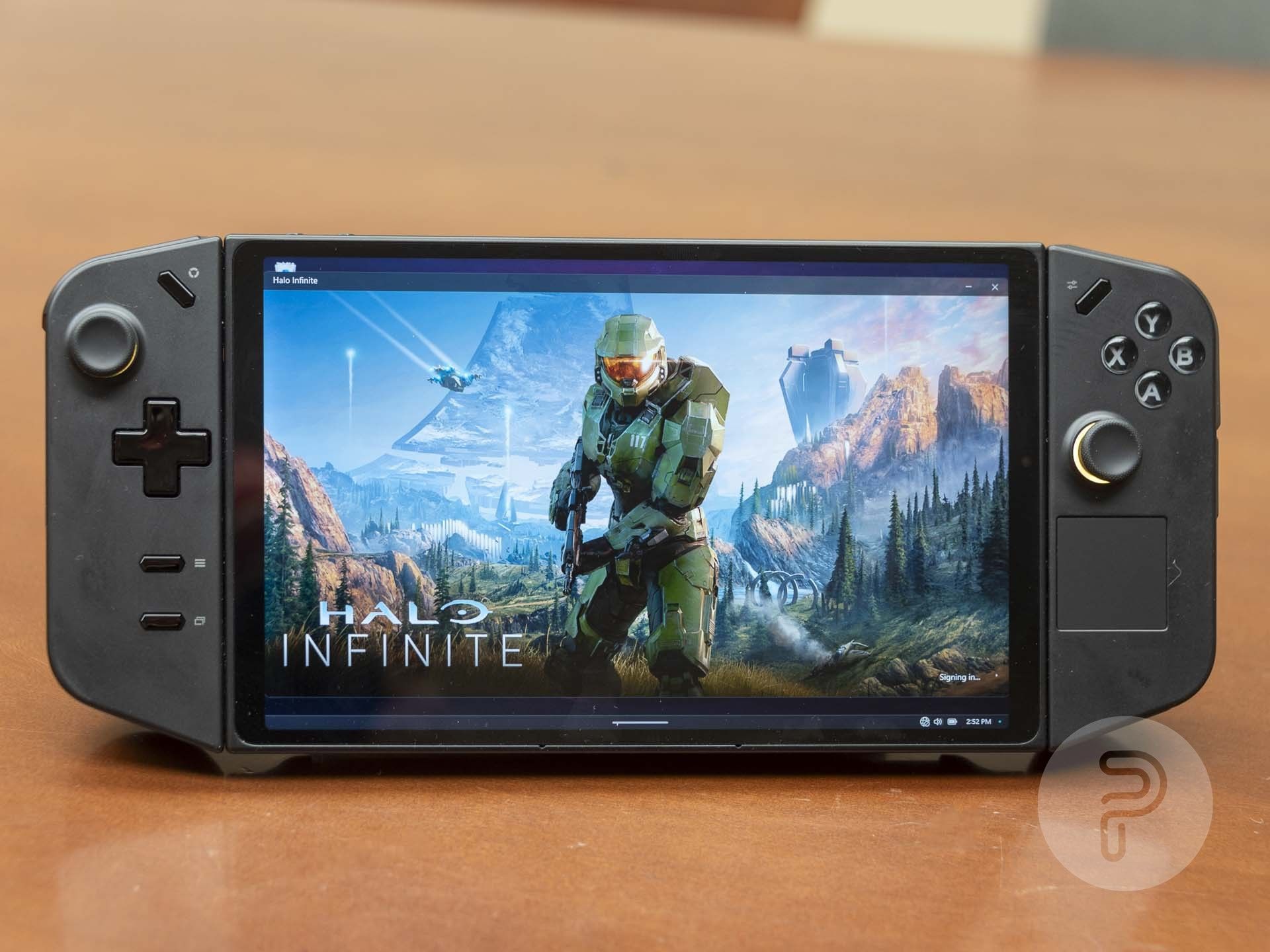 The Lenovo Legion Go looks a lot like the Nintendo Switch mixed with a Steam Deck. It's about the size of a Steam Deck, but it also has detachable side controllers like the Nintendo Switch. These detachable controllers don't double as two player controllers though; they're still a single player controller wether attached or detached, except one of them also transforms into a first-person shooter style mouse like we already mentioned and you'll learn more about below.
The 8.8" WQXGA (2560×1600), Multi-touch, IPS, 500nits, 16:10, 144Hz display is pretty excellent and a fine size for PC gaming.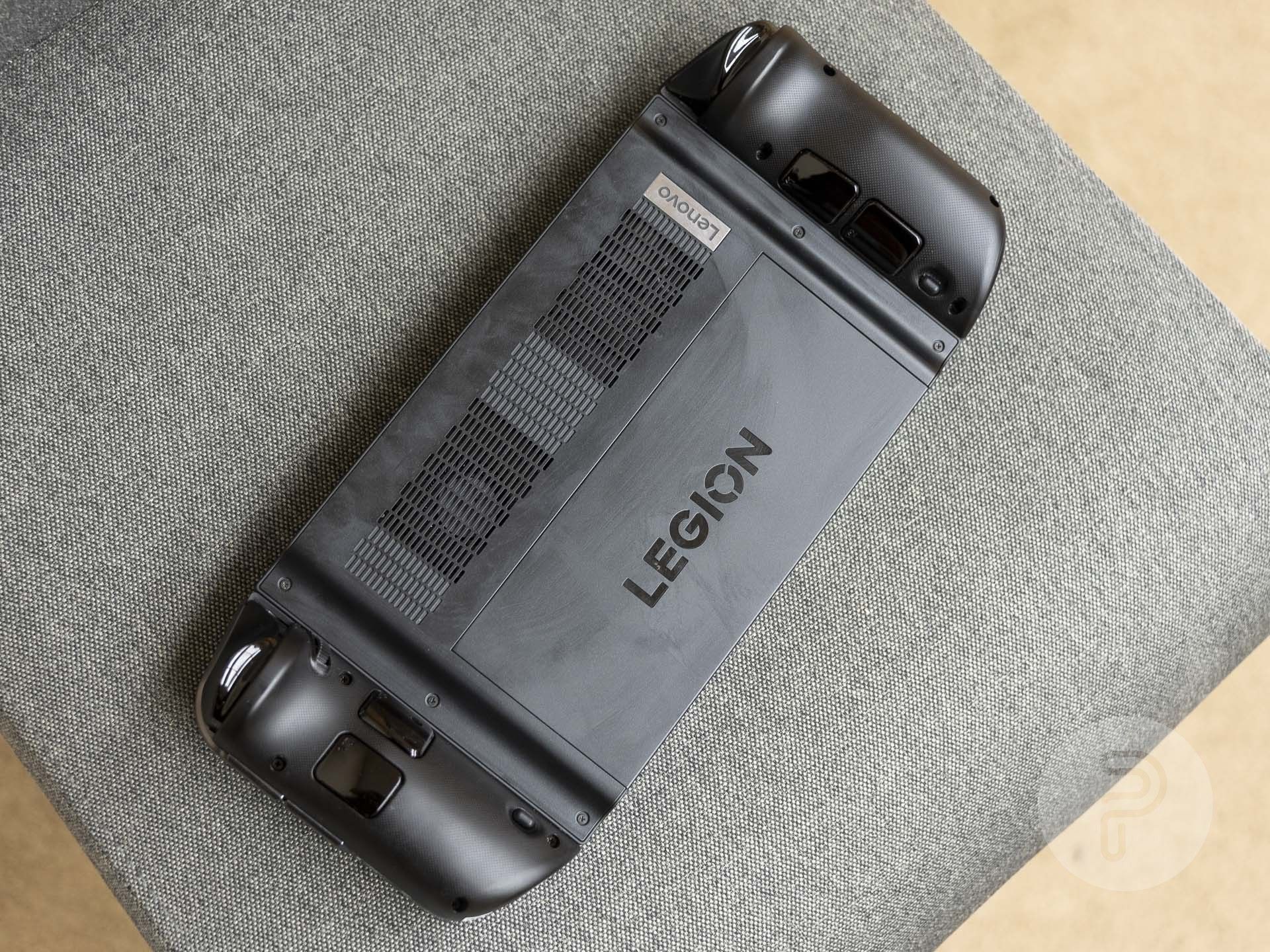 On the back you can see some nice Legion branding as well as ventilation for the cooling fans. The cooling system actually works really well as I was unable to get the backing to get too warm at all.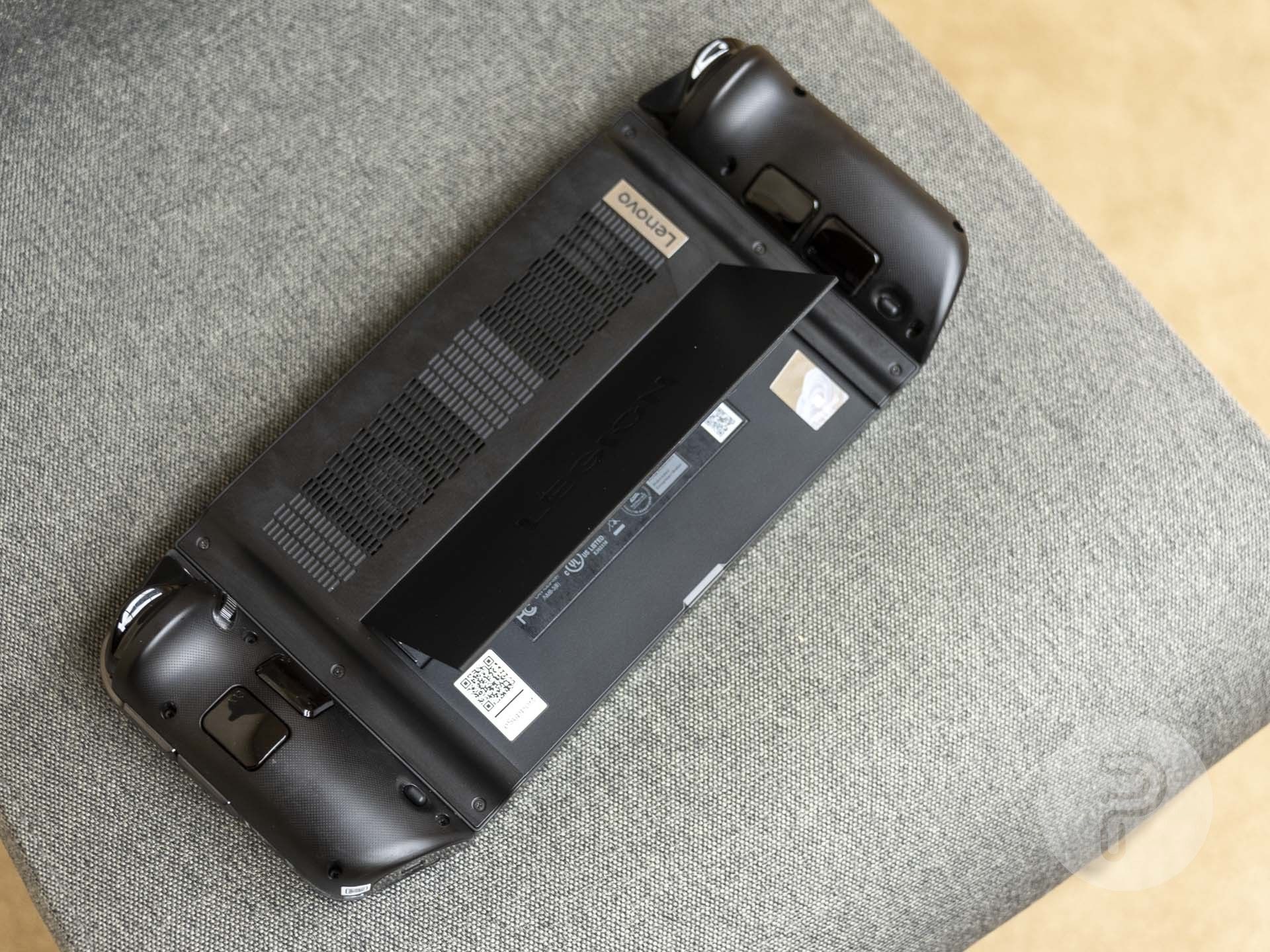 The lower part has a hinge that enables a kickstand, which is an awesome feature missing from the Steam Deck.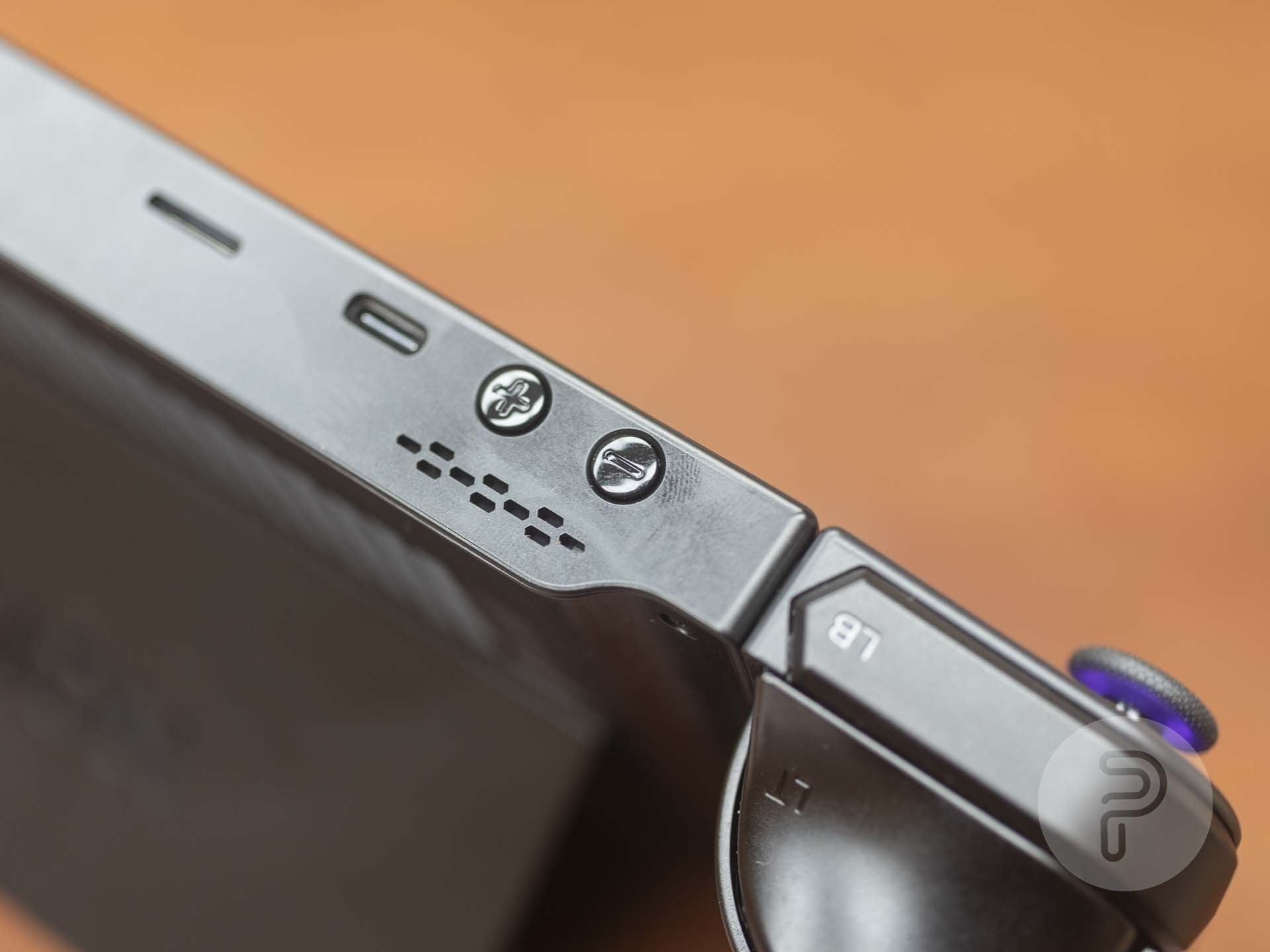 On the top edge, we've got some circular volume up/down buttons, a USB-C USB4 port with Display Port output and data/power transfer. There's also a MicroSD card slot if you want to add a lot more storage.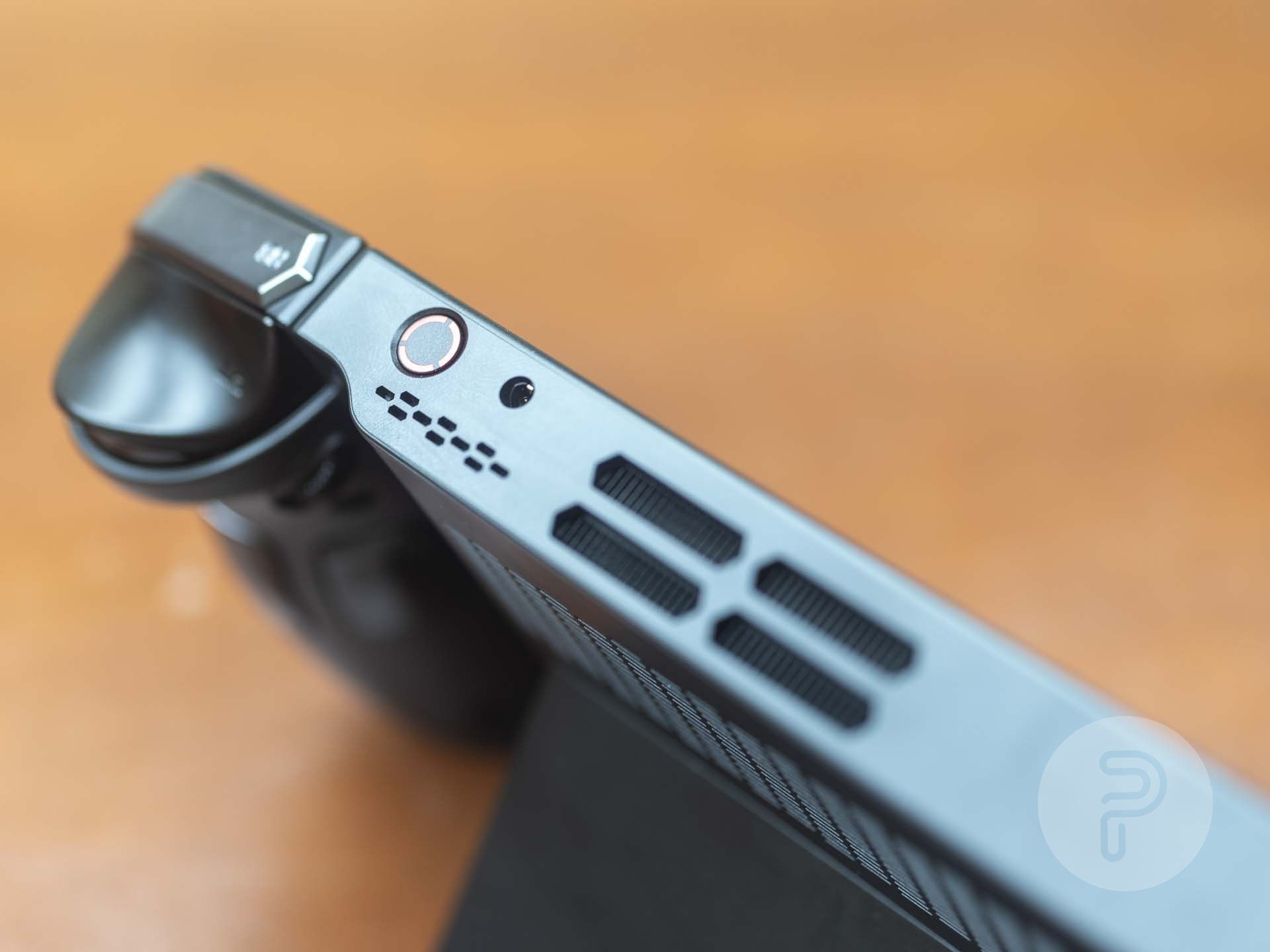 On the other end of the top edge is the power button and a 3.5mm headset/microphone jack so that you can get some reliable wired audio into this device. Of course there are ventilation grills up here for the cooling system as well.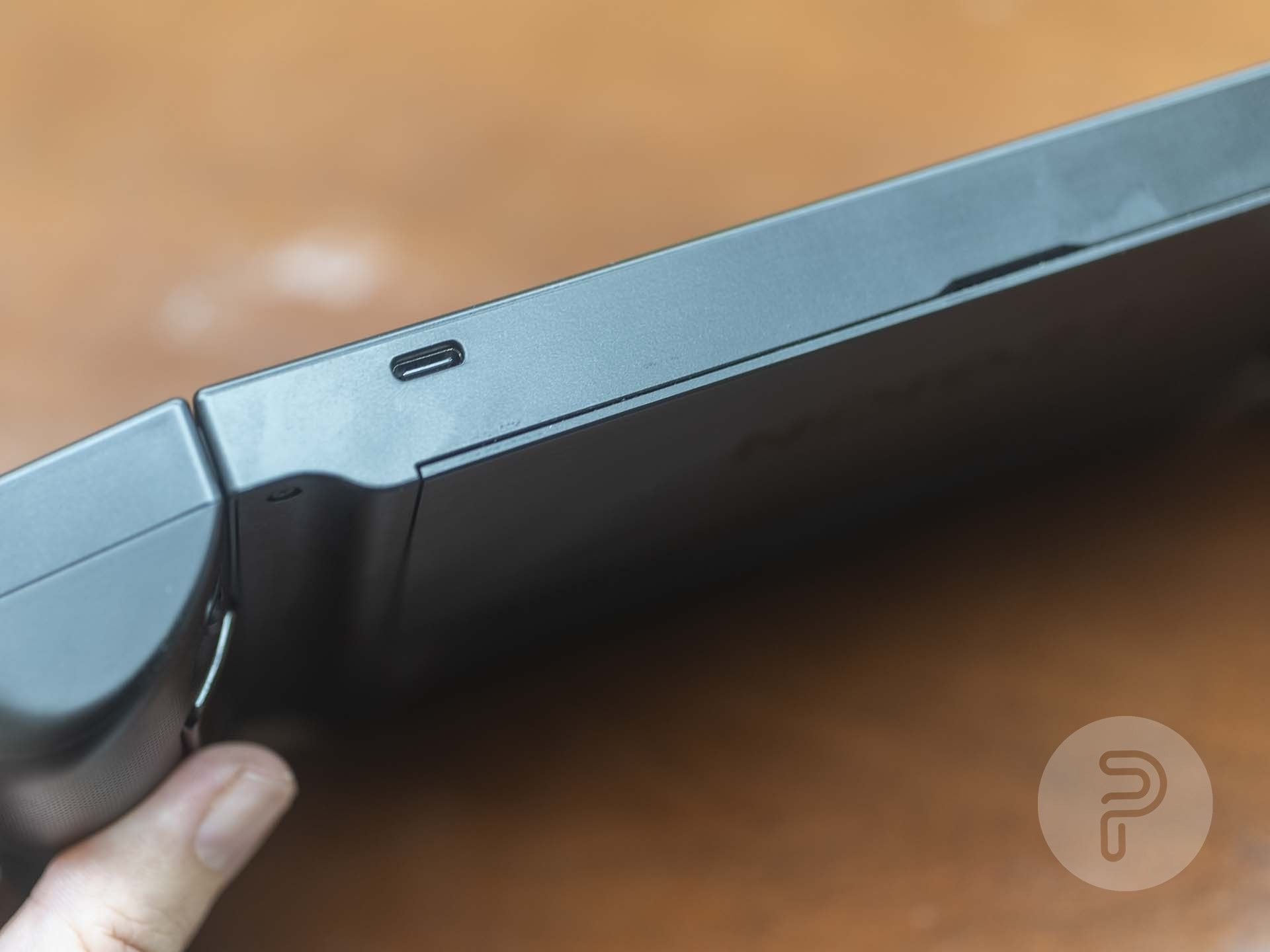 On the bottom edge there's another USB-C USB4 port with Display Port output and data/power transfer. This is great for if you want to charge the device while using another accessory like the Legion Glasses or whatnot.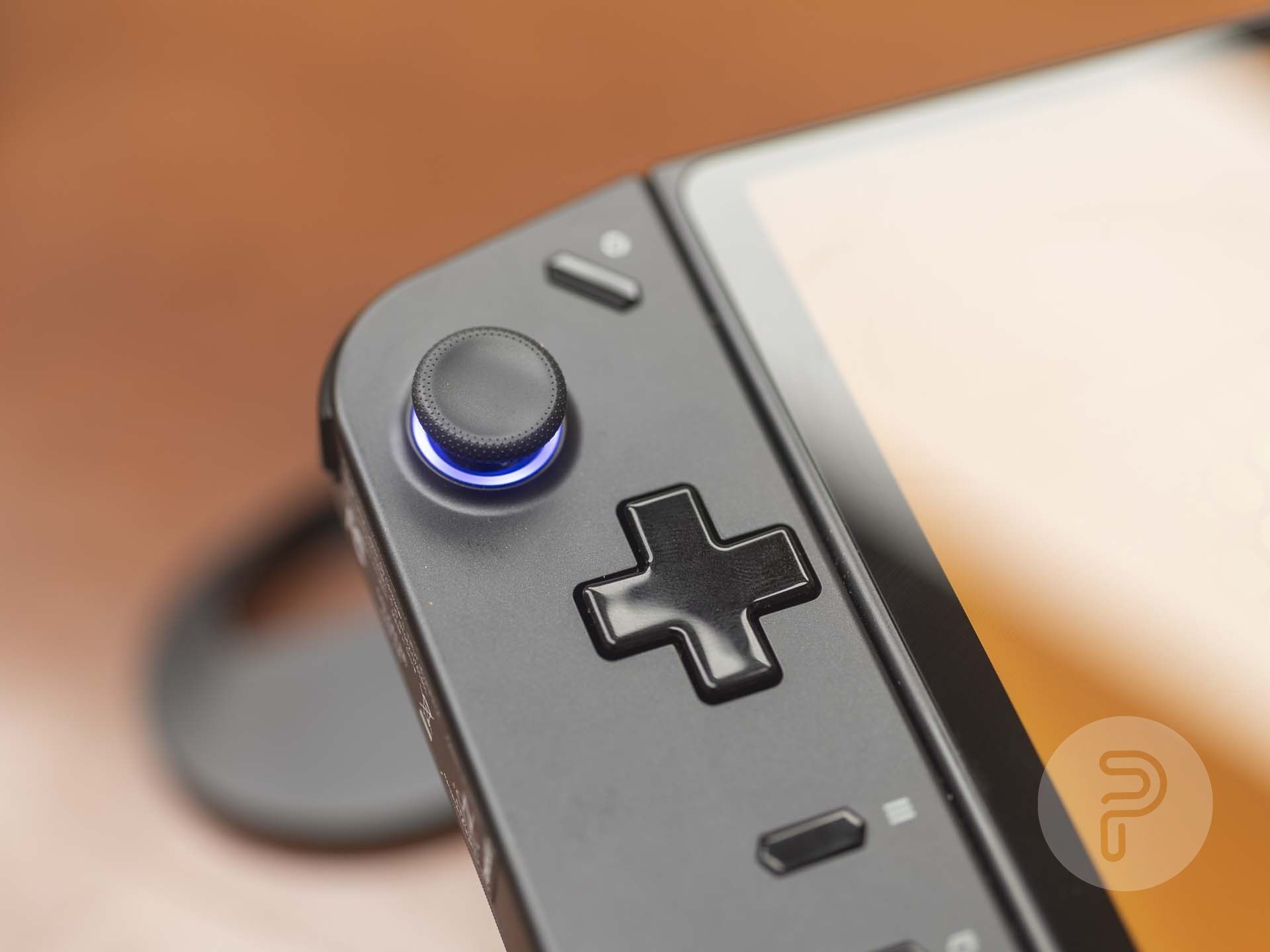 The side controllers have hardware joysticks and buttons that feel and are positioned very similarly to an Xbox controller that you might also connect to a PC for gaming. In the upper right corner of the left side is a Legion Spaces button (Legion L button). That will switch you to Lenovo game launcher software that also includes a connection to the Steam store as well as other settings and configuration options for the Legion Go.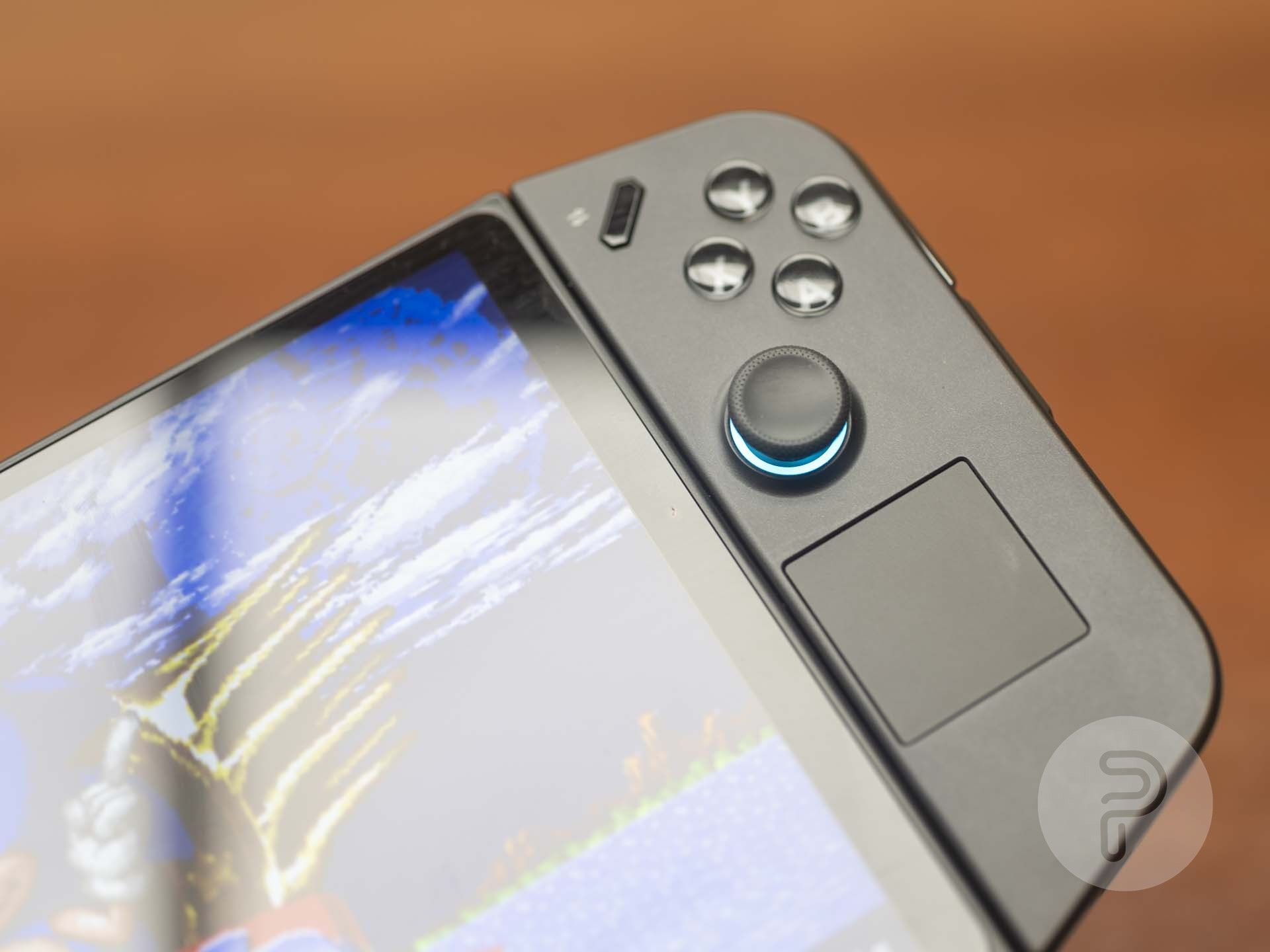 The right side has you X, Y, A, B buttons as well as another joystick and a small trackpad. The trackpad can be used to move a mouse pointer around on the screen. This is very useful for navigating Windows programs that don't support game controller input. It does not support multi-touch for scrolling or right-clicking though, so I hope you don't need to do those things (however, tapping and holding on the trackpad can activate a right click menu.)
You've also got another new button on the top corner of this controller. That's the Legion R button which will show a sidebar overlay that gives you quick access to some settings that you might want to change while playing a game. For example, you can change the refresh rate, resolution, FPS stats overlay, brightness, etc.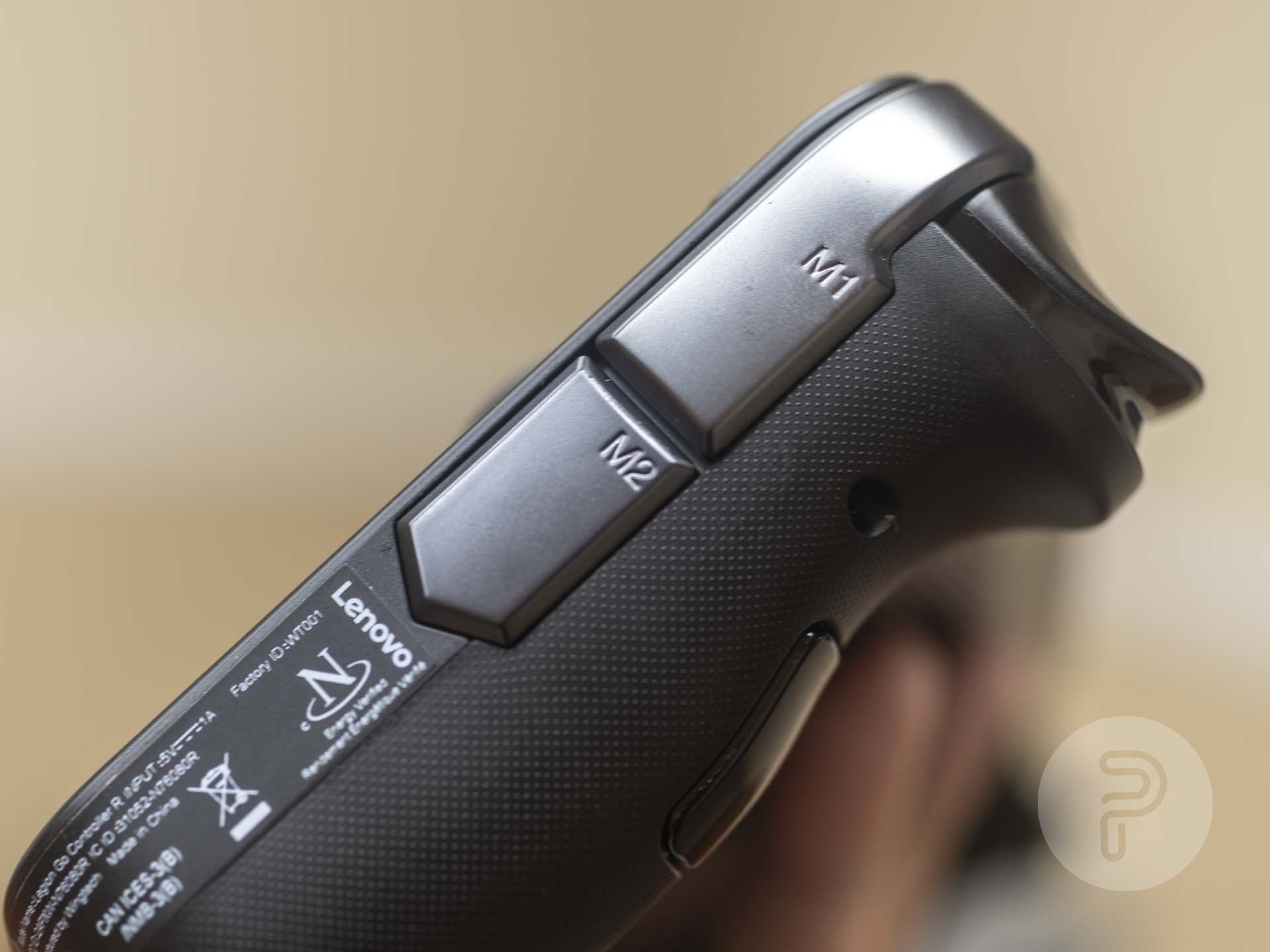 The left and right controllers are not symetrical, by the way. The right side has extra "M1" and "M2" buttons which become more useful in first person shooter mode.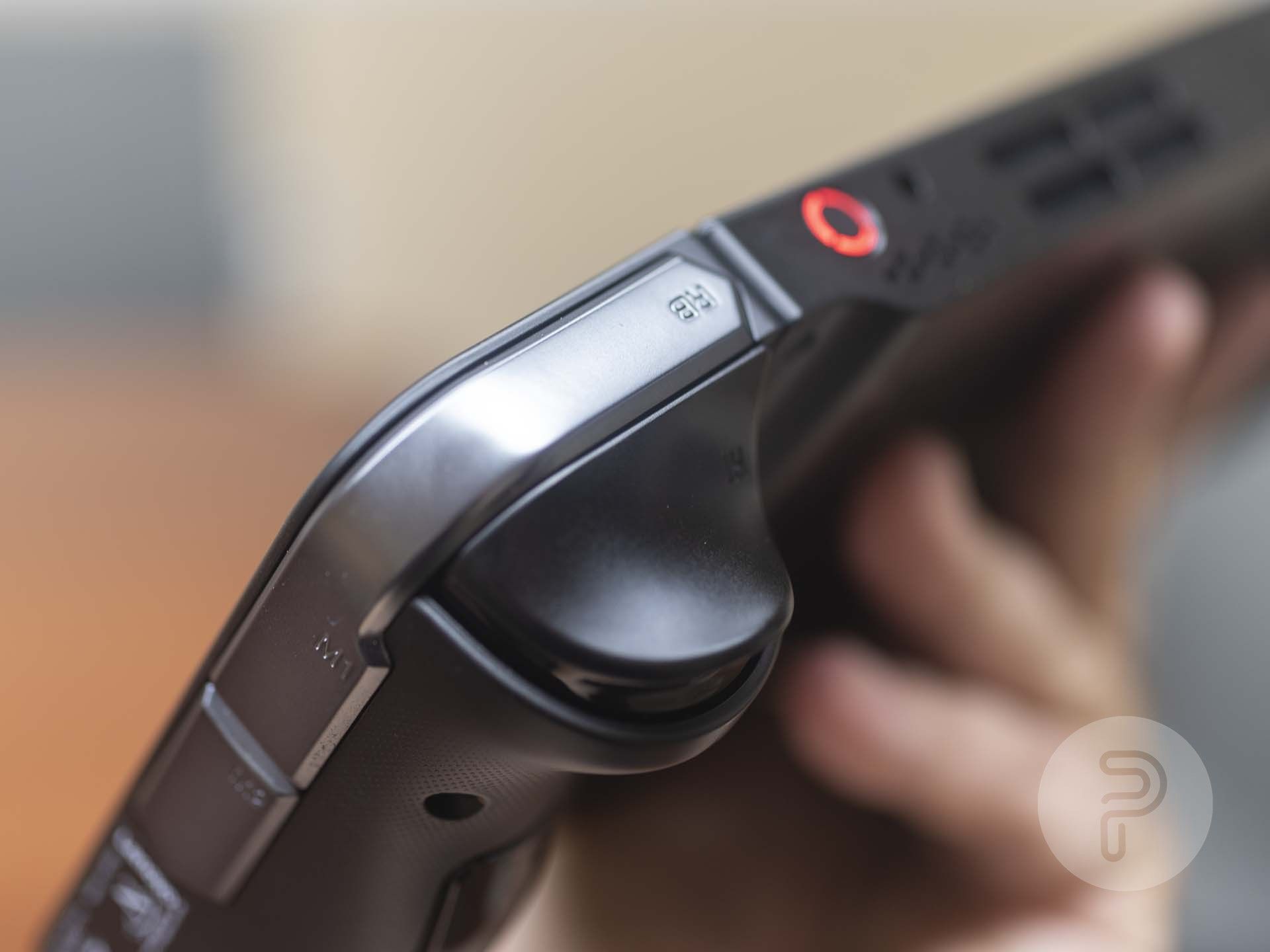 On the top, of course there are bumper buttons and big trigger buttons.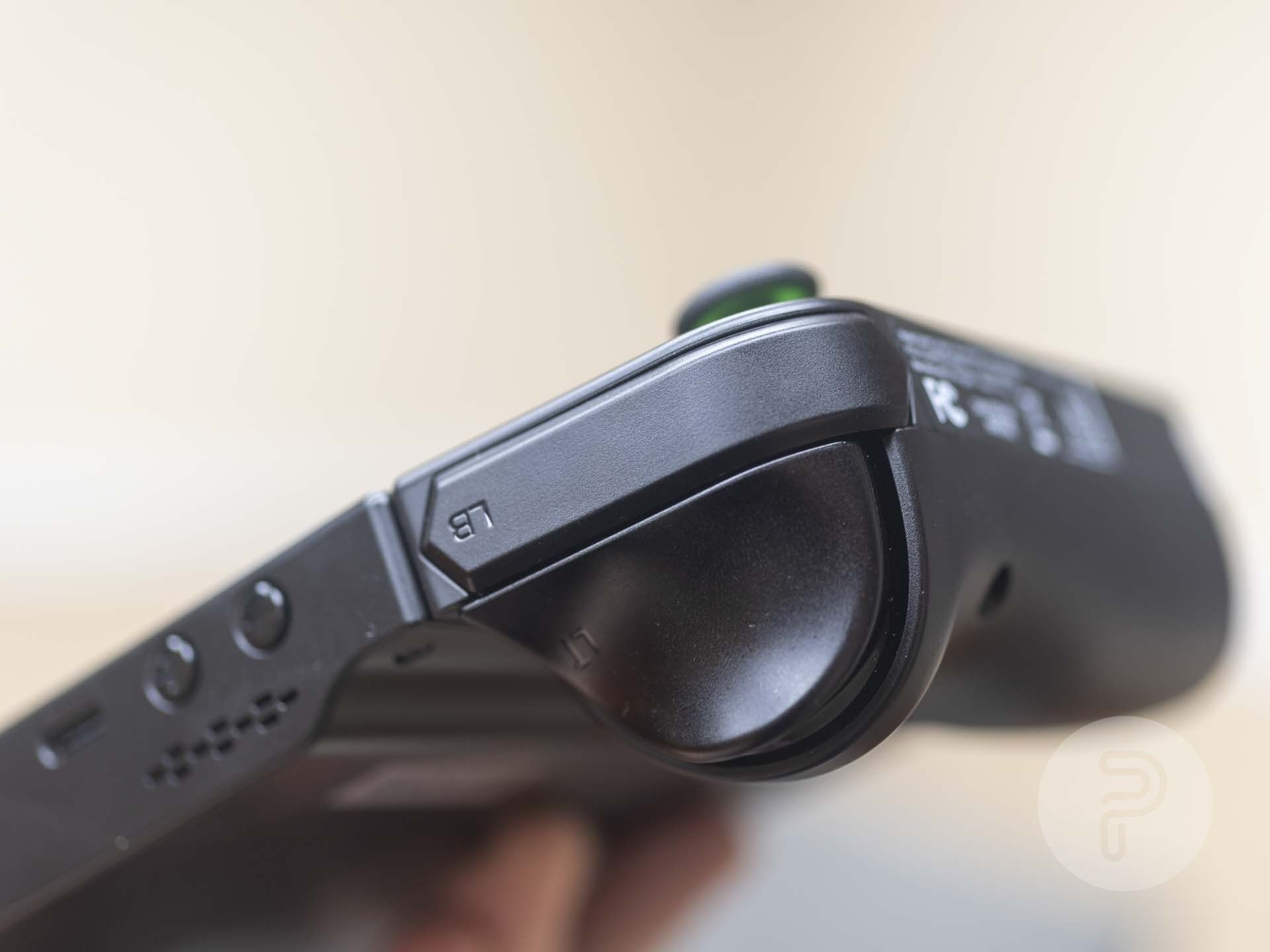 The trigger buttons are very large and ergonomic. These are much more comfortable than what you usually get on an Xbox controller.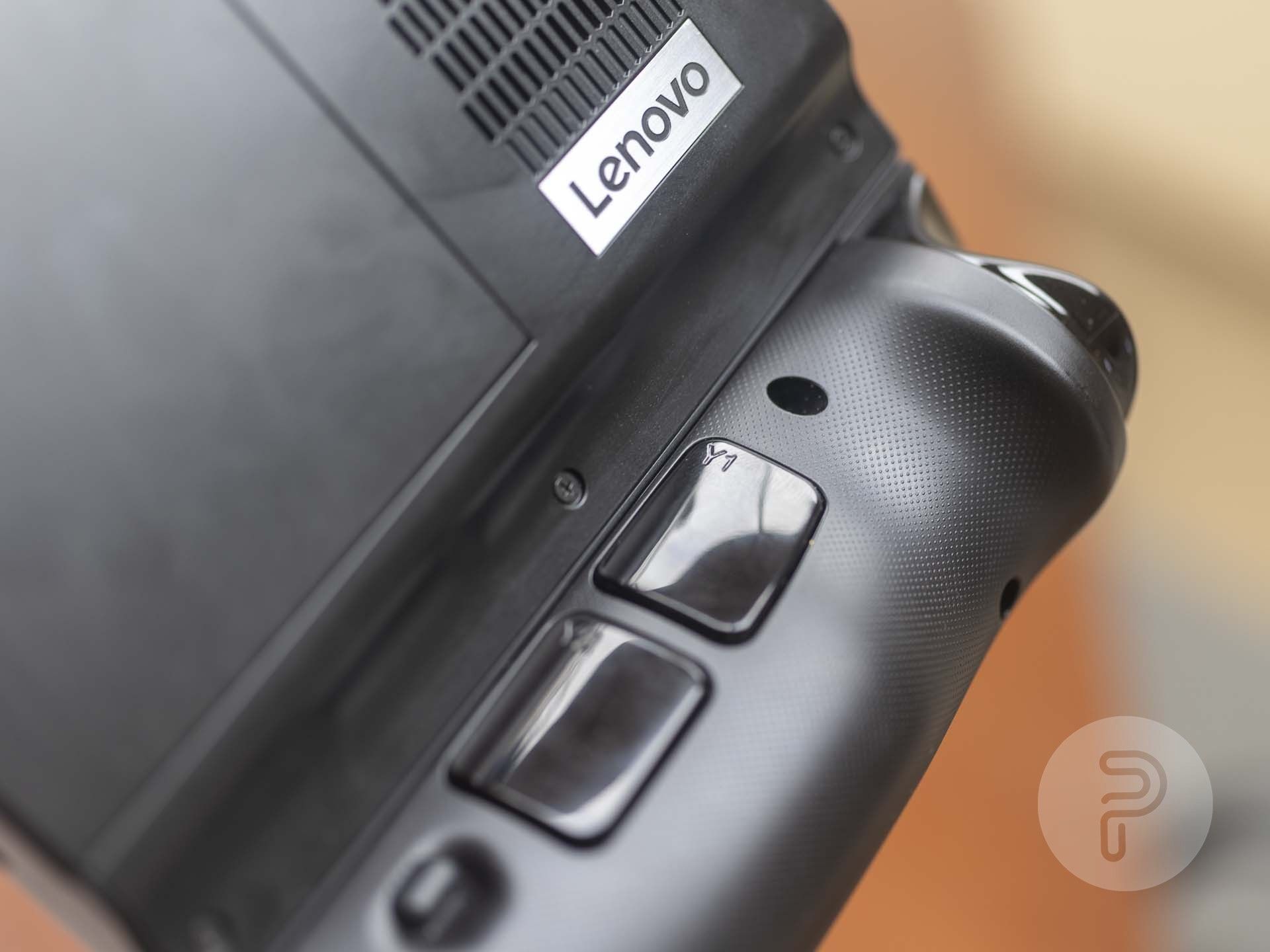 On the inside of the left grip you can see two programmable buttons along with the switch to remove the controller. These buttons are labeled "Y1" and "Y2" and they are customizable within the Lenovo Spaces app settings.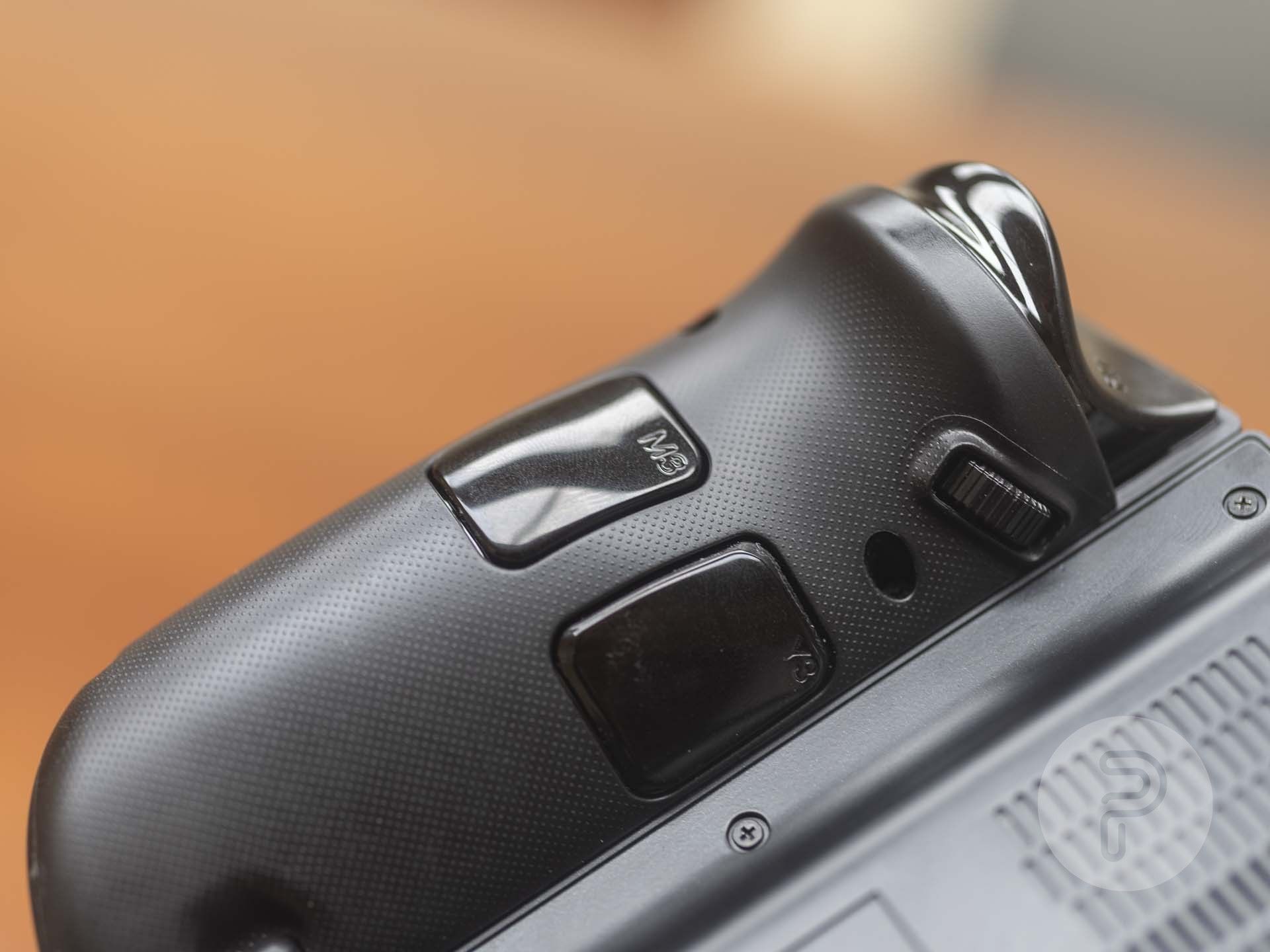 The underside of the right side controller is different still! This one has programmable "M3" and "Y3" buttons in a different position. You can also see a scroll wheel there along with the switch to unlock removal of this controller.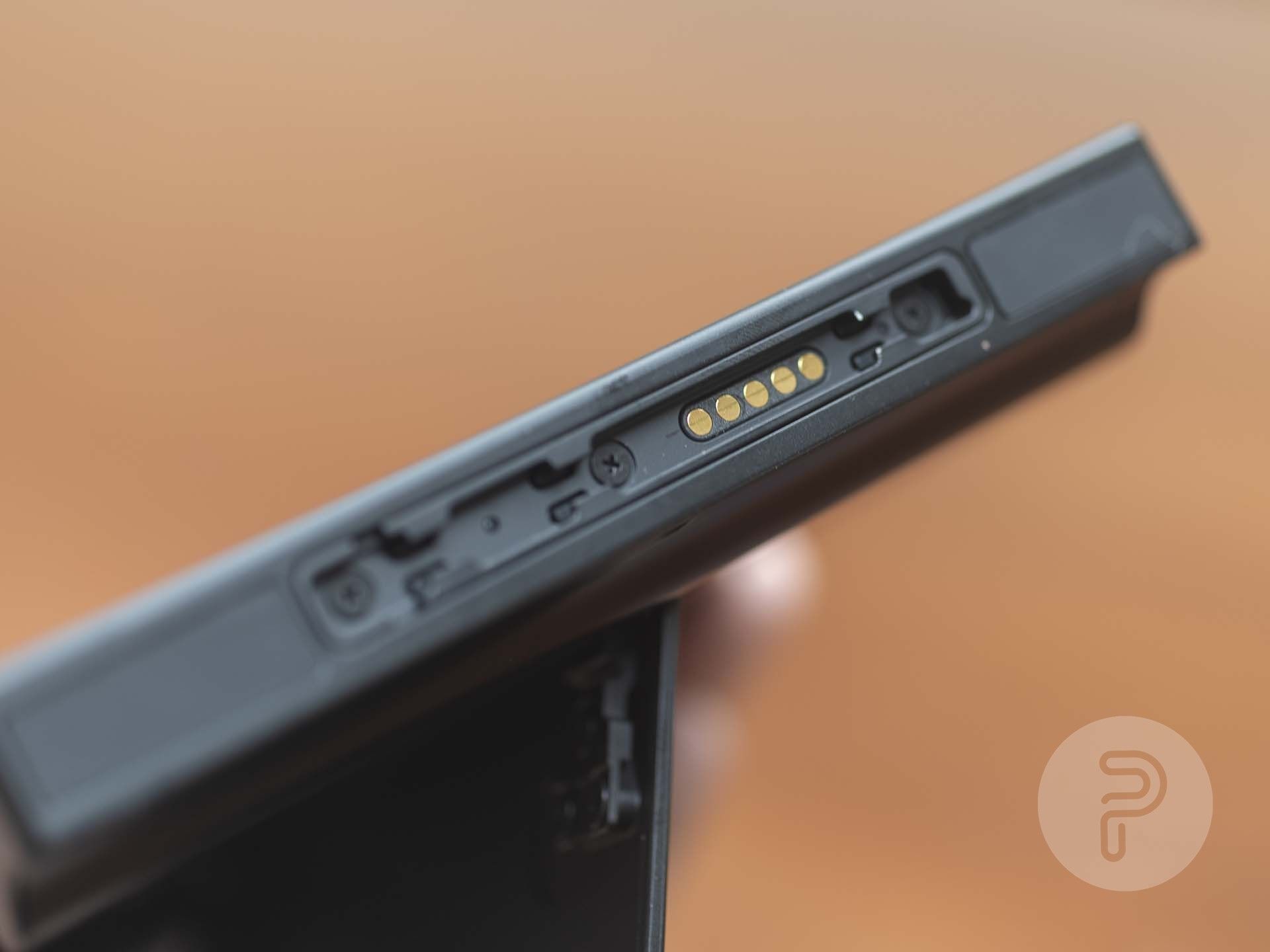 Here's a look at the attachment point for the controllers. Once you unlock the removal, you can slide the controller down to remove it. This connection seems a bit thin which makes me afraid of breaking something if the Legion Go is not held with two hands, but so far it's been pretty robust.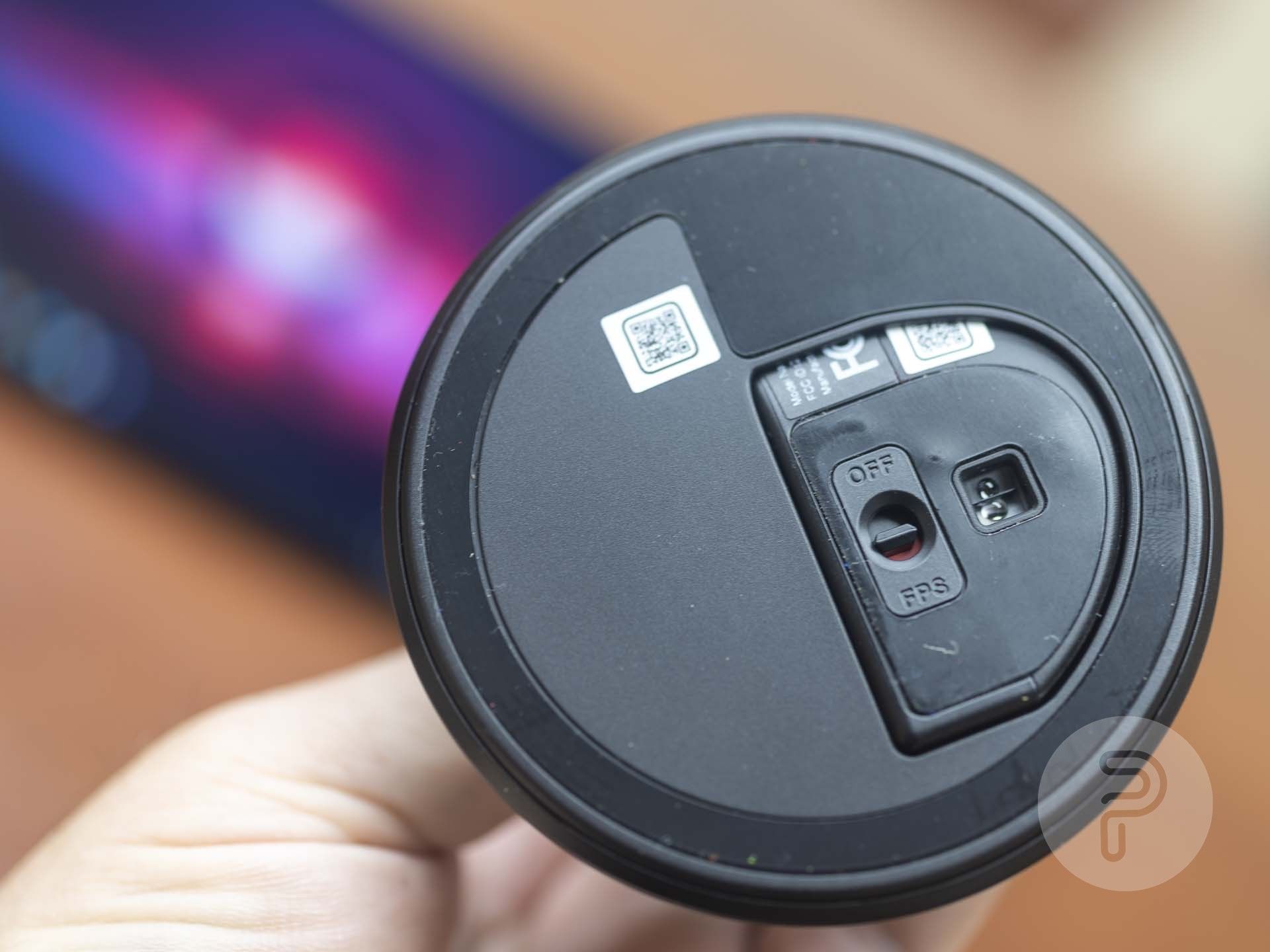 When you remove the right side controller and place it in the included magnetic circular "puck", it's possible to turn it into a table-top gaming mouse. You'll have to flip the switch on the bottom next to the laser surface sensor. That switch will convert the controller into mouse mode and also communicate that change to the Legion Go PC. Mind you, if you re-attach the controller to the Legion Go and that FPS switch is still turned on… it won't work properly!
It doesn't automatically go back to normal gamepad controller mode when you re-attach the controller. I didn't realize that at first and was frustrated that nothing worked. Maybe a future Lenovo software update can detect when the first-person shooter mouse mode is on AND the controller is attached to the side of the Lenovo Go AND subsequently show a warning messaging suggesting the user turns off the mouse mode in order to use the controller while attached.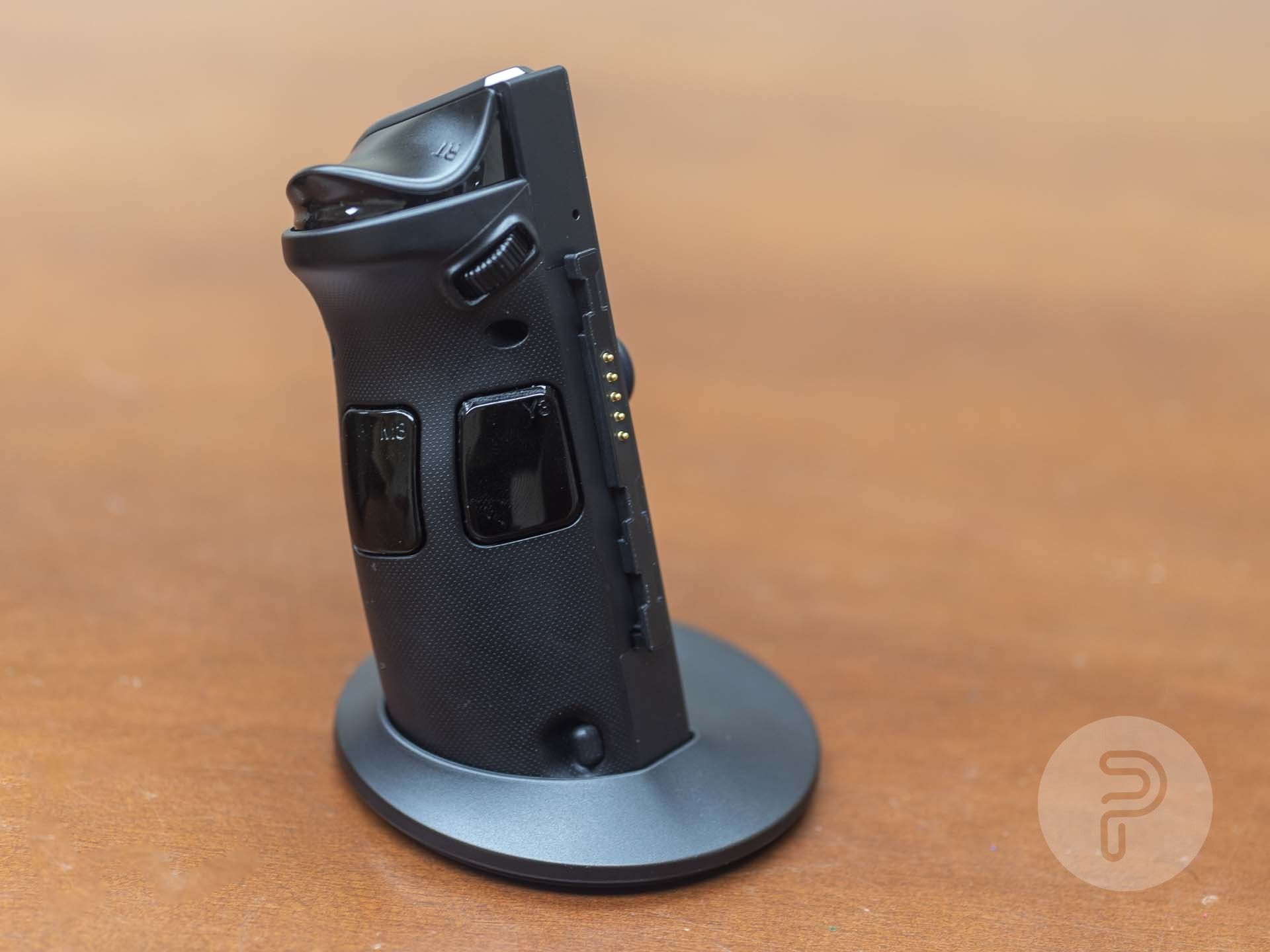 In first person shooter mouse mode, the right side controller becomes an ergonomic joystick like gaming mouse with ergonomic button placement.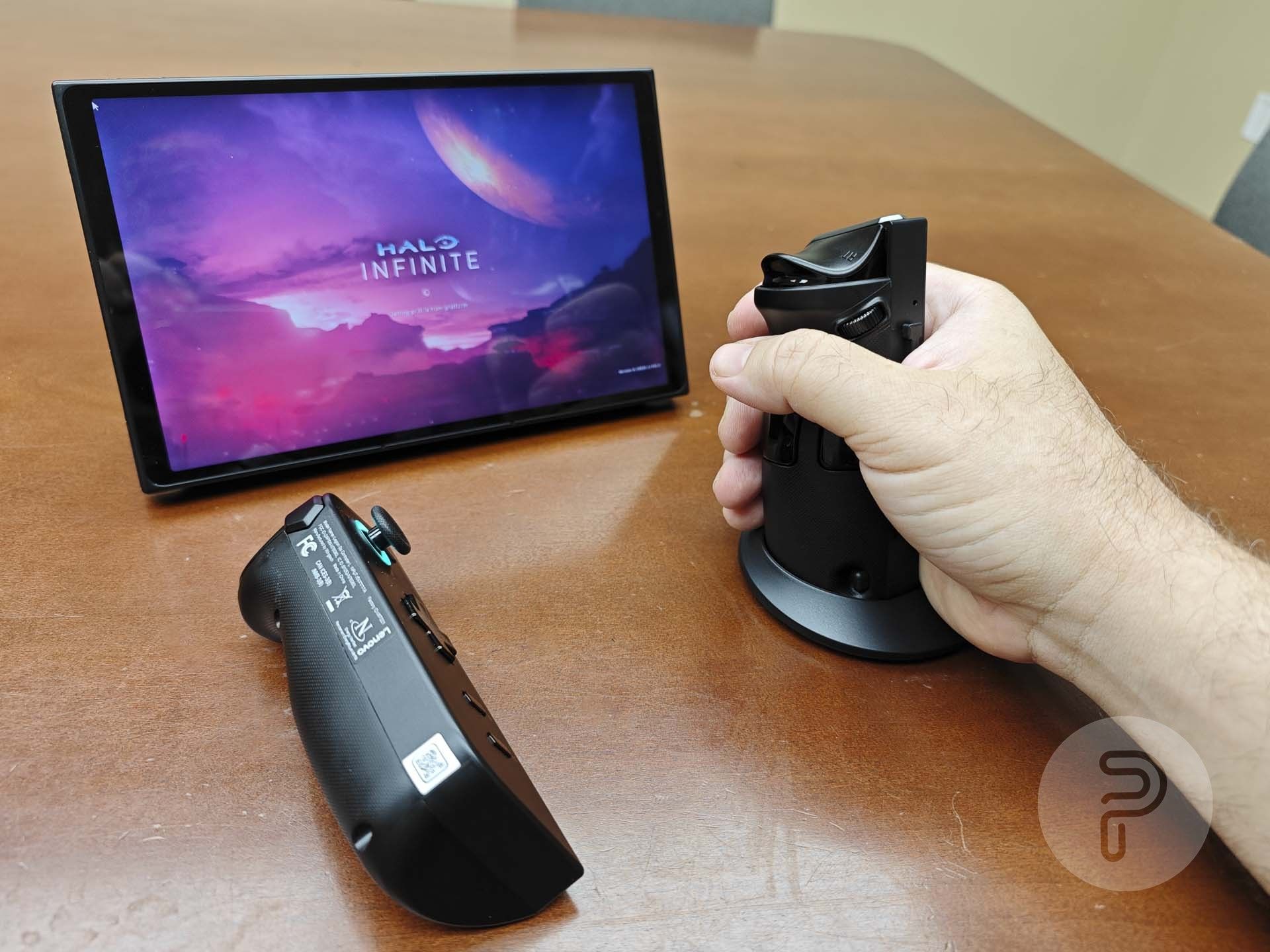 While the hand position isn't the same as a normal gaming mouse, the vertical gun-like position is really quite nice.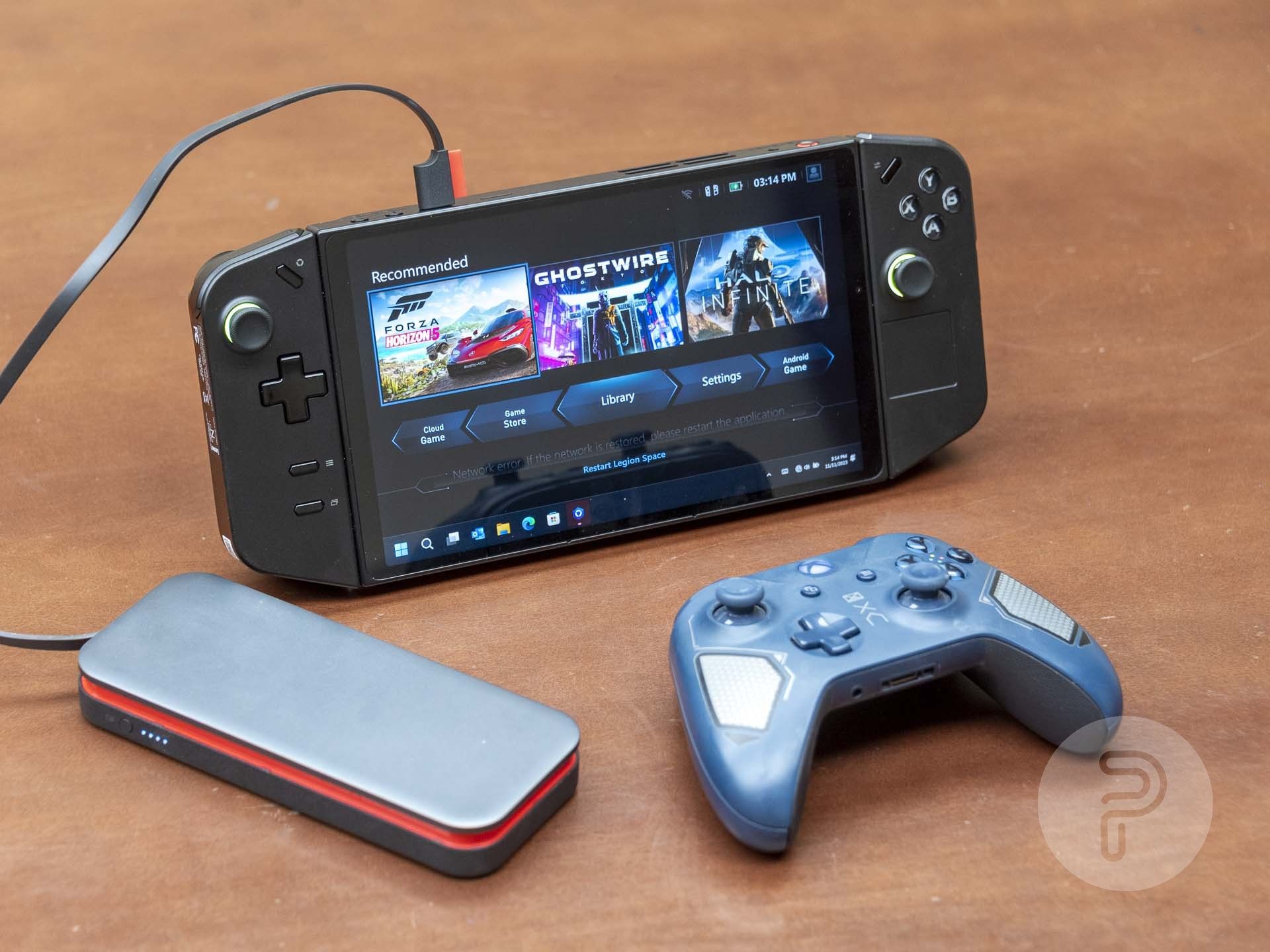 Since the Legion Go is really just a small Windows 11 PC, you can pair multiple Bluetooth Xbox controllers to it as well. You can plug in a large monitor too. Above I've got the Lenovo Go external laptop battery charger plugged in to extend the battery life a bit.
Gaming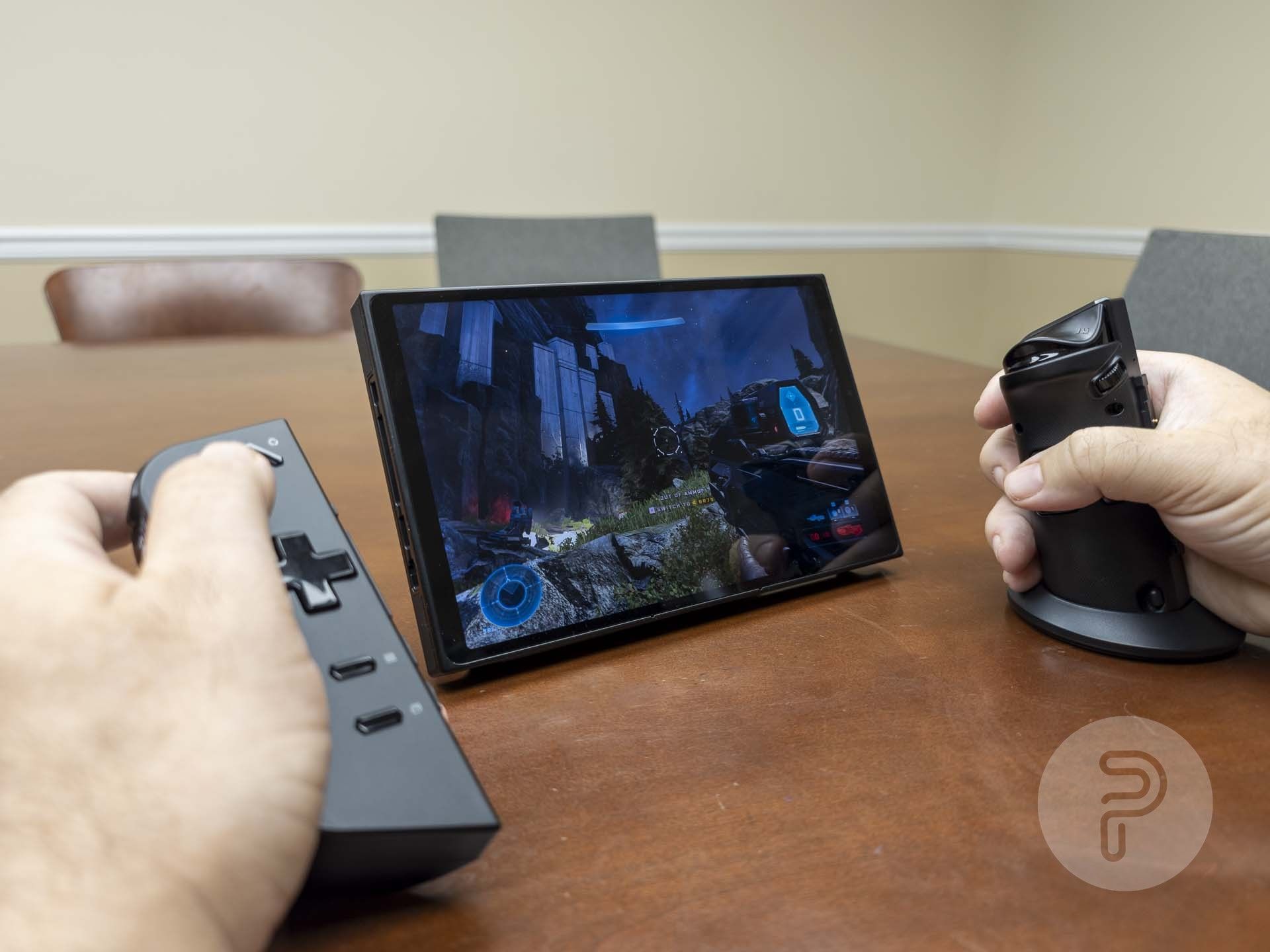 That's right, you can play Halo Infinite on this! The right joystick in gamepad mode required some sensitivity setting tweaks for me, but mouse-mode is extremely responsive when playing Halo.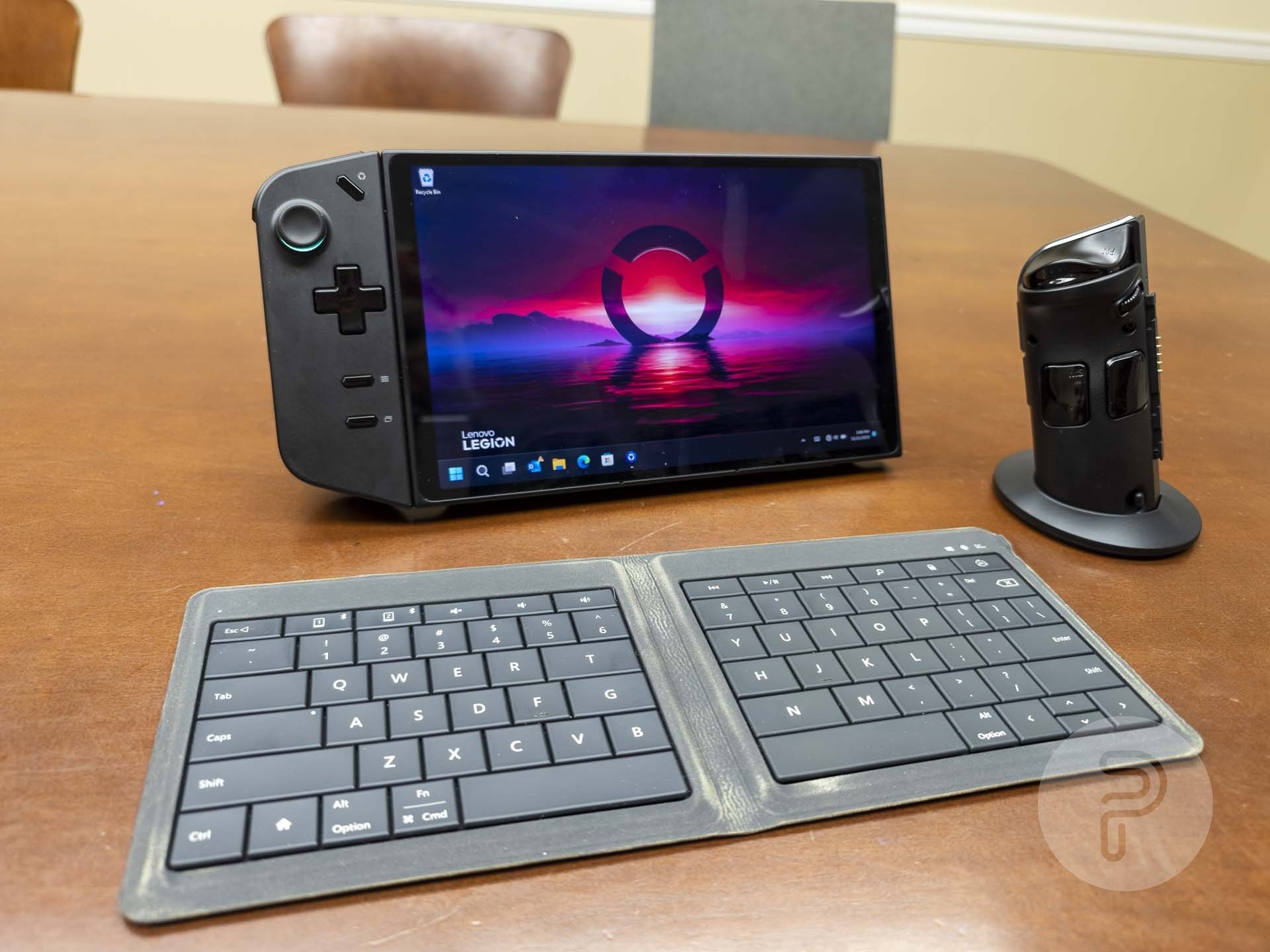 If you're more of a keyboard and mouse user, of course you can pair any Bluetooth keyboard with the Legion Go.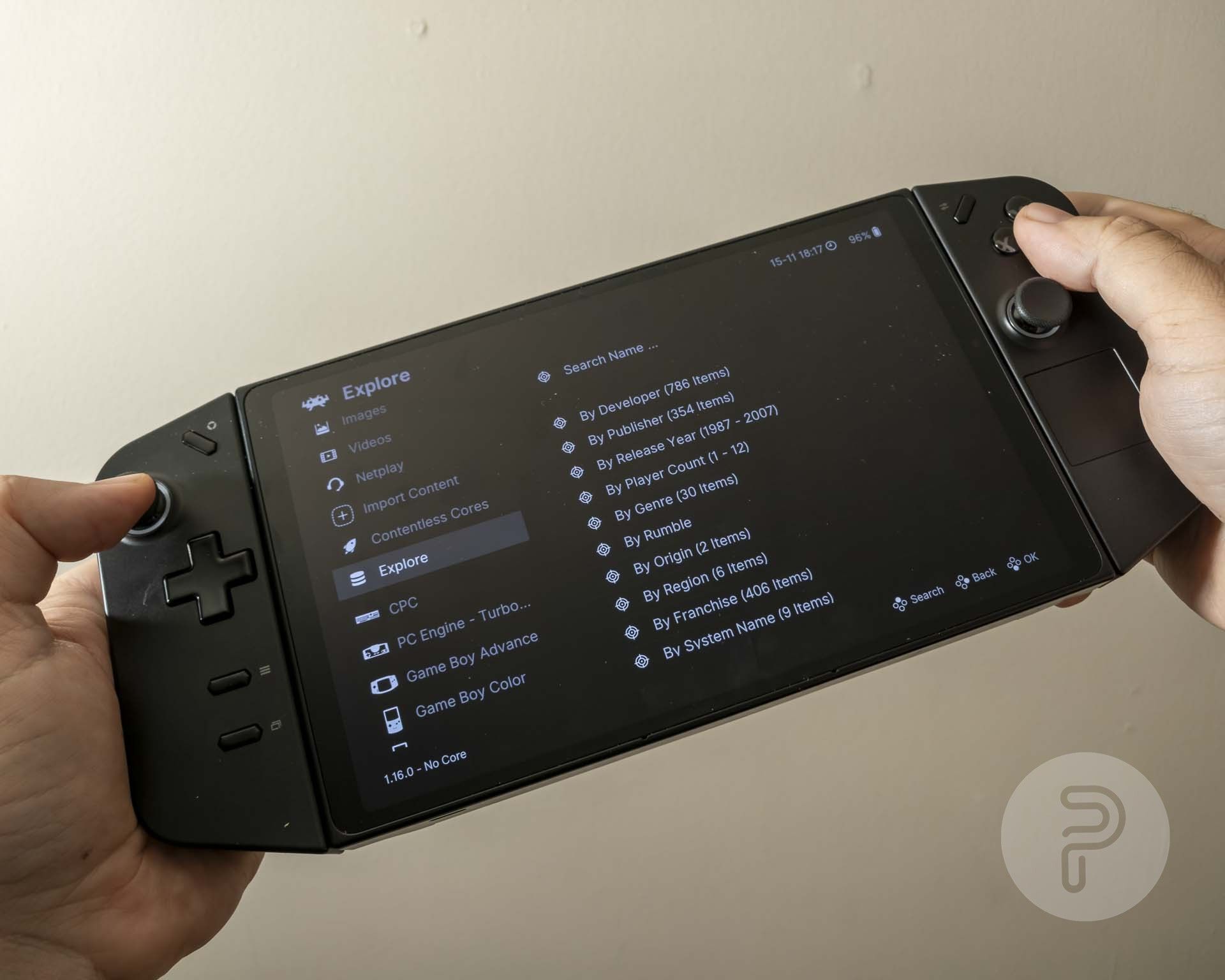 I installed RetroArch on the Legion Go and loaded it with some old game roms from the 20th century. RetroArch is a front end for a variety of open-source retro game emulators and it worked beautifully on the Legion Go; although getting in and out of full screen mode without an "Alt + Enter" button is a bit of a pain.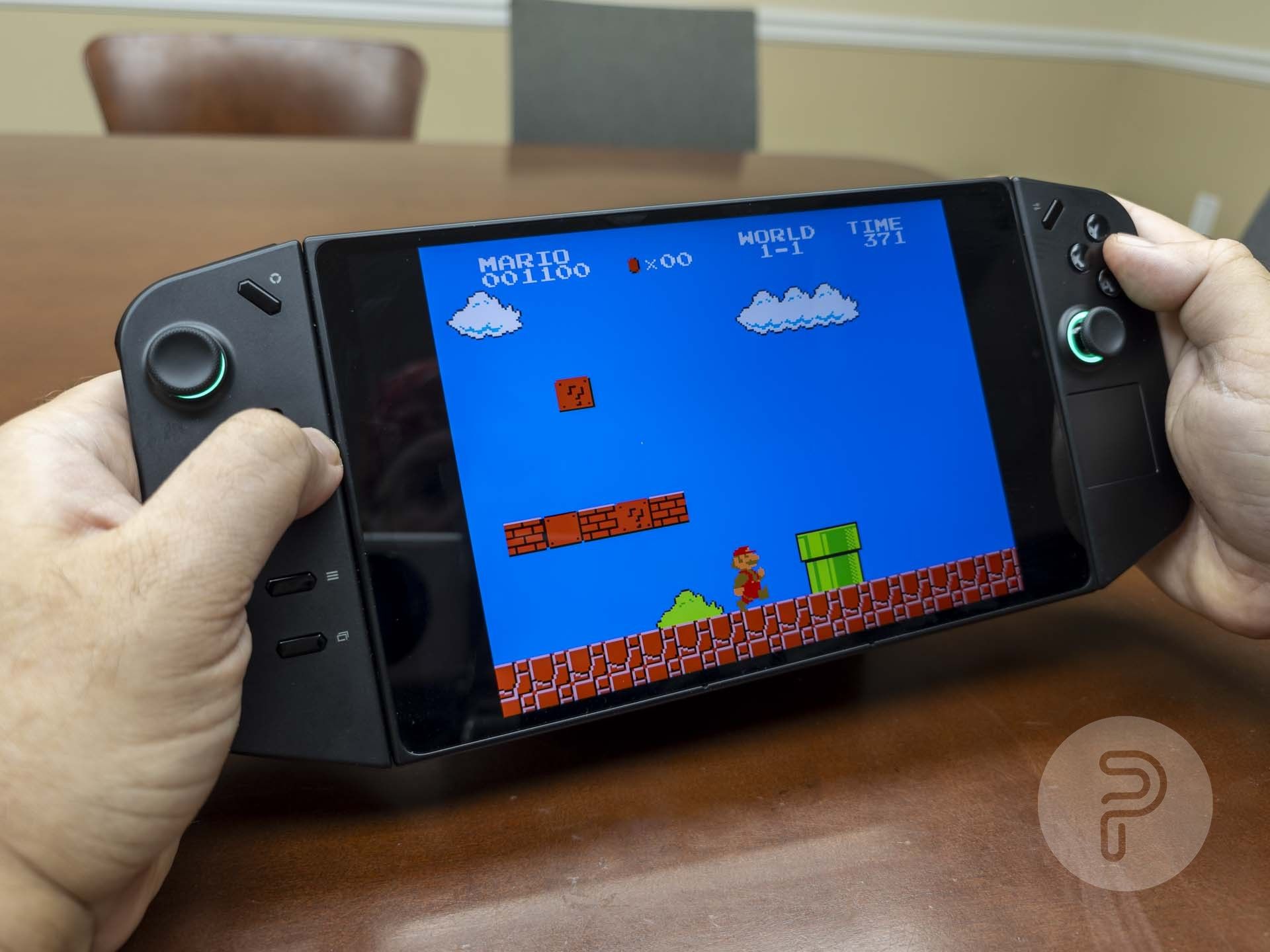 Once you get pass that though, those old games work beautifully!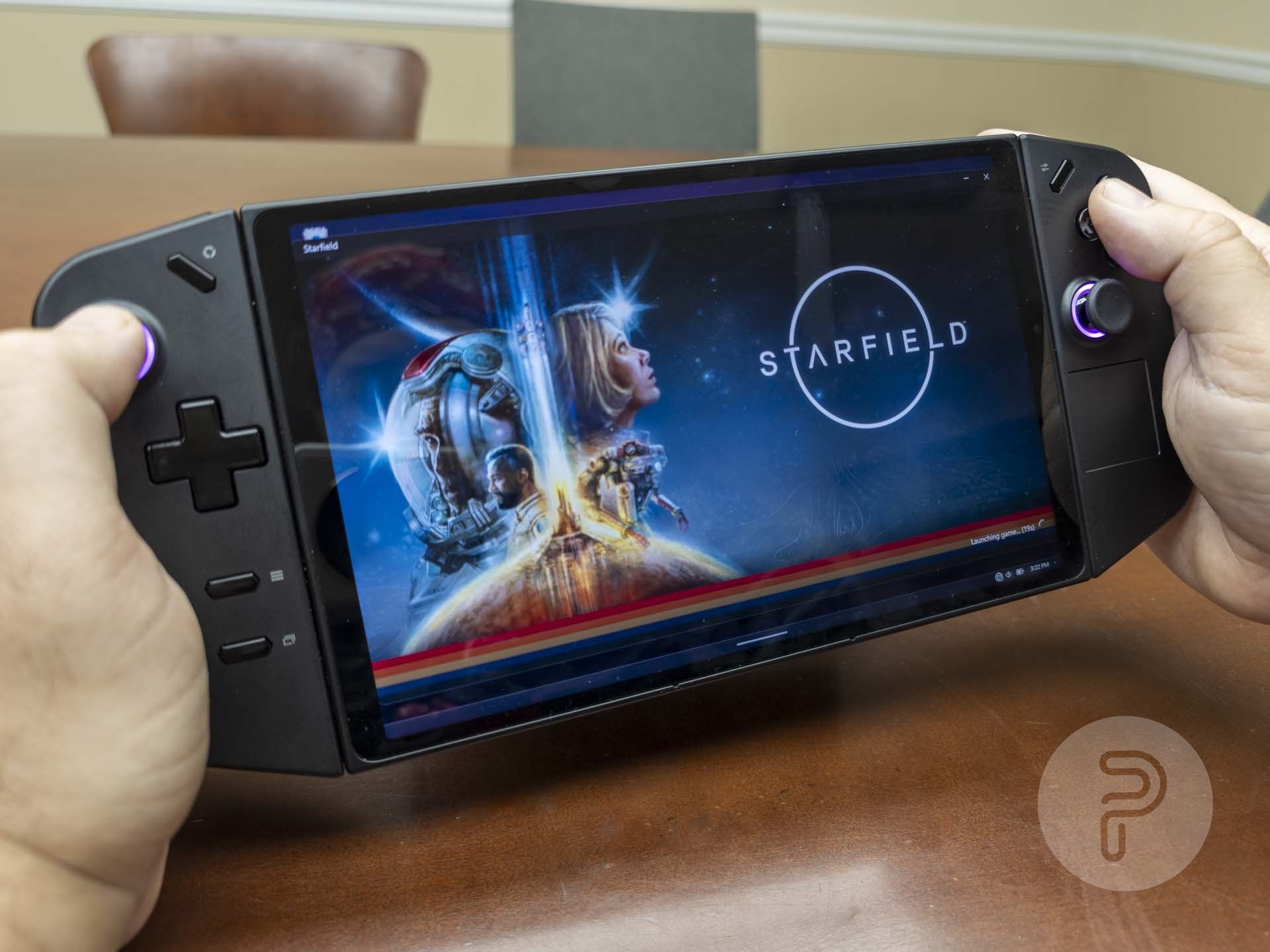 Starfield shows an "outdated graphics card" error and usually crashes. This might be due to some setting somewhere that I need to tweak, but such is life when it comes to PC gaming. Perhaps a GPU driver update will fix this someday.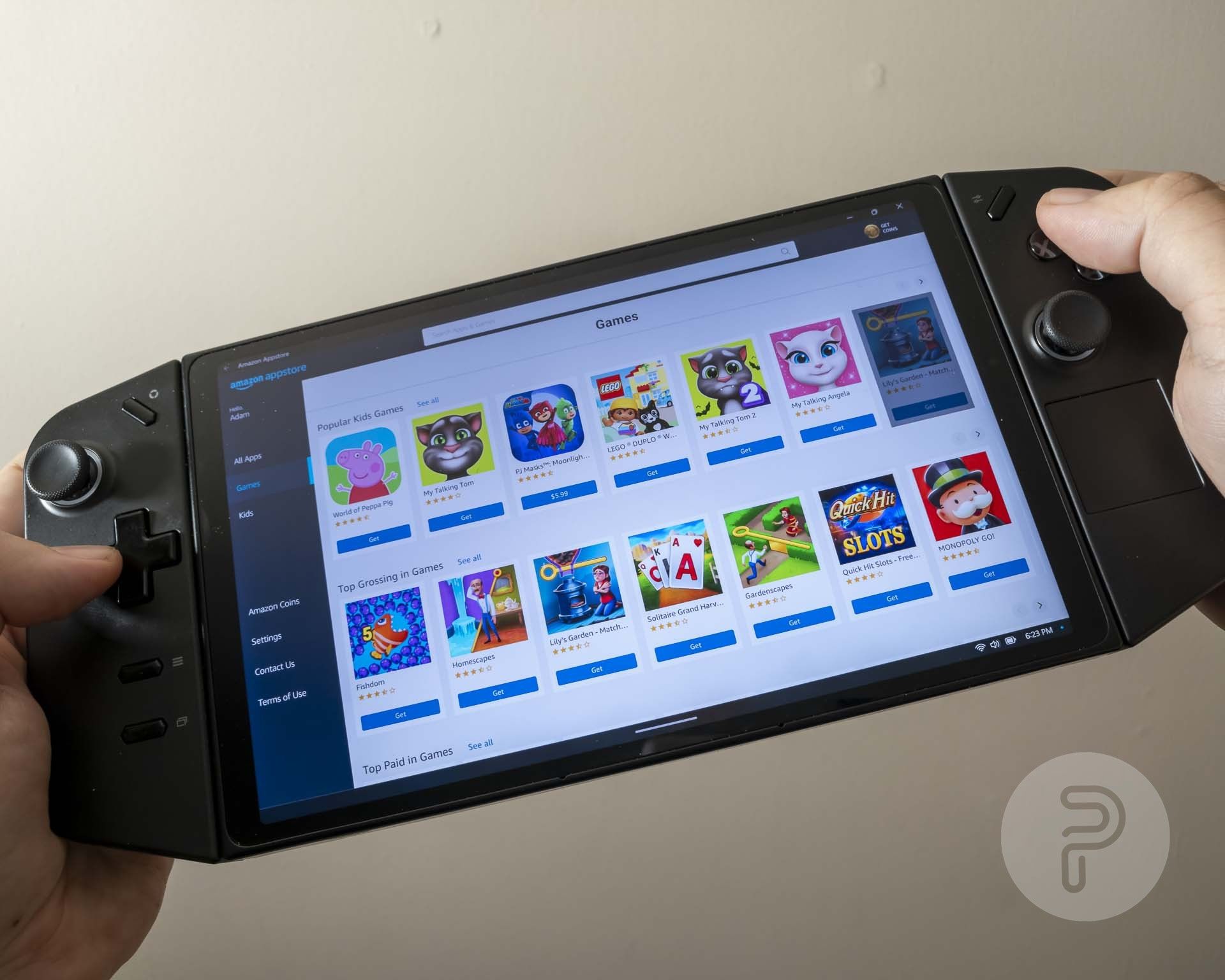 Do you also want to play some Android games on this? Windows 11 includes an Android app subsystem that will allow you to do that. You'll have to get them from the Amazon Android app store though (or as APK files) as Google won't allow the Play Store in Windows.
Software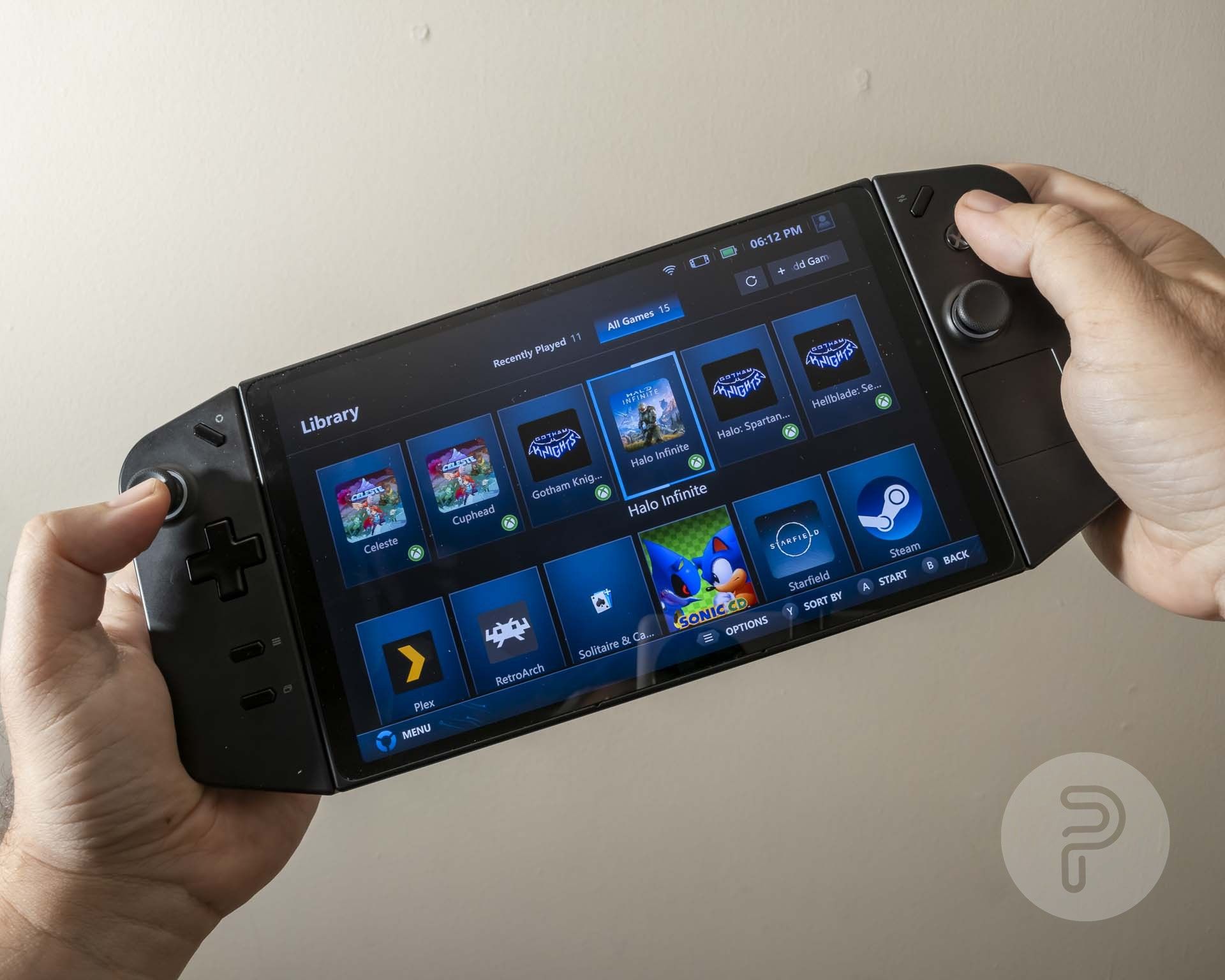 The Lenovo Legion Go first boots to Windows 11 and then when you sign in, by default, it will auto-launch the Legion Space app. Legion Space is a game-pad navigation-friendly game launcher and settings configuration interface which also includes links to the Steam store for purchasing games. It's awfully slow to launch with some excessive yet cool-looking animations, but it works well when loaded as a game launcher.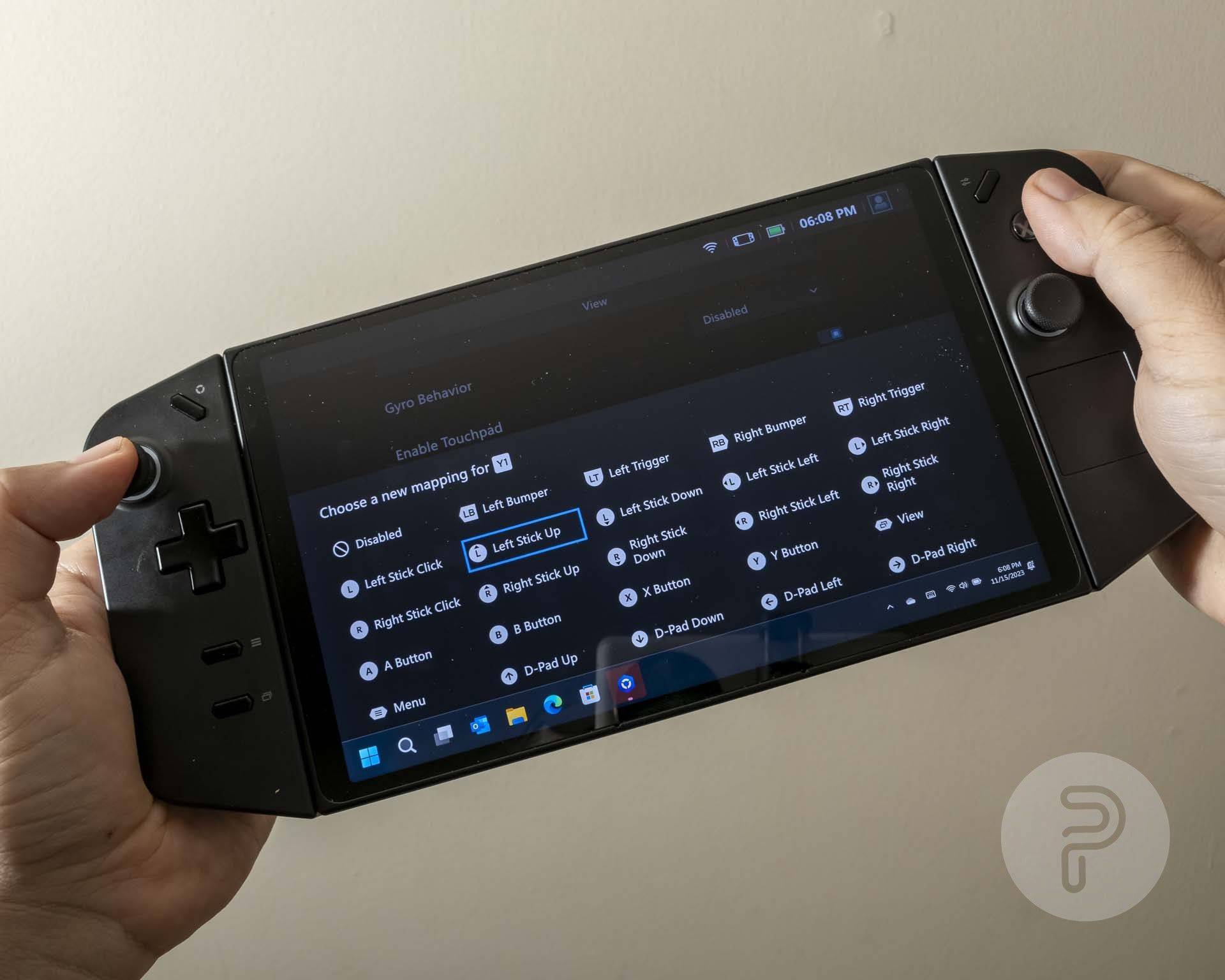 You can program the extra controller buttons to do plenty of other functions, but the options are a bit limited. I wish I could make a button launch the Xbox Game Bar for easy recording, streaming, and friend connections. If you pair an Xbox controller with Windows 11, the Xbox button will have that function, but on the Lenovo Legion Go, there's no way to do it. I also wish I could program the controller buttons based on which program or game was active in the foreground.
On my Wacom devices, I have a hardware button software configurator that is practically limitless. I can set different keys to have different functions in different programs, and I can assign actual keyboard combinations or macros to buttons. I wish I could do that with the Legion Go controller buttons! Especially in RetroArch… I need to be able to configure some buttons that can close the game or show menus. I'd love to make an "Alt + Tab" button for switching between open programs too so that I can quickly flip to Outlook to see those emails and then quickly flip back to the game I might have been playing.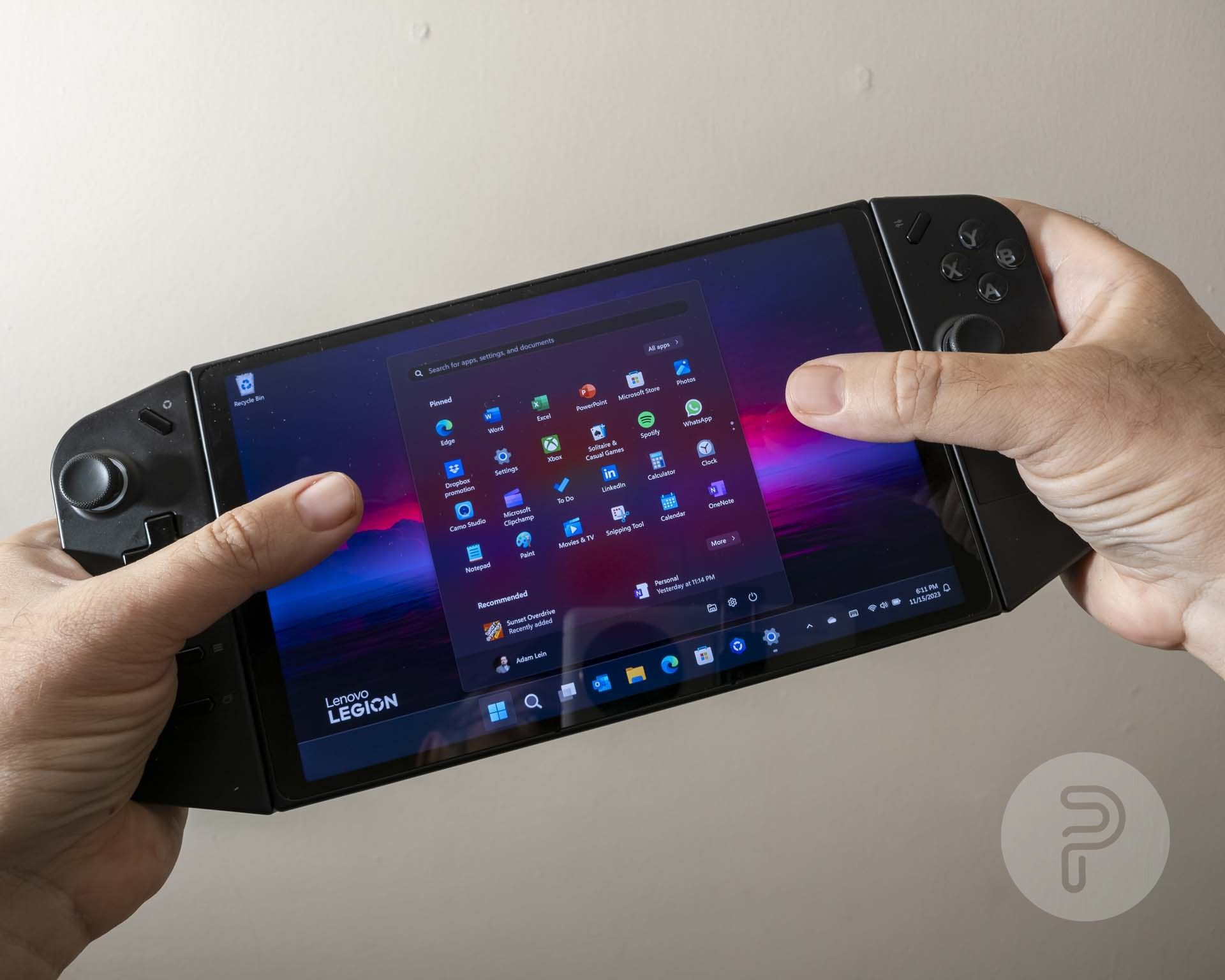 The Windows 11 interface really kind of sucks on a small 8″ touch screen ultra-mobile PC like this. (Also see: Explaining Windows 11's bad design.) The centered start menu is completely unusable while holding the device by its handles as seen above. This is kind of ironic since Microsoft was way way ahead of the game when it comes to touch and tablet interface design with their special UMPC Origami software, Windows Media Center, and Windows XP Tablet PC edition way back in 2003 which was 20 years ago. Even Windows 10's tablet mode would have been beautiful on the Legion Go, but all remnants of a good touch screen or game controller interface are gone from Windows 11.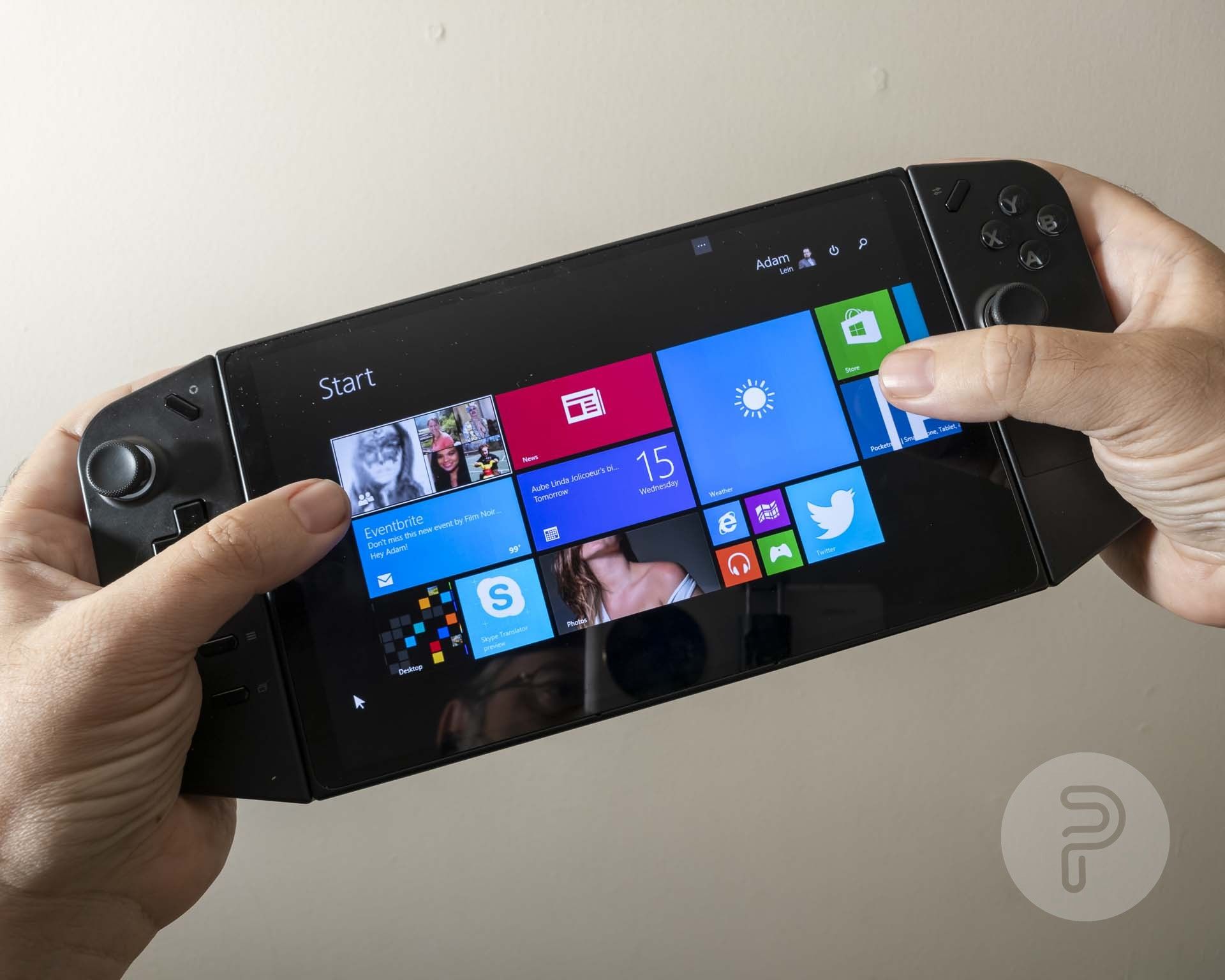 Actually, Windows 8's tablet interface would have been extremely useful on the Legion Go since it has a left-edge touch gesture for switching between open programs and a right-edge touch gesture for accessing the start screen and settings and the start screen is very touch friendly and navigable with controllers. That would have been so much better than a center-bottom start menu and task bar that you can't reach from the left and right edges where your fingers actually are.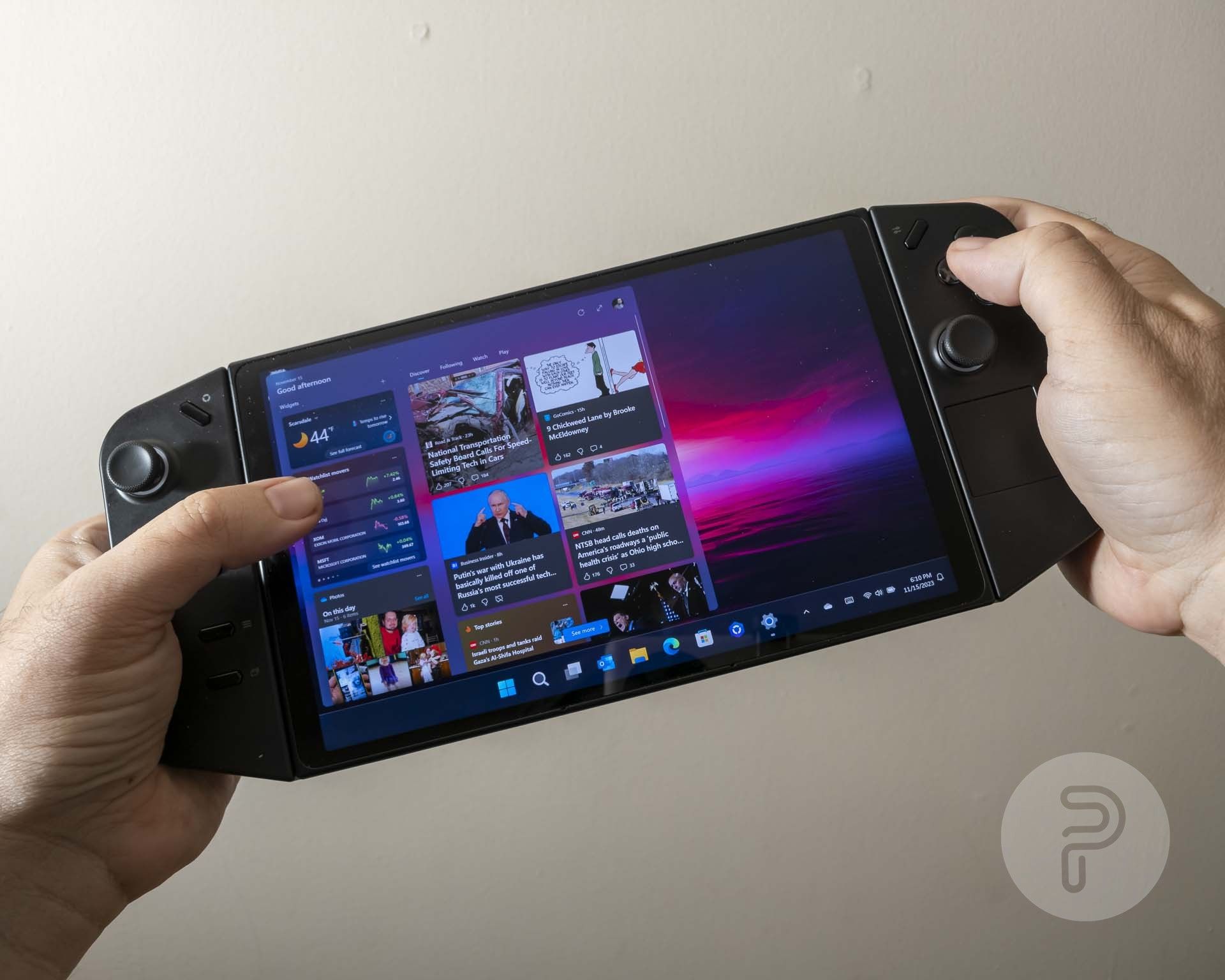 The left and right edge touch gestures on Windows 11 give you a completely useless sidebar full of ads on the left or a slightly less but almost just as useless sidebar of notifications on the right side.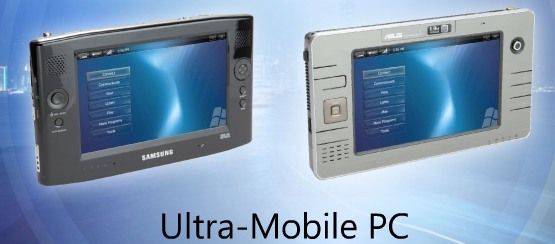 Back in 2006, Ultra-Mobile PCs running Windows weren't nearly as powerful as the Legion Go we have today!
It's not Lenovo's fault that the Windows 11 is terrible for a device like this of course… it's Microsoft's fault, but if you want a portable gaming machine that runs all the games that run on Windows 11, you kind of have to have Windows 11 installed. You could get around the Microsoft requirement in the same way Steam did with the Steam Deck and Steam OS which is based on the more-freedom-friendly Debian Linux, but developing a good user experience design for that is a lot more work.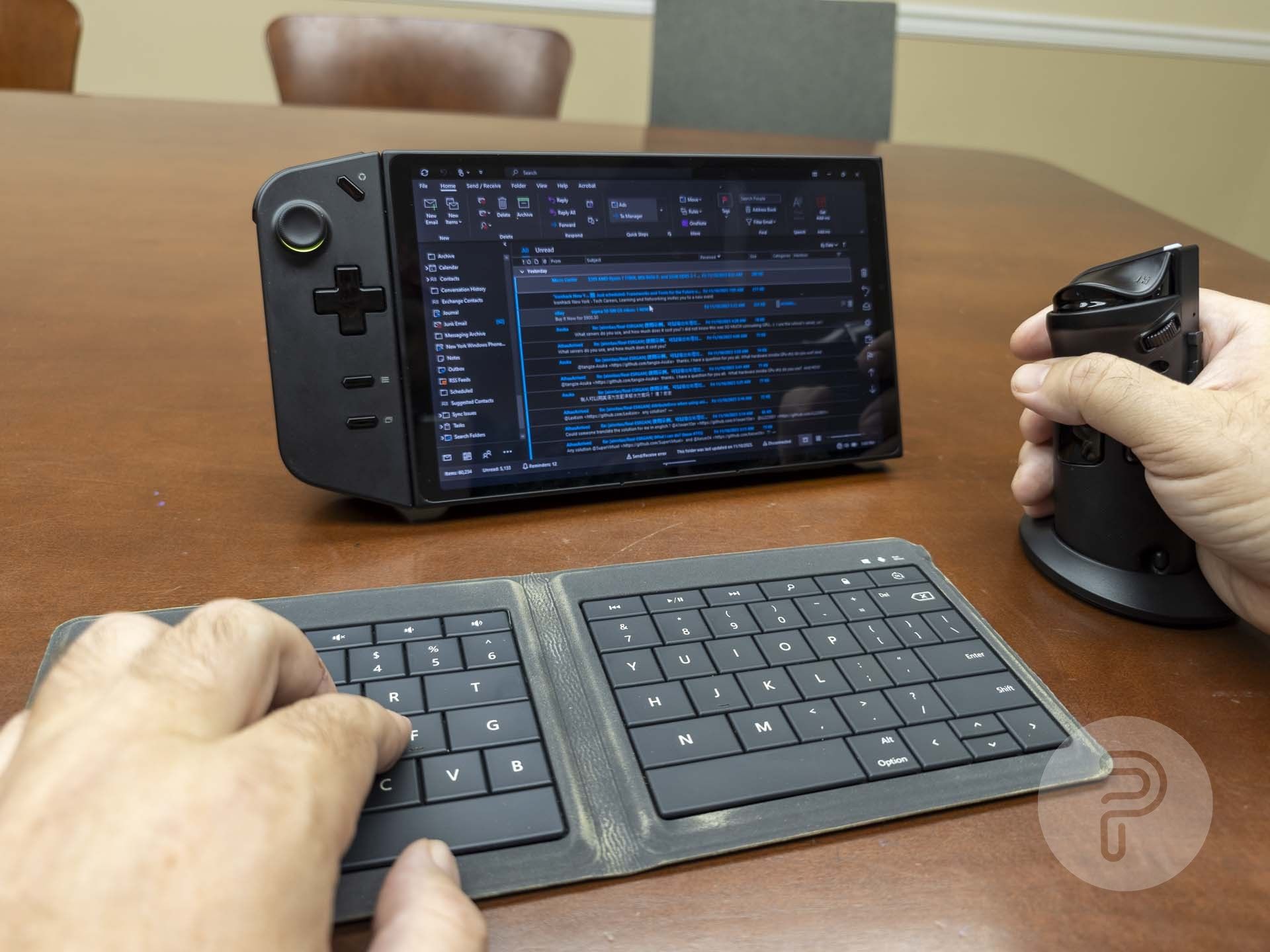 Still, it can be really nice having Windows 11 running on the Legion Go. Converting the right controller to a mouse and pairing a Bluetooth keyboard while setting the Legion Go up on its kickstand makes for a pretty powerful little portable computer that can run just about any Windows compatible software you might want to throw at it. That's right, it can probably handle all of your serious work in addition to serious gaming!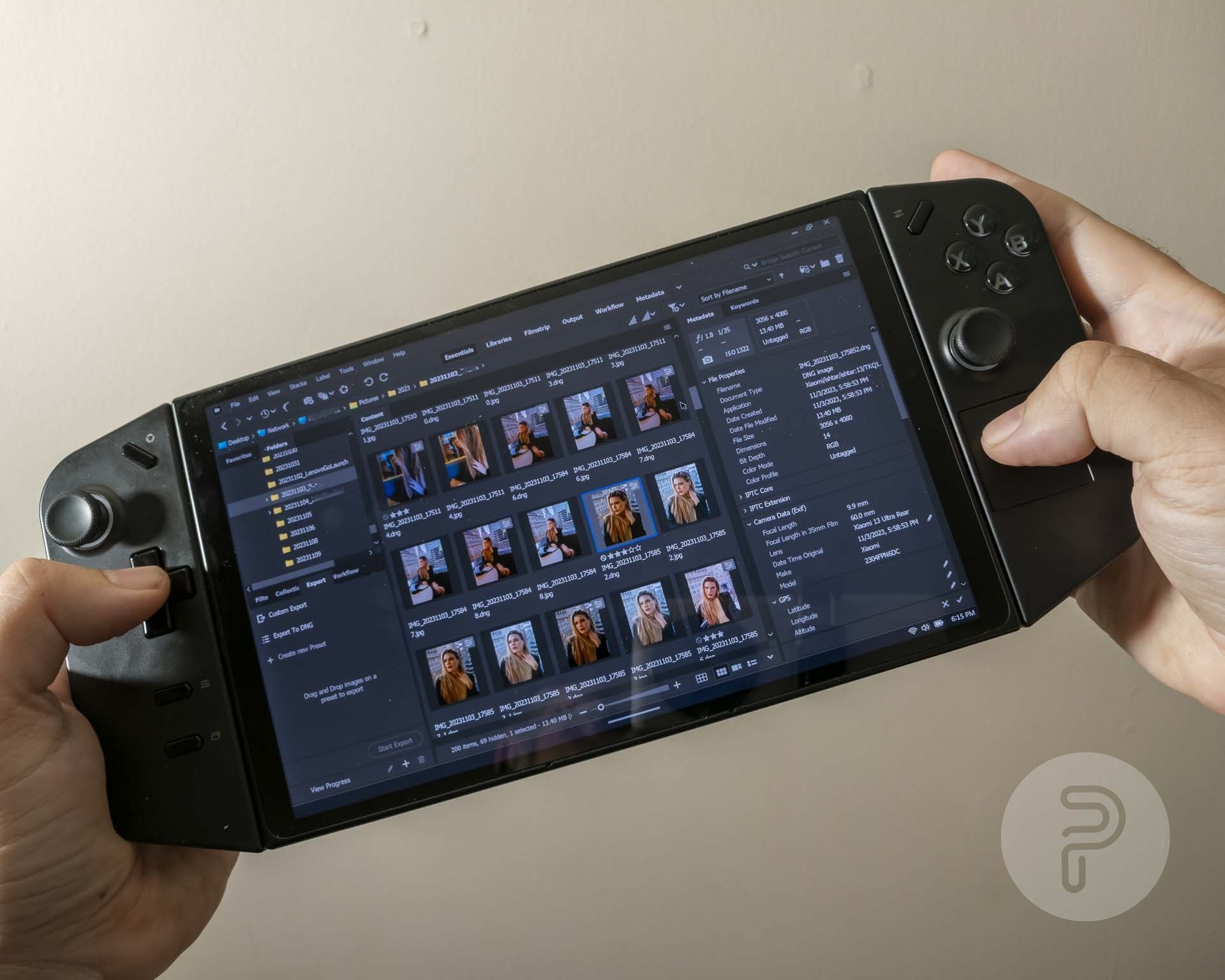 I might even do some photo editing and processing on this once in a while.
Legion Glasses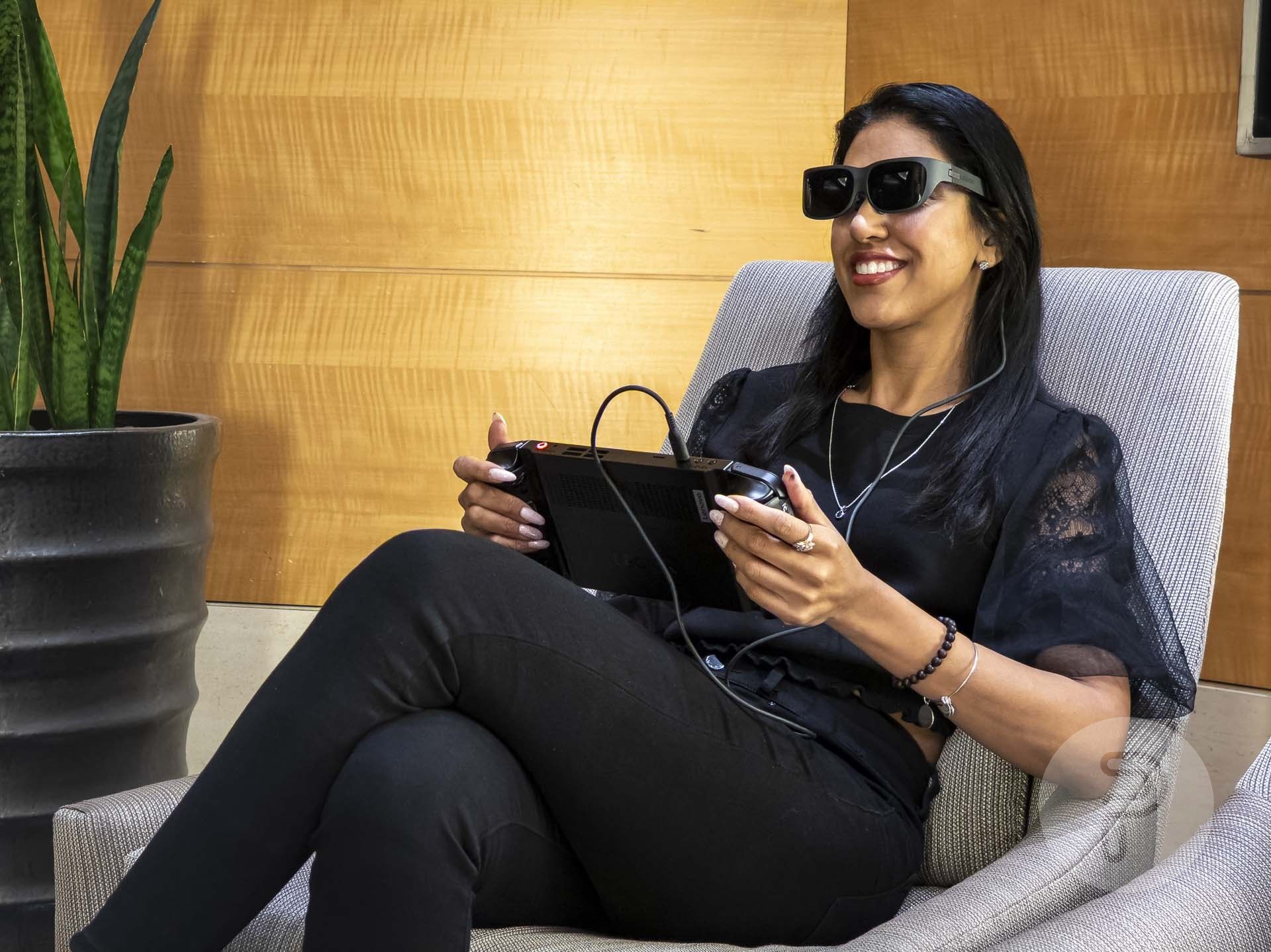 Now here's an accessory that released at the same time as the Legion Go which you might want to consider picking up as well. These are basically extra thick sunglasses that have a USB-C wire coming out of the left temple frame. Put the glasses on your face, plug the USB-C cable into something that supports USB-C Display Port output and in about a second you've got what feels like a full-sized movie theater screen in front of your face.
These are a perfect accessory for the Legion Go which includes some settings controls in the Legion Space software… especially if the 8.8″ screen on the Legion Go is a little too small for you.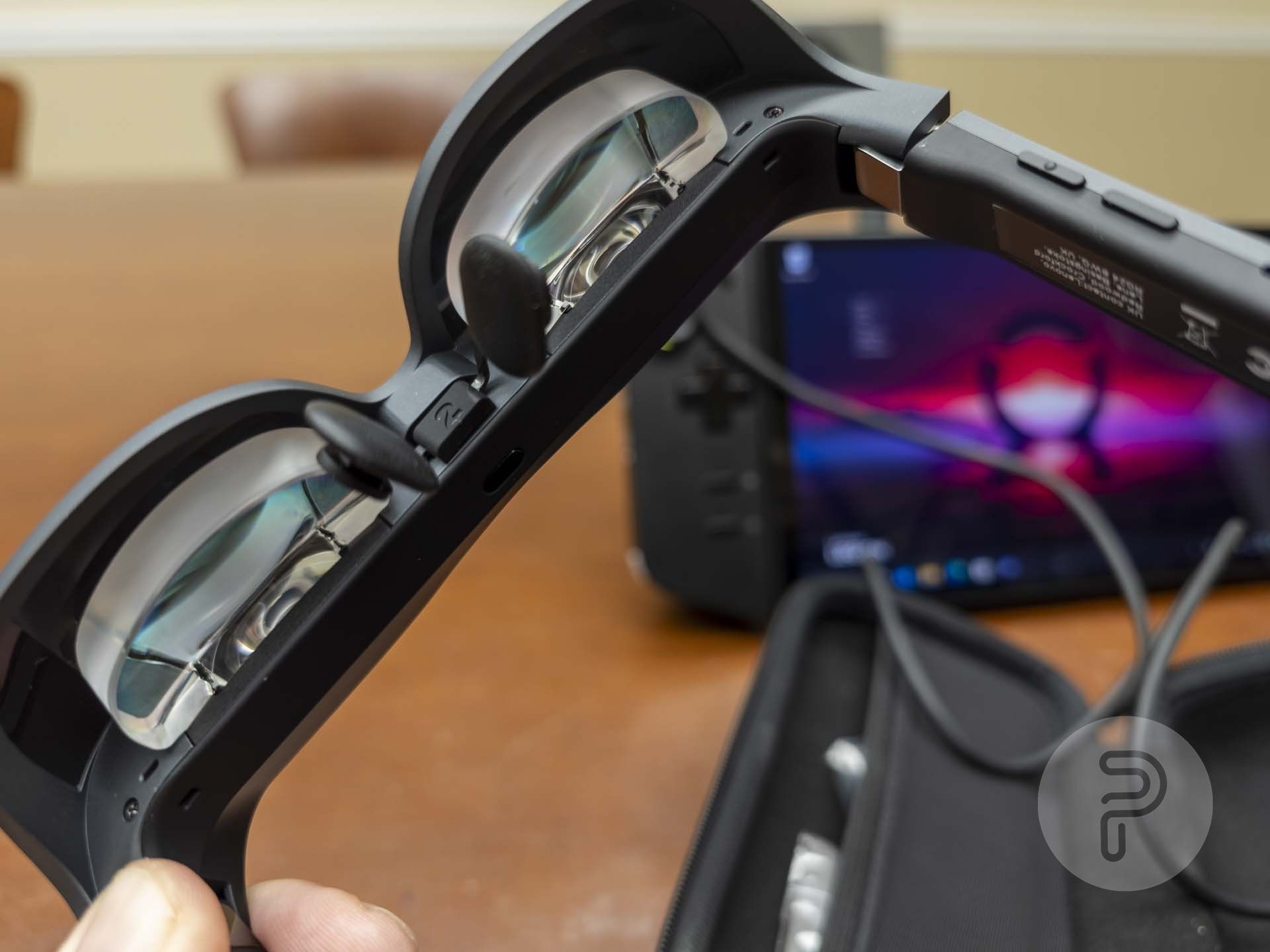 I wouldn't call these Augmented Reality glasses since you really can't see through them to the real world very well and they're certainly not virtual reality… they're simply a private big screen monitor on your face and that's actually really awesome. No complicated user interface to learn, no extra batteries, no motion sickness… just plug it in and load a game to play or movie to watch.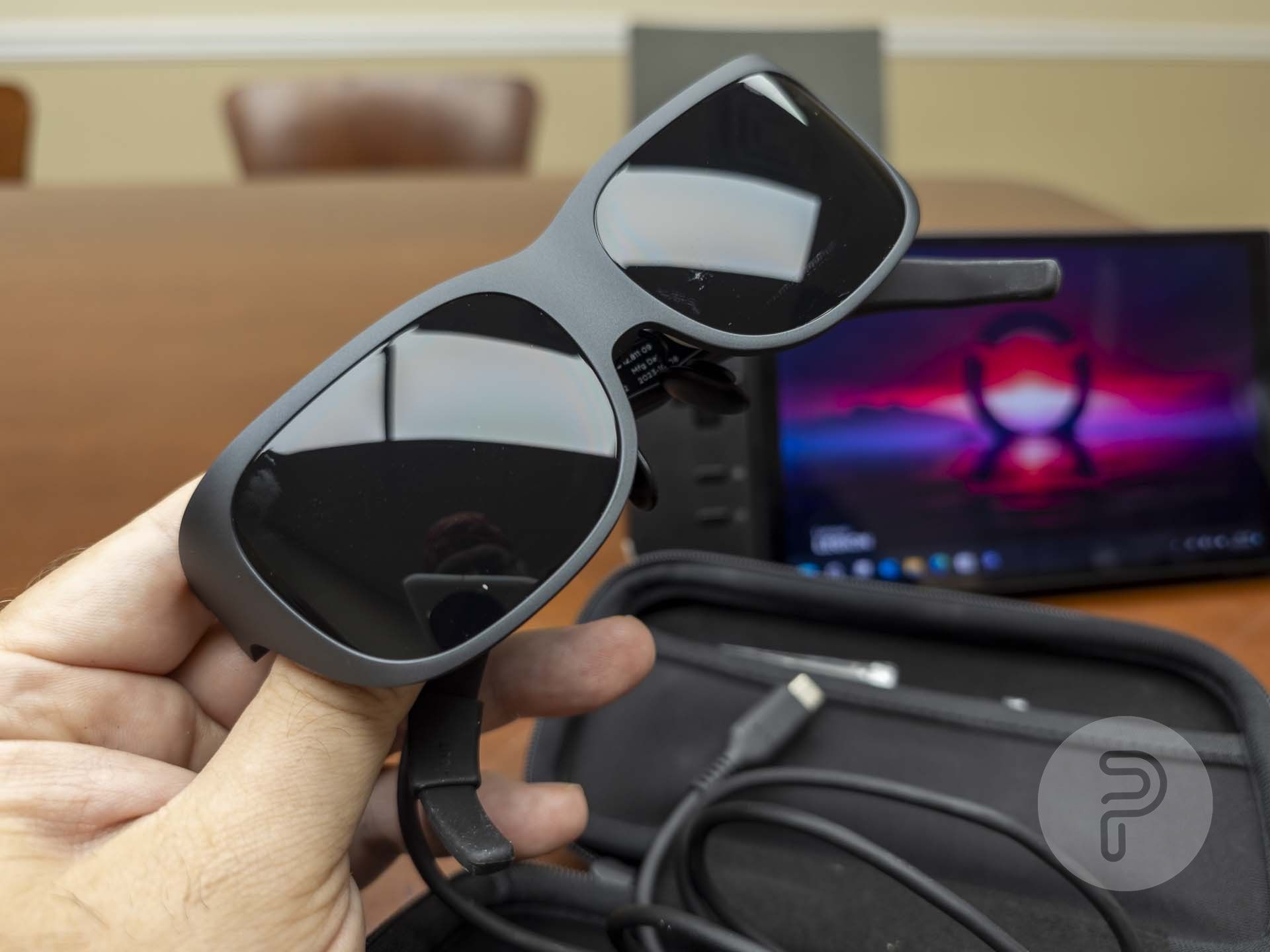 The Legion Glasses have 1920×1080 pixel micro OLED displays projecting into each eye giving you a nice clear high definition image. They also have speakers in the temple frames over your ears for nice surround sound audio. There are up/down buttons on the left temple frame to change the brightness of the screen and another set of up/down buttons on the right side to change the volume. And that's pretty much all you need to know… super simple private movie theater on your face!
At first try, the corners of the display were distorted for me and it was a bit uncomfortable, but then I changed out the nose pads with one of the included options and bent the ear hooks a bit and that made it much better. A number of sizing/fitting adjustment accessories are included, so I highly recommend finding the ones that fit you best so that everything works properly.
The Lenovo Legion Glasses are available for $330 at Lenovo's website.
Battery Life
Trying to get really good PC gaming performance into a ultra-mobile PC like the Legion Go is not easy and getting decent battery life into such a small form factor at the same time is really not easy. So the Legion Go is going to sacrafice on battery life pretty significantly when you're playing high-performance games. You'll probably only get 2 or 3 hours of play time with the really graphic intensive games. Of course, you can tweak Windows 11 for better battery life, but that's not going to help with game performance, so why bother? Still, 2 or 3 hours is pretty good for a morning commute on the train or a short flight.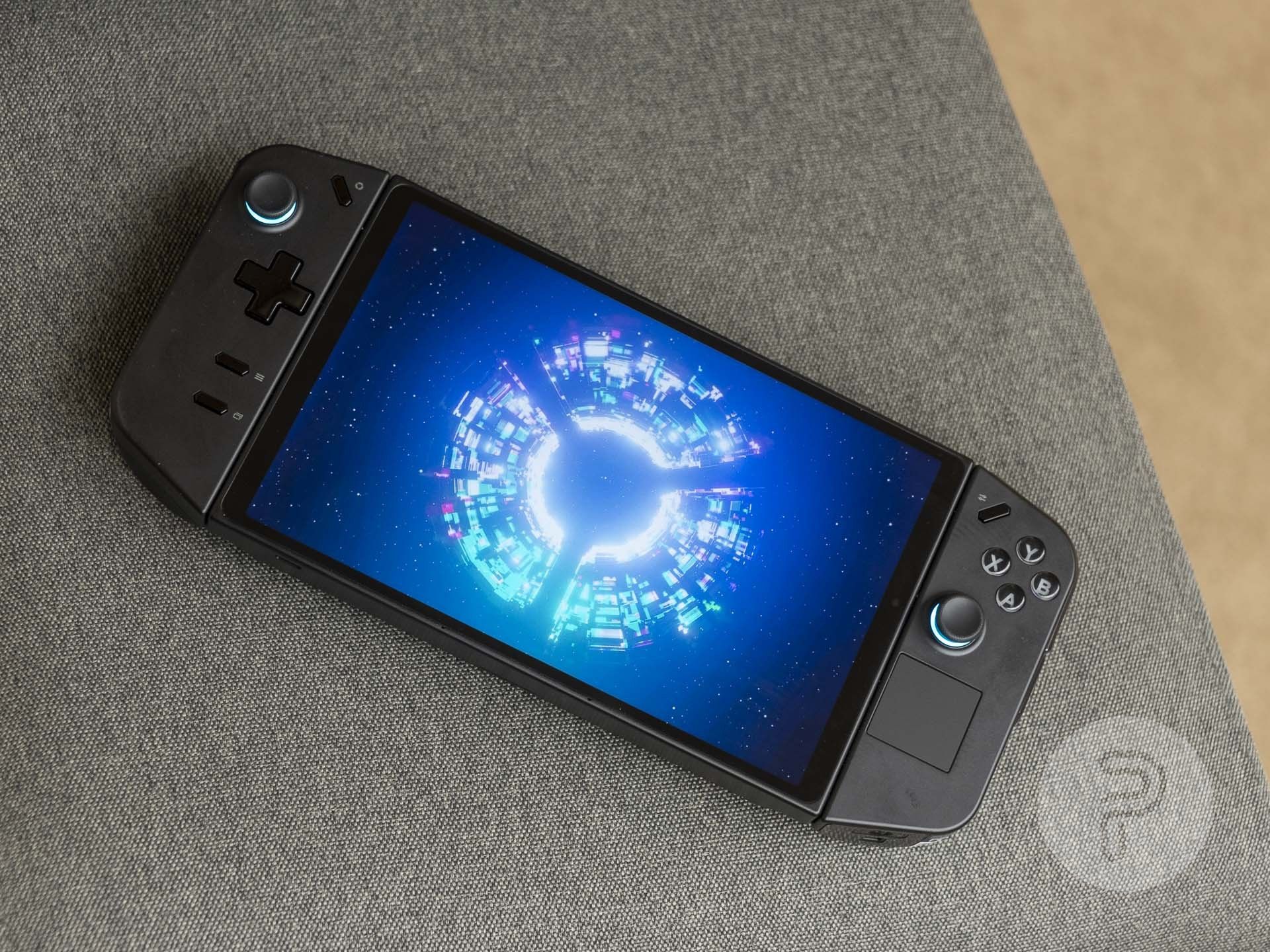 Conclusion
Seeing the Lenovo Legion Go for the first time was a pretty big surprise; because it looked really awesome, and as it turns out; it is really awesome. There are certainly problems like some games not running perfectly (Starfield) and the Windows 11 user interface being terrible and the Lenovo Spaces game launcher not loading game cover art properly, but I love the modularity of the whole thing. You can use it like a handheld gaming system, a table top gaming system, an actual Windows 11 computer, a multiplayer gaming system with a bigger screen plugged in, or even a private mobile theater system with the Legion Glasses plugged in. Overall, the Legion Go is a fantastic mobile gaming system!

منبع: https://pocketnow.com/lenovo-legion-go-review/