I picked up the iPhone 14 Pro at launch in 2022, kickstarting a yearly trend of experiencing the best of what Apple can offer. Coming from an iPhone 12, there was a lot to like about the Pro iPhone, but it lacked polish in more ways than one.
Nevertheless, a year later, the iPhone 15 Pro has made its way to the market and into my hands. I've had it be my daily driver for the last six weeks, and let me tell you, there's a lot to like here.
Through this long-term review, we'll look into what aspects of the device I appreciate and how I feel about the hardware, but before we dive in, let me preface this review with a comment. "The iPhone 15 Pro is everything I hoped the iPhone 14 Pro would have been!"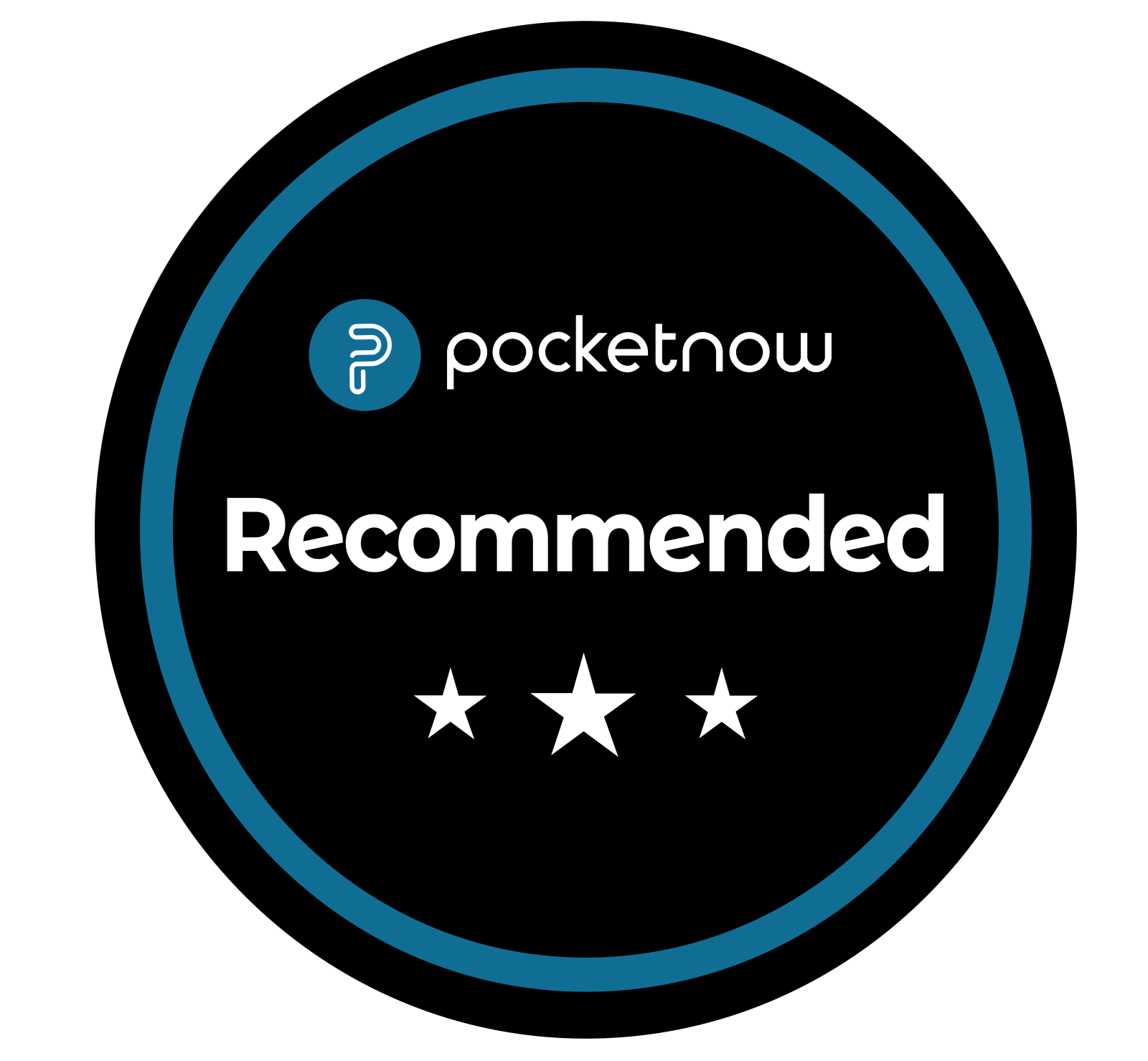 iPhone 15 Pro
Editor's Choice
The iPhone 15 Pro is the new Pro series flagship from Apple. It's equipped with the new Apple A17 Pro chipset and 8GB of RAM. It comes in new colors, and it has an even more powerful camera setup and a refined design.
SoC

Apple A17 Pro

Display

6.1-inch, LTPO Super Retina XDR, OLED, 120Hz

RAM

8GB

Storage

128/256/512GB & 1TB

Battery

3274 mAh

Ports

USB-C

Operating System

iOS 17

Front camera

12MP, f/1.9

Rear camera

Primary: 48MP, f/.8, 24mm sensor-shift OIS | Ultrawide: 12MP, f/2.2, 13mm, 120-degree FOV | Telephoto: 12MP, f/2.8, 77mm, 3x optical zoom, OIS, PDAF

Connectivity

5G, LTE, Bluetooth 5.3, NFC

Dimensions

5.77 x 2.78 x 0.33 in (146.6 x 70.6 x 8.3 mm)

Colors

Black Titanium, White Titanium, Blue Titanium, Natural Titanium

Weight

6.60 oz (187 g)

Charge speed

30W wired, 15W wireless (MagSafe), 7.5W wireless (Qi)

IP Rating

IP68
Pros
Lightweight and easy to hold!
Powerful processing hardware
Bright and beautiful display
Cons
Lacks new 5x telephoto camera
iPhone 15 Pro Design: Tuned for comfort
When I unboxed the iPhone 15 Pro, two factors immediately stood out. First, the device felt incredibly light, and second, the slightly curved edges on the frame. The latter makes the device a lot easier to hold.
It's also noticeable that the iPhone 15 Pro is narrower; this adds positives to the in-hand experience.
But circling back to the first aspect, this is owed to a shift of materials, as Apple swapped its Stainless Steel midframe for a Titanium one. The change has helped shave off approximately ten percent in weight (9.2% to be exact), as the iPhone 15 Pro weighs 187 grams compared to the 206 grams of the iPhone 14 Pro.
It also comes with a matte finish that makes the device less sticky in the hand if you're someone who chooses to forego a case. Yes, the frame does pick up fingerprints, and I've noticed an odd white-coating form when I have the phone in my pockets, but a quick wipe with a dry microfiber cloth gets the device back to normal.
The iPhone 15 Pro's design is a lot easier to deal with than the one on the iPhone 14 Pro and shows an improvement many will notice. Hence, I give Apple props for tuning the device for comfort.
iPhone 15 Pro I/O: Action Button & USB-C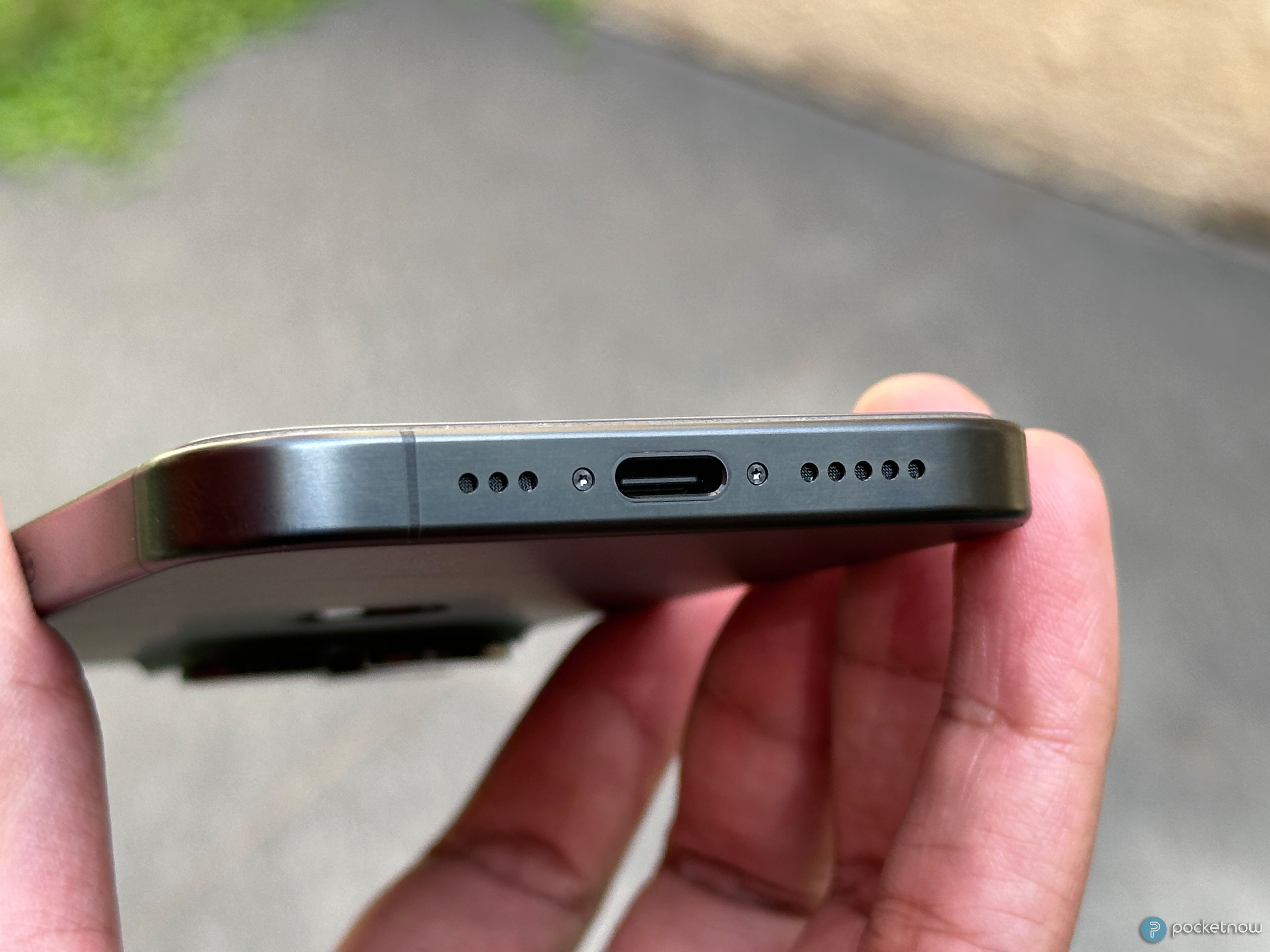 Alongside the renewed design, Apple also introduced two I/O changes to the iPhone 15 Pro, swapping the Mute switch for the Action Button and the Lightning Port for USB-C.
Both are significant changes for the iPhone and grabbed headlines for many reasons. Still, if you ask me about their impact on your daily routine, they'll merge into it, and you'll only notice them once in a while when their versatility shines through.
With the Action Button, this will happen if you choose to customize it via the Shortcuts app. And, as for the USB-C port, its compatibility with accessories is likely to bring about that moment of satisfaction that you feel when things work.
iPhone 15 Pro Display: Familiar & Impressive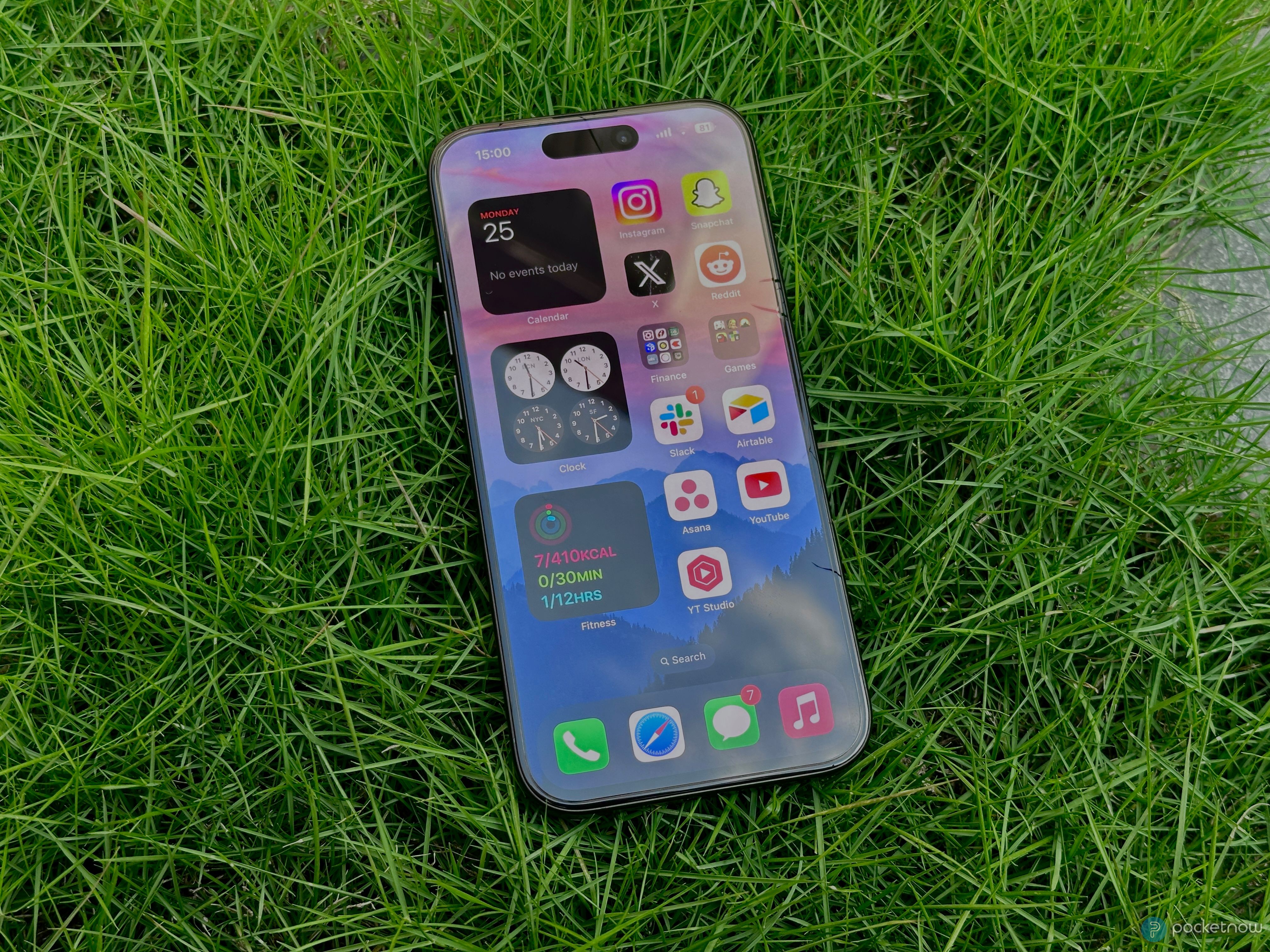 Moving onto the display. There's not much new here. The iPhone 15 Pro continues its push forward with marginal improvements, with the only noticeable change being the thinner display bezels, though this does help improve immersion by a significant margin.
Other display features remain unchanged, like the typical brightness of 1,000 nits, the outdoor peak of 2,000 nits, P3 color gamut support, and Ceramic Shield clad glass. And for those who consume HDR content, the 1,600 nits peak brightness is maintained, too!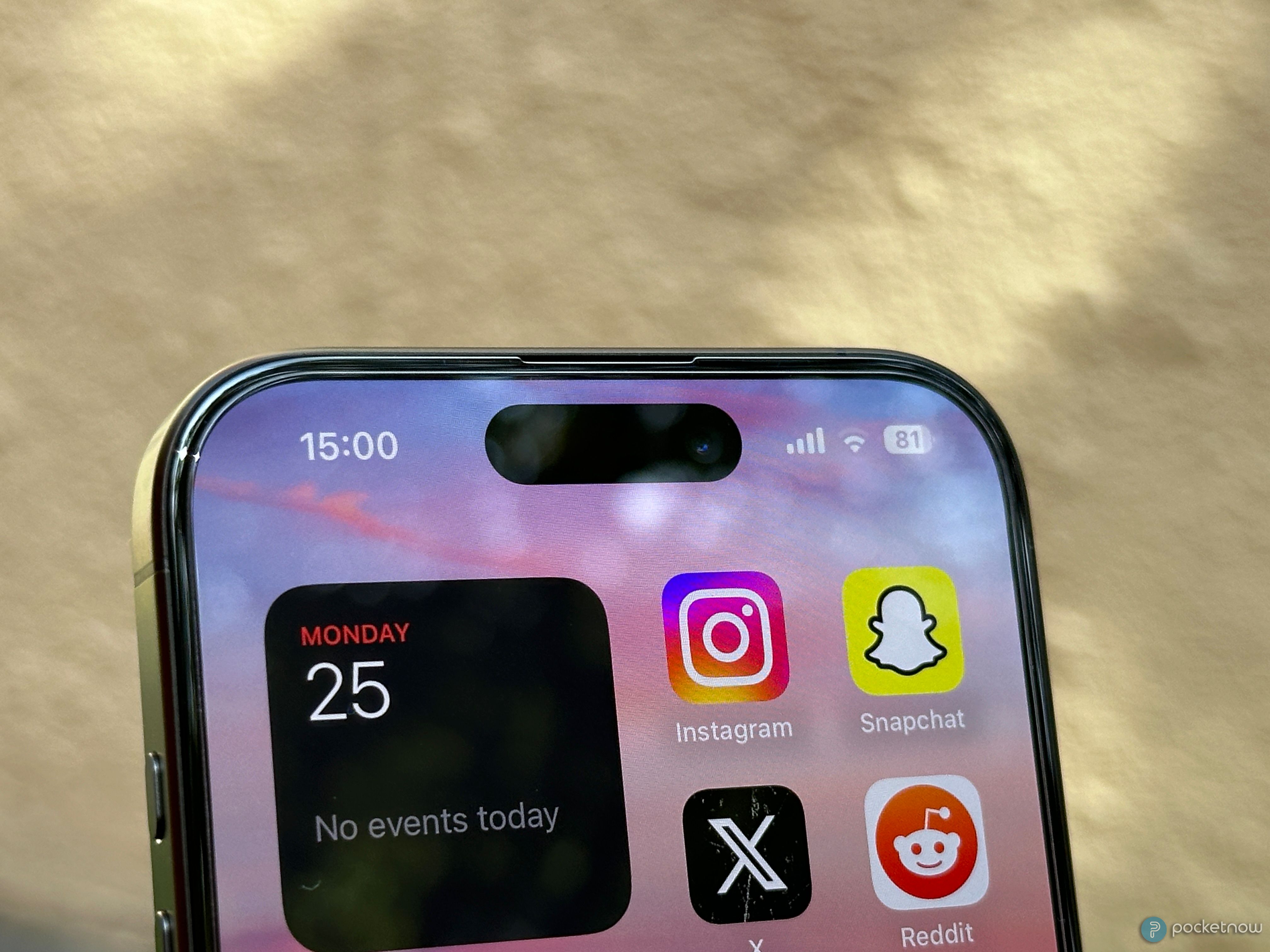 Dynamic Island also sticks around for another year with its info-first approach and goes downstream to the cheaper iPhone 15, which we described in our iPhone 15 review as the best iPhone for most. It's also the best iteration of the non-Pro iPhone that Apple has released in the last few years.
Apple's Super Retina XDR with Promotion, essentially an LTPO OLED panel with support for a high refresh rate (1Hz to 120Hz), remains one of the best displays you can experience on a smartphone. Its color accuracy is right there near the top of the mountain, and so are its brightness levels. For all users out there, it won't disappoint one bit.
iPhone 15 Pro Performance: A few more steps forward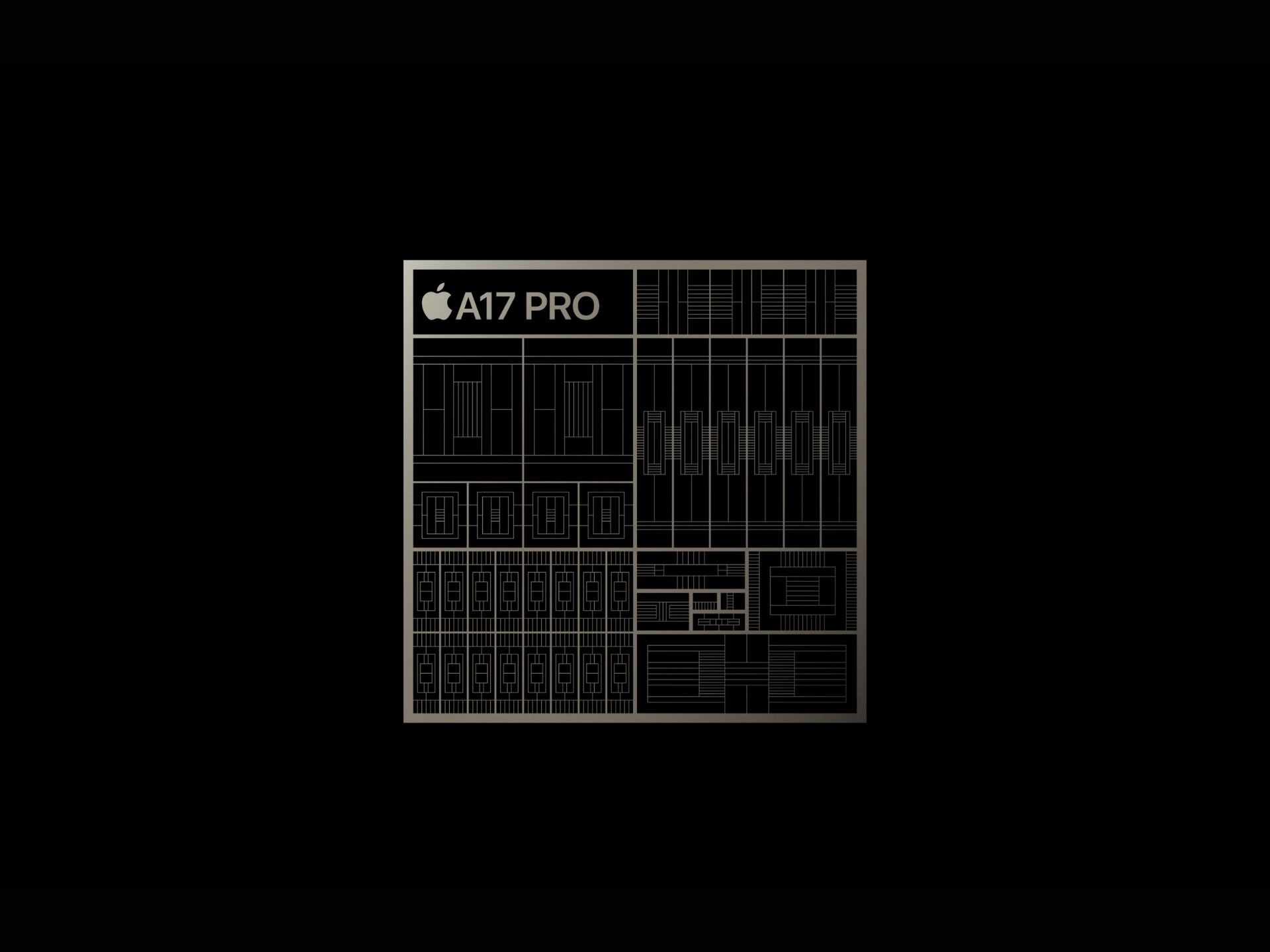 Moving onto performance, the flagship iPhone features the all-new A17 Pro, a 3nm processor that promises performance and efficiency improvements; it's also the first chip built on TSMC's new manufacturing node.
This iteration of Apple mobile silicon brings about the familiar scenario we've experienced in the past years — solid all-day use with nay a hiccup. Running iOS 17 on the iPhone 15 Pro has been as smooth as can be, and I think this iteration of the mobile operating system has done well to avoid bugs that hamper the experience.
There were some heating concerns with the iPhone 15 Pro when it launched back in September, and Apple even addressed these with iOS 17.0.3, but I'd like to add my unit showed none of the reported behaviors. And for my peers who reported heating, the software fix seemingly solved their troubles.
But returning to performance, I was rather impressed with how cool the device stayed as I ramped up the number of things I did with it. Playing Pokémon Go with all of its GPS & AR features enabled and blaring sunlight falling on the phone didn't seem to stress the device at all. An hour-long session saw me drop around 7% battery. Genshin Impact, the go-to stress test game for many, did warm up the device and hit the battery hard, but it isn't reason enough to complain.
In a bubble, it's the best iPhone processor yet again, and I can't wait to experience some of the upcoming AAA titles on my iPhone. But if you look outside the bubble, Apple's competition is catching up, and I can't wait to see what cat Apple pulls out of its hat next.
iPhone 15 Pro Battery: All-day use without any struggle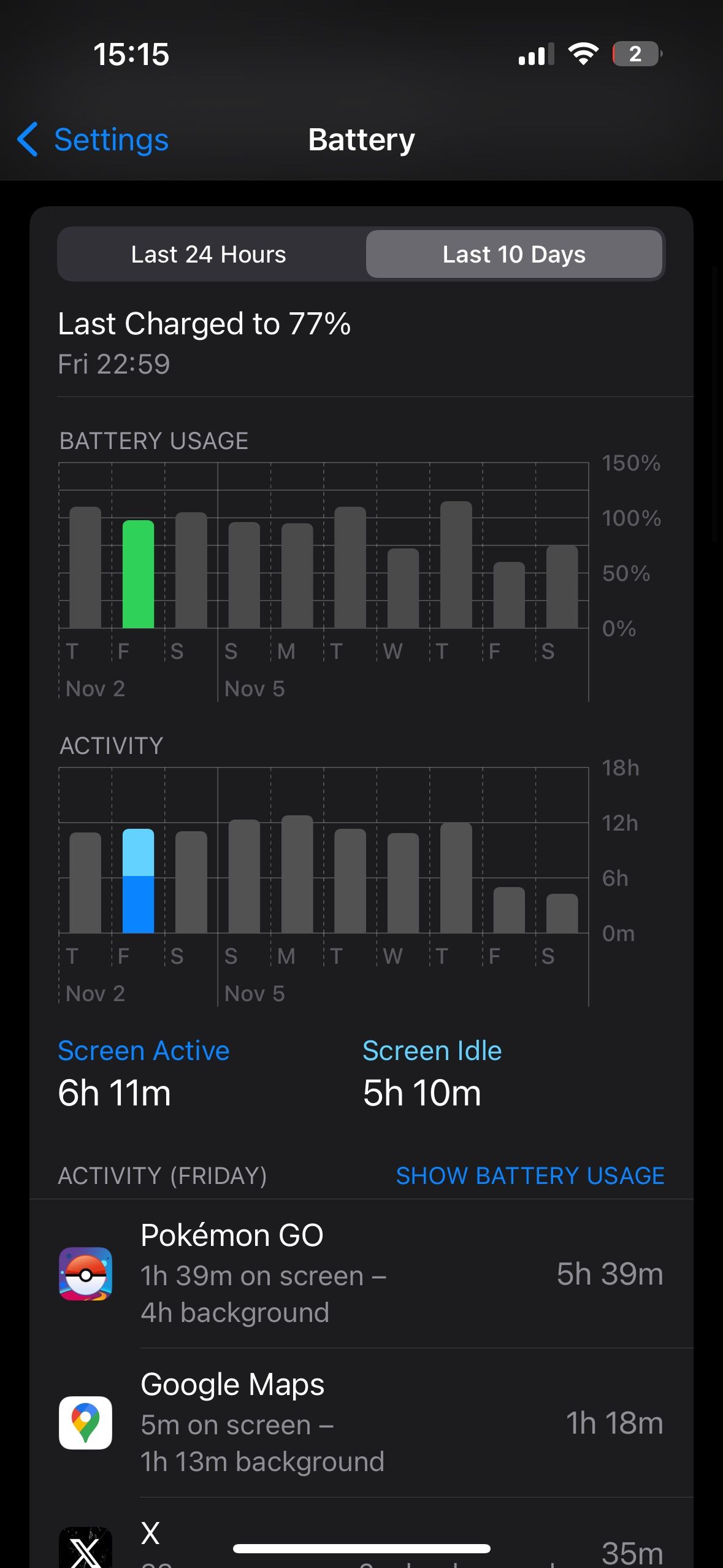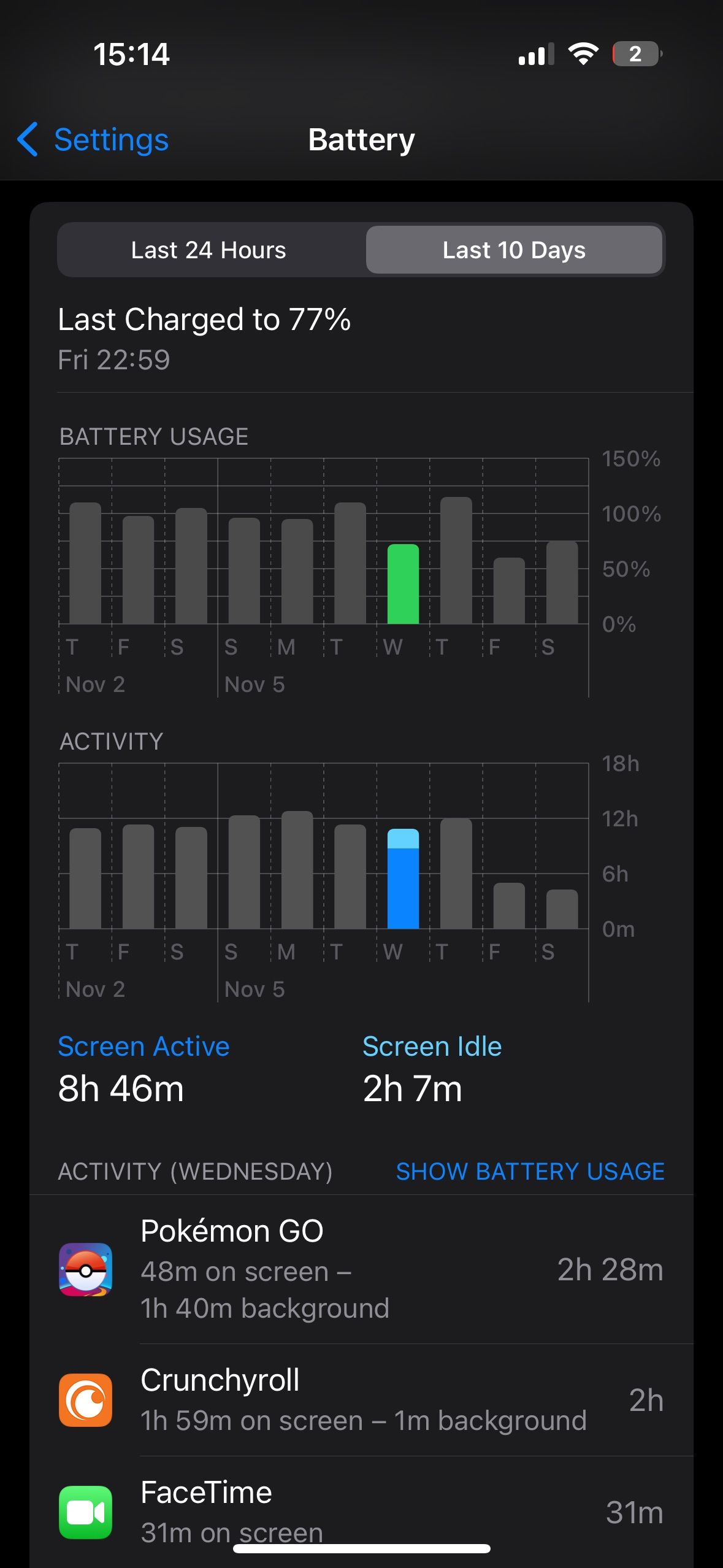 And jumping into the battery discussion, the iPhone 15 Pro is a marked improvement over the iPhone 14 Pro. I've seen myself average 6.5 hours on heavy — on mobile data — where I've used some navigation and played some games, alongside the daily messaging & social media use. And on days that I'm working from home, averaging 8 hours wasn't a struggle.
When it comes to charging the device up, while many expected the switch to USB-C could bring about faster charge speeds, that isn't the case. The iPhone 15 Pro still sports Apple's 50% charge in 30 minutes claim, and I've noted my device to go from 0 to 100% in nearly an hour and 20 minutes. Wireless charging also remains an option — 15W via MagSafe-certified hardware and 7.5W via Qi-certified one — but only to charge the device, not accessories like AirPods and other wireless buds, smartwatches, or phones.
iPhone 15 Pro Camera: Versatility for professionals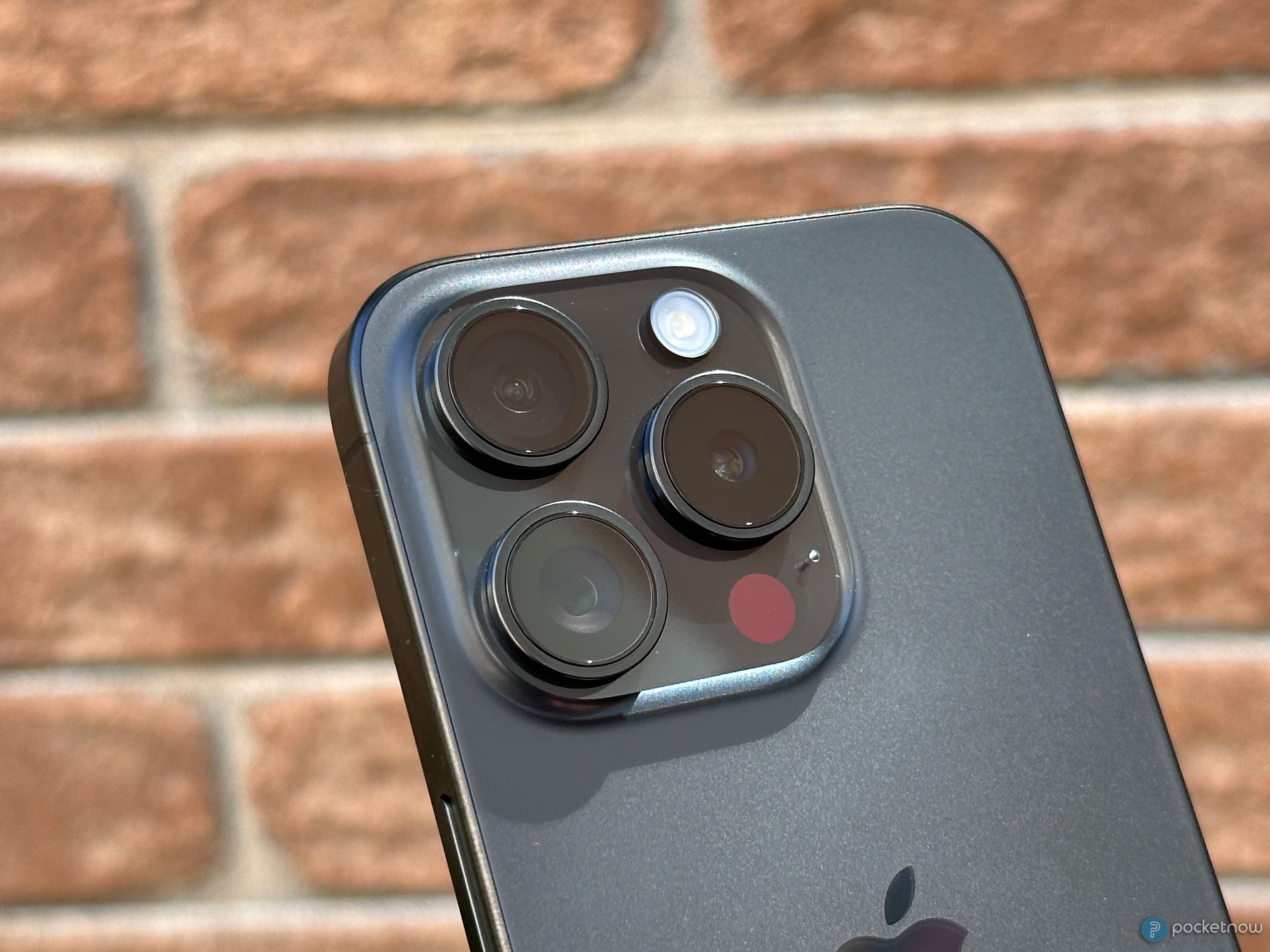 The last topic of the review consists of my views on the camera system that the iPhone 15 Pro carries on its back. Once again, compared to the iPhone 14 Pro, there isn't much difference in hardware.
So, if you want to experience something new, you must move up to the larger iPhone 15 Pro Max. That phone ships with an improved telephoto camera that can capture images with a 5x optical zoom. But if the larger phone isn't to your liking, you'll have to work with the 3x optical zoom on this phone. The other two cameras — 48MP wide and 12MP ultrawide remain identical between the two models.
But coming back to the 15 Pro, since the hardware isn't different, the changes you'll notice come via software advancements.
With Smart HDR 5 and changes to its processing algorithms, Apple solved two of the biggest problems faced by the iPhone 14 Pro. First, overblown highlights in images; this means the number of scenarios where you will see light sources look too bright or see the bright blue sky turn into a white mess will reduce. And second, they fixed the oversharpening that occurred in captured images. This made captures look dark and quite different from their actual appearance.
As for new additions, the camera system now captures 24MP images in the HEIF format, allowing the iPhone to store lots of image data in a small file. And Apple has also added more zoom options to its primary camera — with dedicated software algorithms to improve image quality. It allows images to be captured at 1.2x (28mm focal length) and 1.5x (35mm focal length).
I love the 28mm focal length, as it makes the image look less warped at the edges.
We've shared some samples below and will add more to this article in the coming days.
But you might've noticed that I've added versatility for professionals to this subsection, and that's because the iPhone further expands its video offerings this year, making itself more useful for those who depend upon mobile cameras. Users now have the option to shoot in LOG, allowing them to color-grade footage to their liking; plus, they can plug directly into external storage due to the new USB-C port.
Overall, there's a lot to like about this system.
iPhone 15 Pro Review: A polished piece of hardware
When you combine each aspect of the iPhone 15 Pro, it becomes clear that this device features a high degree of polish.
The fundamentals of its design are inclined toward user comfort. And I cannot stop gushing about how much more comfortable it is when compared to the sharp edges. I've never had a problem with the edges of the iPhone 14 Pro, but this new design made me realize where Apple had gone wrong.
Next, its combination of internal hardware will ensure you never feel that your device is lacking, an essential factor when paying so much for a gadget.
If you're coming from an iPhone 12 series device (or older), there's a lot to like with this iteration of the Pro iPhone, and recommending it is easy enough!
iPhone 15 Pro
Editor's Choice
The iPhone 15 Pro is the new Pro series flagship from Apple. It's equipped with the new Apple A17 Pro chipset and 8GB of RAM. It comes in new colors, and it has an even more powerful camera setup and a refined design.

منبع: https://pocketnow.com/iphone-15-pro-review/