Here are the best accessories for your iPhone, including USB-C chargers, Lightning cables, cases, MagSafe accessories, power banks, and much more.
The iPhone is undeniably one of the best smartphones in the world. The new iPhone 15 series offers a range of upgrades over the previous generation iPhones, while even the iPhone 13 series still offers great value. This popularity has led to a wide range of accessories designed specifically for iPhone, and the introduction of MagSafe has expanded the accessory options further. In this article, we will be taking a look at the best accessories for the iPhone. Whether you're a new iPhone owner or a long-time user, we've got something for everyone. So, let's dive right in!
To make it simple for you to discover the perfect iPhone accessories, we've grouped this article into various categories like USB-C chargers, Lightning cables, cases & covers, MagSafe wireless chargers, power banks, docks, mounts, and more. If you're searching for a particular item or accessory, just use the quick links provided above.
USB-C Charging Adapter
Apple 20W USB-C Power Adapter

$17 $19 Save $2

The 20W USB-C Adapter from Apple is the default accessory to get for iPhone. It features a simple build while offering reliability and performance that not every option on the market can match.

Anker Nano 3

$20 $23 Save $3

Anker 511 Nano 3 is the compact charger to pack into your backpack when heading on a trip. It offers 30W USB-C fast charging and even supports PPS. The charger is available in multiple colors for your iPhone too!

Spigen ArcStation Pro GaN 452

The Spigen ArcStation Pro GaN 452 offers a total of 45W power output and two USB-C ports. This AirPods Pro-sized Super Mini charger can charge iPad and iPhone at the same time. 

UGREEN 30W USB-C Charger

Another great option is the UGREEN 30W USB-C Charger. It is compact, powerful and supports iPhone fast charging. This charger also includes an upgraded GaN II chip, foldable plug design, and Thermal Guard technology for real-time protection. Similar to the Anker Nano 3, this charger can also power up your MacBook.
As an iPhone owner, a USB-C charging adapter is one of the first accessories you'll need to buy. Apple no longer includes this adapter in the iPhone box, a change that began with the iPhone 12 and continues with newer models like the iPhone 15 and iPhone 14. So, buying a USB-C adapter is now a must-have purchase. But don't worry; we've got you covered with our top recommendations.
If you want simply want the best go-to solution, Apple's official 20W USB-C charger is the way to go. But if you're looking for a more affordable option, the Anker Nano 3 is a great choice. It's smaller in size than the official charger, yet it still delivers up to 30W fast charging. Additionally, the Spigen ArcStation Pro GaN 452 is a great option that not only delivers enough power to charge your iPhone, but it can also charge other Apple products like the Apple Watch or AirPods simultaneously.
Lightning and USB-C Cables
Anker USB-C to Lightning Cable

Anker's USB-C to Lightning Cable for iPhone is MFi certified, so you can charge your Apple devices without any worries. The company claims it can withstand  over 12,000 bends. Also available in 6-feet and 10-feet options.

Amazon Basics USB-C to Lightning Cable

AmazonBasics' USB-C to Lightning cable is compatible with all the Apple devices out there. It is MFi certified so you can use it with your iPhone without any worries. Supports transfer up to 480Mbps.

UGREEN USB 3.2 Gen USB-C Cable

If you own an iPhone 15 Pro series smartphone and are looking for a faster USB-C 3.2 cable to utilize the maximum of the USB-C port on your iPhone, go with the UGREEN USB 3.2 cable. It's affordable and is quite durable.

Belkin BoostCharge USB-C to USB-C

On the other hand, if you want a long USB-C to USB-C cable that offers durable build and supports up to 100W Power Delivery, the Belkin BoostCharge USB-C to USB-C is the one to get.
As a long-time iPhone owner, you're probably aware that you'll need to replace your Lightning cable from time to time. Whether your old cable has worn out or you need an additional one for your car or desk, there are countless options available. As more and more iPhone users opt for USB-C power adapters, we've exclusively included USB-C to Lightning cables in our guide since USB-A is gradually being phased out. Rest assured that all of our recommended products are MFi certified, ensuring complete compatibility with Apple devices.
Cases & Covers
Supcase

Promoted Pick

Supcase offers some of the most durable and affordable iPhone cases on the market. Check out their impressive range of rugged cases using the link below!

Spigen

Spigen offers a wide range of cases and covers for iPhone. Not only that, but they are also some of the best cases on the market. Check out their store using the links given below!

CASETiFY

If you're searching for iPhone cases that provide the durability and protection of rugged cases while still being visually appealing, be sure to explore Casetify's collection of cases.

Pitaka

If you're looking for premium, high-quality, and protective accessories for your smartphone and smartwatch, Pitaka makes some of the best cases and watch bands in the market.
The next must-have accessory that you should own for your iPhone is a protective case or cover. Despite carrier bundles and deals, iPhones are expensive. Moreover, their glass-metal build makes them fragile, which means you should slap a case on your iPhone (as soon as you buy one) for full protection. With a wide range of cases available in various shapes, sizes, and colors, it can be challenging to find out the right choice for your iPhone.
Here at Pocketnow, we scoured the internet to discover the best iPhone cases for you. Below, you'll find our top recommendations for cases on various iPhone models. Alternatively, you can click the links above to check out renowned brands like Spigen, Supcase, Casetify, or the ESR Amazon store for high-quality iPhone cases.
Wireless Chargers & Stations
Rokform Magnetic Wireless Charging Stand

If you're looking for a MagSafe charger that enables you to use the StandBy feature as well as doubles as a kickstand, the Rokform MagSafe Magnetic Wireless Charging Stand is the best choice out there. It also comes with a USB-C cable inlcuded in the box.

ESR HaloLock Kickstand Wireless Charger

$22 $30 Save $8

The ESR HaloLock Kickstand Wireless Charger is a simple accessory that combines MagSafe technology into a wireless charging puck. It has the advantage of a detachable cable and a kickstand built into its base.

Belkin BoostCharge PRO 3-in-1 Wireless Charger with MagSafe

$115 $150 Save $35

Belkin Boost Charge Pro brings the convenience of MagSafe and multi-device charging into a neat package that not only looks attractive but is also functional. Its choice of timeless materials will also help it blend into your home's decor with ease.

PITAKA MagEZ Slider

PITAKA's MagEZ Slider combines a battery pack, a wireless charger, and an additional USB-C port into a neat package that can sit on a table and power your devices little by little as you go through your workday. The swiveling base also makes it easy to use other parts of the accessory.
With iOS 17, Apple added a new StandBy mode to the iPhone making wireless charging fun. So, if you find yourself spending a lot of time at your desk or need a handy charging stand for nighttime use, the best wireless chargers and charging stations for your iPhone are worth considering. Brands like Rokform and ESR offer excellent MagSafe wireless chargers with built-in kickstand functionality, making them practical accessories to consider. If, however, you're looking for a full-fledged charging station, we recommend taking a look at the ESR 6-in-1 charging station.
Docks and Continuity Camera Mounts
Belkin MagSafe Car Mount

$32 $40 Save $8

If you're looking for hands-free charging solution for your car, the Belkin MagSafe Car Mount is an excellent option. With 10W fast charging, it provides a secure and reliable connection for your iPhone. It can be used in any position for charging, streaming, and navigation.

Belkin Fitness Mount

The Belkin Fitness Mount for iPhone is an accessory perfect for those who love working out — be it on a treadmill, spin bike, or elliptical. It features a watch strap-like design that will allow it to wrap itself around any bar-like structure, while the MagSafe magnets hold your iPhone in place.

Capstone Continuity Camera Mount

It's probably best to go with Capstone's continuity camera mount if you want an affordable mount with MagSafe as well. It attaches via magnets to your iPhone and then slides onto your Mac's lid. It is quite affordable and has great reviews on Amazon.

Belkin iPhone Mount with MagSafe

$23 $30 Save $7

Belkin iPhone Mount attached magnetically to your Mac and with MagSafe to your iPhone. You can rotate it easily and use it in both portrait and landscape modes. It can also be used as a kickstand or ring grip when not connected to your Mac laptop.
Thanks to the introduction of MagSafe, the iPhone accessory market has expanded significantly, offering a plethora of innovative products. One such accessory is the Belkin Car Mount. This mount attaches securely to your car's AC vent, holding your iPhone in place while charging and streaming music or navigation. Another great accessory is the Capstone Continuity Camera mount that uses MagSafe to turn your iPhone in to a webcam for video calls. There are also several other continuity camera mounts available in the market, and we've curated a list of the best options for you to explore.
Portable Battery Packs
Anker 622 Magnetic Battery (MagGo)

$55 $60 Save $5

The Anker 622 Magnetic Battery MagGo battery pack for iPhone features a 5,000 mAh cell that charges your device at a speed of 7.5W. It also doubles as a kickstand for a hands-free viewing experience.

OtterBox MagSafe Wireless Power Bank

The OtterBox MagSafe Wireless Power Bank for iPhone features a 3,000 mAh battery that charges your device at a speed of 7.5W. If you're looking for a small MagSafe battery pack that doesn't affect your use, this is one of the best options out there.

MOZOTER Magnetic Wireless Portable Charger

If you're looking for a rugged portable MagSafe charger, then you should consider purchasing the MOZOTER Magnetic Wireless Portable power bank. It features a big 10000mAh cell, supports both wireless and wired charging and is waterproof as well. If you want a power bank for your hiking trip, this is the one you should get.

ESR HaloLock MagSafe Battery Pack 5,000 mAh

$30 $35 Save $5

If you're looking for an affordable MagSafe power bank for your iPhone, then look no further than ESR's HaloLock MagSafe Battery Pack. It features a 5,000 mAh cell and supports two-way charging, which means this power bank can be used to charge your iPhone wirelessly and with a Lightning cable. This MagSafe power bank is also available in 10,000 mAh configuration.
If you have a mini iPhone or frequently use your phone while on the go, a MagSafe battery pack can be really useful. These power banks easily attach to the back of your iPhone and wirelessly charge it without any hassle. Above-mentioned are some of the best wireless power banks for the iPhone.
Screen Protectors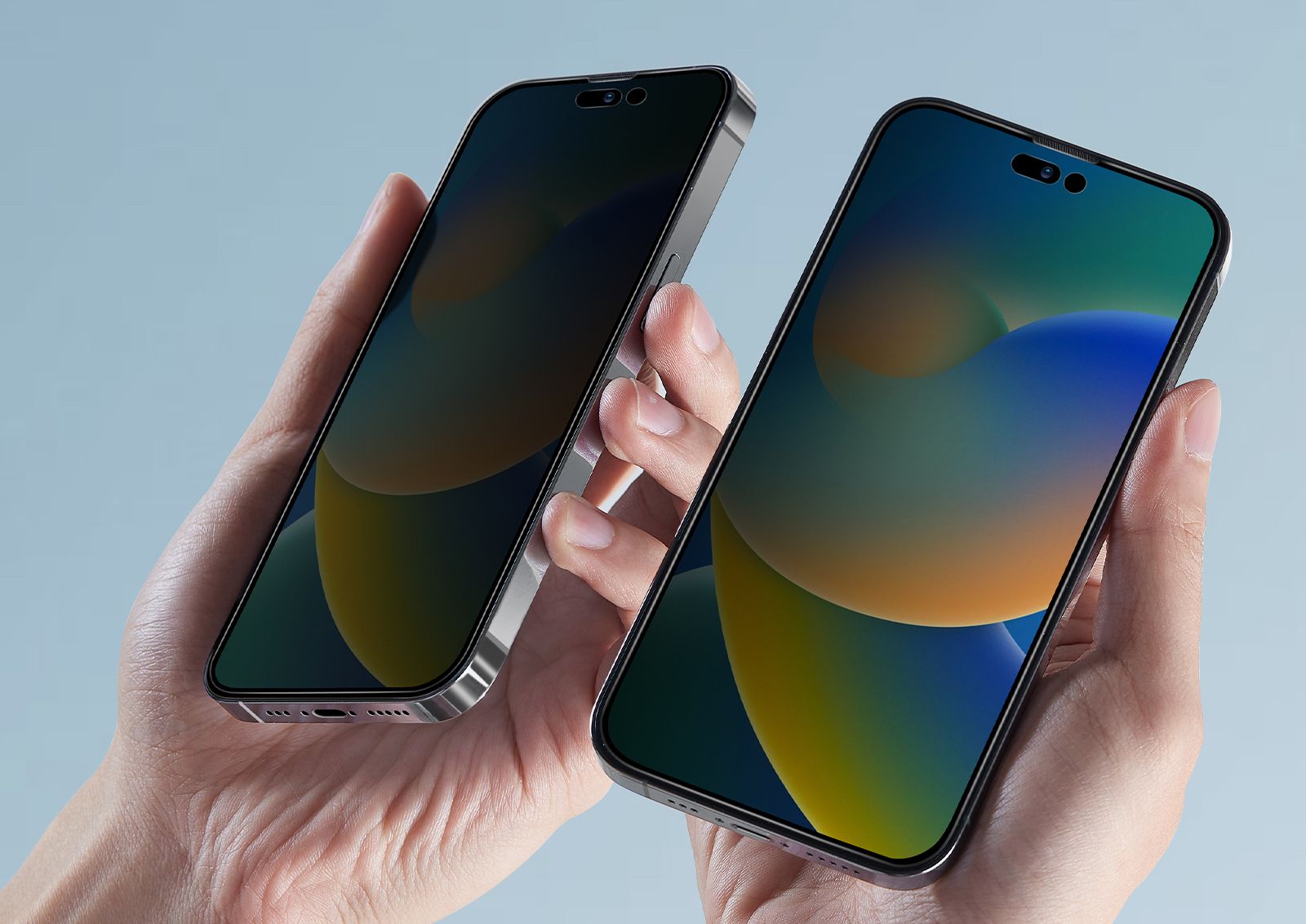 Another protective accessory you might want to get for your iPhone is a screen protector. Despite modern iPhones boasting Ceramic Shield display, screen protectors are an essential accessory for iPhone users who want to safeguard their device against scratches, cracks, and other types of damage. Check out some of the best screen protectors for iPhone down below:
External Storage Drives
SanDisk iXpand Flash Drive Luxe

SanDisk iXpand Flash Drive Luxe is the best affordable expandable storage device for your iPhone. It can be connected to both iPhone as well as Android devices thanks to the 2-in-1 USB-C and Lightning interface. It features automatic back up and compatibility with wide variety of devices.

iDiskk 4-in-1 USB 3.0 Flash Drive

iDiskk 4-in-1 USB 3.0 Flash Drive features 256GB and works not only with iPhones but other devices as well thanks to its four-in-one multi-connector. The device features a micro-USB, Lightning, USB-C, and USB-A connector.

Samsung Type-C USB Flash Drive

$25 $40 Save $15

If you need a dependable and budget-friendly storage option, consider the Samsung Type-C USB Flash Drive. It features up to 256GB storage and doesn't cost a lot. Transfer speeds are good too, at 400MB/s, and this product comes with robust durability features, including waterproof, shock-proof, temperature-proof etc.

Vansuny Type C Flash Drive

If you're on a budget and prefer an affordable option, check out the Vansuny Type C Flash Drive. It provides 128GB of storage at a lower price compared to the other drives on this list. Additionally, it includes a USB-A port, simplifying transfers to your laptop or PC.
While Apple offers the iPhone in a variety of storage options, the lack of a microSD card slot and expensive iCloud storage can be a concern for many users. Thankfully, there are external storage drives that connect to your iPhone via the Lightning port (or USB-C if you have an iPhone 15), and let you backup your photos and transfer data directly from your iPhone's port. The external drives mentioned earlier are some of the top choices, but if you need more options, you can also explore the best external drives for iPhone up to iPhone 14 and the best USB-C drives for iPhone 15.
Wireless and Wired Earbuds
Nothing Ear 2

Nothing Ear (2) are the new true wireless earbuds from the London-based brand. The new earbuds come with features such as Hi-Res Audio, LHDC 5.0 technology, Personal Sound Profile, Dual Connection, Clear Voice Technology, and much more. There is support for Active Noise Cancelation and the earbuds also have IP54 rating.

Bose QuietComfort EarBuds 2

If you're looking for the best sounding, and best noise-canceling wireless earbuds, then the Bose QuietComfort Earbuds 2 is the clear winner in 2022. These earbuds provide a headphone-like experience, and the noise cancelation is hands down the best we've ever heard.

Beats Studio Buds +

Beats Studio Buds+ are the latest generation wireless earbuds from the Apple-owned brand. The new earbuds feature 1.6x better ANC compared to first gen, up to 36 hours of battery life, IPX4 water resistance, bigger microphones for clear calling, a new custom chip that enables support for "Hey Siri," and more. The earbuds come in three colors: Black-Gold, Ivory, and an all-new Transparent finish.

Skullcandy Set In-Ear USB-C Earbuds

$22 $32 Save $10

The Skullcandy Set earphones come with a USB-C connector and are affordable with IPX4 water resistance. They are a good choice for those who prefer wired earbuds and feature a comfortable design. These earbuds pack handy volume control buttons and deliver good sound quality with a strong bass.
Lastly, having a pair of earbuds with your iPhone is crucial. While AirPods are among the top-tier earbuds, offering outstanding audio quality and noise cancelation, there are alternative options (listed above) that are worth considering. If you're not concerned about the budget, Bose QuietComfort Earbuds II are the top choice, but if you're looking for a more budget-friendly option, Nothing Ear 2 offers a similar experience at a lower cost. If you have the latest iPhone 15 and are looking for USB-C wired earbuds, you can also find excellent options like the Skullcandy Set In-Ear USB-C earbuds mentioned above.
Other iPhone Accessories Worth Considering
Apple AirPods Pro 2

$189 $249 Save $60

The new Apple AirPods Pro (2nd Generation) features a new touch control navigation on the stems, better audio drivers, improved noise-cancellation and transparency features, and more. The case comes with an Apple U1 chip, that lets users track down their AirPods Pro using the Find My network, and there's also a set of speaker holes on the bottom to sound an alarm.

Apple AirPods 3

$160 $169 Save $9

AirPods 3 support Spatial Audio, Adaptive EQ, and has force sensors that let you easily control the earbuds while listening to music, watching movies, or taking a call. The earbuds are sweat and water-resistant and can last up to 6 hours on a single charge or 30 hours provided by the charging case.

Apple Earpods (USB-C)

Apple's beloved EarPods are now available with the USB-C connector for the iPhone 15 series. These earbuds support high-quality lossless audio output and feature a built-in remote to control volume, playback, and calls. These earbuds also support iPad and even Android and Windows devices.

Apple Watch Series 9

$349 $399 Save $50

Apple Watch Series 9 is the latest smartwatch from the Cupertino giant. It offers a whole day of battery life, a faster processor, and fresh ways to use the smartwatch with gestures.

Apple Watch Ultra 2

The Apple Watch Ultra 2 is powered by the new Apple S9 chip, and comes with improved tracking. It's rugged, powerful, and it can last for up to 72 hours in Low Power Mode. It has the brightest display on any smartwatch, and it provides advanced metrics and views for you to track workouts.

Apple AirTag

$27 $29 Save $2

The Apple AirTag lets you easily keep track of your devices, pets, bags, and other items using the Find My app. It's easy to set up, and it works on all Apple devices, such as iPhones, iPad, and Macs.

MagSafe Charger

$35 $39 Save $4

The MagSafe Charger from Apple is a simple wireless charging solution if you are looking for fast charging speeds without the hassle of ensuring your device is in place properly. It can charge devices from the iPhone 12, iPhone 13, and iPhone 14 lineup with up to 15W of power.

Apple 35W Dual USB-C Charger

Apple's 35W dual-port USB-C charger comes in handy when you have to charge two devices at the same time. It also features support for Apple's world travel adapter kit.
That concludes our round-up of the best iPhone accessories. We hope this guide has helped you find the perfect accessories to make your iPhone experience better. So, which accessory are you getting? Let us know in the comments section below!

منبع: https://pocketnow.com/best-accessories-for-iphone/