What you need to know
New numbers show how the market share compares between Google and Microsoft search engines.
Bing market share has dropped compared to last year despite a seeming rise in popularity following the OpenAI integration.
Google still commands the highest market share at just under 90%.
Microsoft seemed to be sitting pretty when it integrated OpenAI's ChatGPT tech into Bing, transforming the search engine into a gateway into the company's new generative AI features. However, the latest numbers show that Bing's market share hasn't exactly benefited from Microsoft's head start in this new AI craze.
Statcounter released some market share numbers for the major search engines, giving us a look at how Bing has fared since the generative AI craze kicked off (via Windows Central). Unfortunately, as of October 2023, Bing's market share sits at just under 7% in the United States, down year over year from 7.4%. In fact, throughout 2023 thus far, Bing's market share has remained under 7%.
Meanwhile, Google, rather unsurprisingly, has remained king of the search engines, with its market share sitting at 88% as of October 2023.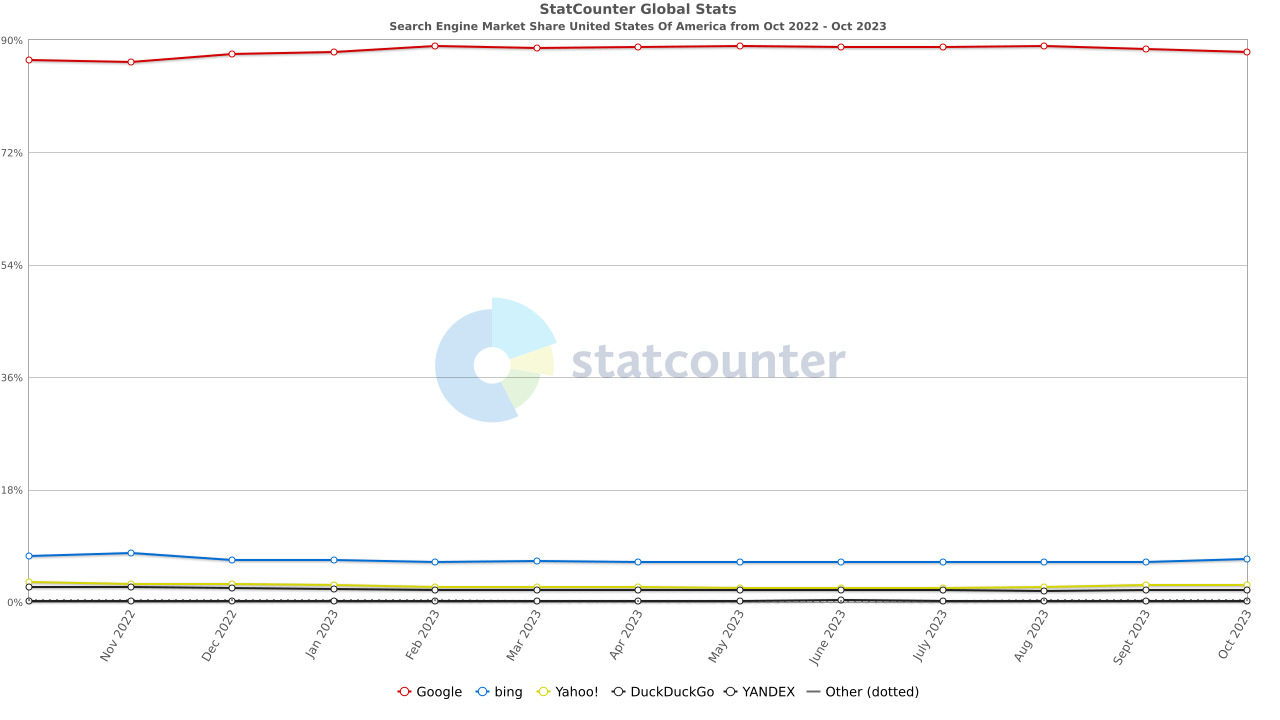 While it's expected that Google would maintain its spot, it's a little surprising (and concerning) that Bing's market share hasn't seen a significant uptick. Earlier this year, Microsoft announced that the search engine had reached a significant milestone with 100 million daily active users. This was not long after Bing launched a preview of its generative AI capabilities, with users able to sign up to try them out.
Microsoft seemingly had quite the head start bringing generative AI to its consumer-facing products, with Google taking a more steady approach. The new supercharged Bing is integrated into other experiences from Microsoft, such as the new Windows Copilot. However, the aggressive push did not seem to pay off.
Meanwhile, despite the slow and steady approach, Google eventually began integrating its generative AI features into Search with the new Search Generative Experience, bringing features like article summaries when browsing, stable diffusion for image generation, and more. The new generative AI Search experience is now available in more than 120 countries and territories, supporting multiple languages.
Of course, it's worth noting that while Google has maintained its high market share, that's actually the subject of an ongoing trial brought on by the Justice Department and several states. The claim is that Google attained its search dominance through anti-competitive means, such as deals made with companies like Apple to make Google Search the default on iPhones, in addition to the millions of Android phones available globally.



منبع: https://www.androidcentral.com/apps-software/statcounter-search-engine-market-share-united-states-october-2023