Key Takeaways
HONOR's Magic V2 foldable smartphone will be unveiled at the IFA 2023 event, with worldwide pricing and availability details expected to be revealed.
The Magic V2 features a slim and lightweight design, a large OLED cover display, and a powerful Qualcomm Snapdragon 8 Gen 2 chipset, making it a promising contender in the foldable smartphone market.
HONOR's event will also include a discussion on the "Lifestyle of Tomorrow" with TIME 100, exploring the convergence of technology, fashion, sustainability, and lifestyle.
IFA 2023 is now underway, with companies like Lenovo and TCL having already announced their new products. HONOR is also hosting its "Unfold Tomorrow" keynote later today to showcase to announce the global debut of its Magic V2 foldable smartphone. In this article, we'll show you how you can watch the IFA 2023 keynote live and provide you with a sneak peek of what to expect from today's event.
HONOR IFA 2023 launch event: Date and Time
HONOR's Magic V2 launch event is scheduled to take place later today, i.e., on Friday, September 1, 2023, at 10:00 AM CET (4 AM ET). Here are the kick-off timings for some regions:
West Coast: 01:00 AM Pacific
East Coast: 04:00 AM Eastern
UK: 09:00 AM British Summer Time
Spain: 10:00 AM CET
India: 02:30 PM Indian Standard Time
Tokyo: 06:00 PM JST
Sydney: 08:00 PM AEDT
If you're finding it difficult to convert the event time to your local time zone, just head over to this link. There, you can learn when HONOR's IFA 2023 event will kick off in your area.
How to watch the HONOR IFA 2023 keynote live?
Just like before, HONOR will be live-streaming the keynote on its official YouTube Channel. The easiest way to watch it live is by using the YouTube link provided above, since YouTube works on almost any device – smart TVs, phones, laptops, and even gaming consoles. In addition to YouTube, you can catch the live event on the X app (formerly known as Twitter).
What to expect from the HONOR IFA 2023 event?
HONOR is all set to unveil the Magic V2 foldable smartphone on the global stage. While the Magic V2 has already hit the shelves in China, its worldwide pricing and availability will likely be revealed during the IFA keynote. The HONOR Magic V2 is the world's slimmest and lightest foldable smartphone at just 9.9mm thick when folded and weighing 231g.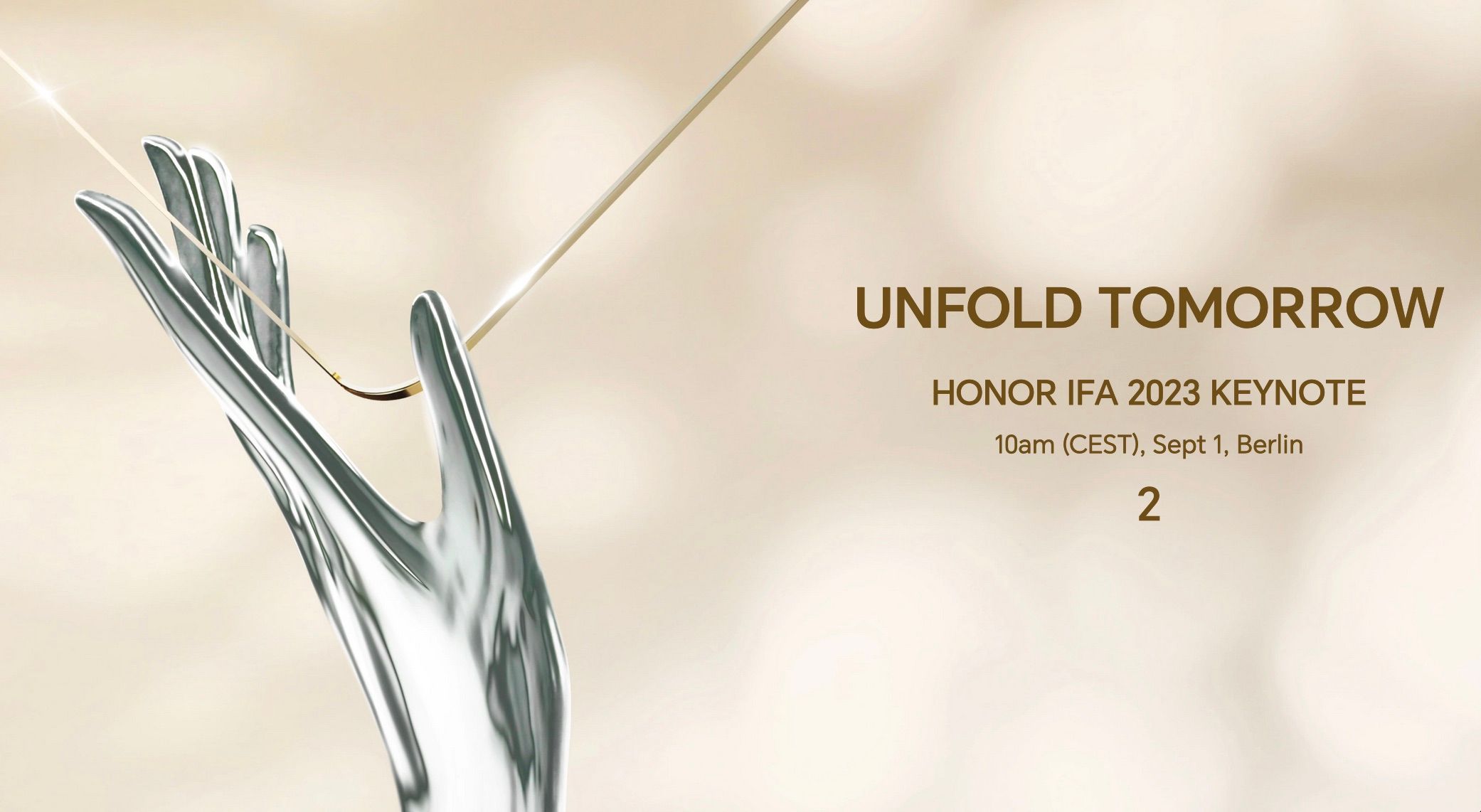 It features a big 6.43-inch OLED cover display and a 7.92-inch OLED inner foldable display, both supporting a 120Hz refresh rate. The Magic V2 is powered by the Qualcomm Snapdragon 8 Gen 2 chipset and comes with 16GB RAM (all variants) and up to 1TB of internal storage. Despite being slim and lightweight, the Magic V2 houses a large 5,000mAh battery with support for 66W fast charging.
On the back, this foldable smartphone carries a 50MP main lens with PDAF and OIS, a 50MP ultra-wide-angle, and a 20MP telephoto lens with 2.5x optical zoom. On the whole, the Magic V2 seems poised to top the best foldable smartphones list — and we're excited to get hands-on with it after the launch event. Be sure to keep an eye out for our first impressions!
In addition to the Magic V2 launch, HONOR has something exciting in store—a "Lifestyle of Tomorrow" talk with TIME 100. This insightful discussion will delve into the convergence of technology, fashion, sustainability, and lifestyle. In case you're unable to watch HONOR's event, make sure to check out Pocketnow's website where we'll be covering the event live. Moreover, to stay in the loop with all the announcements from IFA 2023, be sure to follow us on Instagram, Facebook, and Twitter.



منبع: https://pocketnow.com/watch-the-honor-ifa-2023-launch-event-live-here/